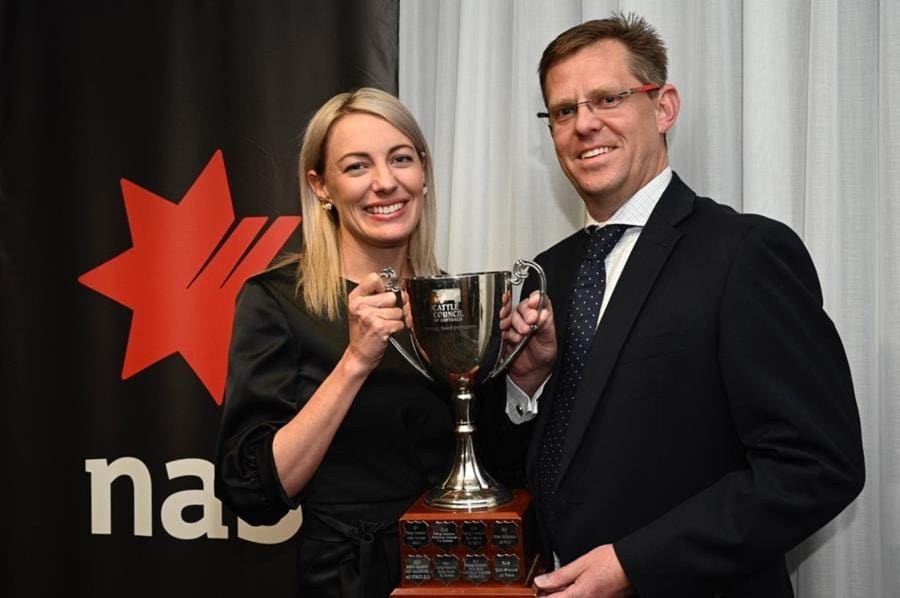 ELISHA Parker was named the 2020 NAB Agribusiness Rising Champion at a Cattle Council gala dinner in Canberra last night.
From Clermont in Queensland, Elisha (pictured above with Paul Barnes from NAB Agribusiness) co-founded a national online cattle sales platform that provides marketing tools and technology to livestock agents, and has a keen interest in the role that young industry members will play in shaping the future of the beef sector.
Now in its tenth year, the Rising Champion Initiative is a joint program of the Cattle Council of Australia and NAB Agribusiness.
Cattle Council President Tony Hegarty congratulated Elisha on her award and said the title of Rising Champion was just the beginning of an exciting future in the beef industry.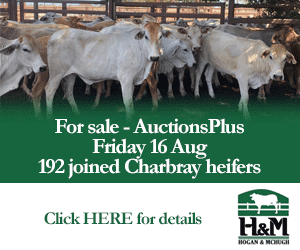 "Elisha has the attitude, motivation and leadership skills that will position our industry well into the future, and I warmly congratulate her on the achievement," Mr Hegarty said.
"Designed to develop the leadership, negotiation and business skills of the beef industry's emerging young leaders, the Rising Champion program is an excellent platform for all participants to kick start their careers.
"With 2019 marking the 40th anniversary of the Cattle Council, it's pleasing to see such a strong pipeline of young, talented individuals coming through."
NAB Agribusiness Customer Executive, Neil Findlay, said the calibre of candidates in the 2019 program was high and congratulated all finalists on their participation.
"This year's cohort of finalists was very strong, and it's exciting to see such depth of talent amongst the next generation of beef industry leaders," Mr Findlay said.
"Investment in our future leaders is as critical to the strength and sustainability of the beef industry as anything else, and that's why hands-on, in depth leadership programs like Rising Champions are so important.
"I congratulate Elisha on the award and look forward to seeing the outstanding contribution she goes onto make as the 2020 NAB Agribusiness Rising Champion."
The Cattle Council and NAB Agribusiness also thanked outgoing 2019 Rising Champion, Emily Pullen, on her contribution over the past 12 months.
"Emily has been an exceptional role model for other young members of the beef industry, and we congratulate her on all she has achieved over the past year," Mr Findlay said.
The program is supported by gold sponsor NAB Agribusiness, silver sponsor McDonalds and media sponsor Australian Community Media as well as Cattle Council's state farming organisations members.