Seven emerging cattle industry leaders from around Australia will travel to Canberra for an intensive four day program next month after being named as the finalists for the 2015 Nab Agribusiness Rising Beef Champion awards.
From August 16-20 the finalists will meet with Australian beef industry leaders, develop their knowledge of key industry issues, participate in policy subcommittees and network with a group of likeminded young beef industry leaders.
The Beef Industry Rising Champions will also spend time Minister for Agriculture, Barnaby Joyce, Shadow Minister for Agriculture, Joel Fitzgibbon and key policy makers from the Department of Agriculture.
Cattle Council of Australia president Howard Smith said there had been an extremely strong base of applications this year with a broad range of industry youth applying.
"Cattle Council is proud of the six year history of the Nab Agribusiness Rising Champions Initiative and the calibre of finalists that have been engaged within this program will no doubt lead the future generations of the Australian beef industry," Mr Smith said.
"I look forward to meeting the 2015 Rising Champions and hearing about their role in the industry and how they can contribute to the beef industry in the future."
Finalists will also have access to leadership develop within a workshop by Catherine Marriot, focusing on areas of conversation presentation, personal influence on others and consumer expectations.
The seven finalists are (see bios below):
      Kevin Stark, Beef Producer, VIC
      Geoff Birchall, Export consultant/accountant, NSW
      Emily Bryant, Station Manager, WA
      Bronte James, Station Manager, NT
      Sam Wright, Farm Manager, QLD
      Kitty Sheridan, Livestock Operations Leader, SA
      Allison Horswill, Abattoir manager, TAS
Finalist bios:
Allison Horswill, TAS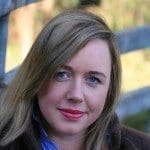 Allison grew up on farming land in Cambridge in south east Tasmania. Allison worked in career development in state education before she found her passion for the rural school system. Her ongoing drive to achieve within the beef industry allowed her to progress into her current position as the General Manager of Huon Valley Meat Co. This facility operates the Cradoc Hill Abattoir, a domestic multi species meat processing facility in far southern Tasmania. Her goal within her beef career is to establish the Huon Valley Meat co into a national brand. She takes great pride in the education of her staff and wishes to increase the input of youth within the local community into her skilled labor force. Allison wishes to provide more community and state policy input to increase her knowledge, networking and influence into the Tasmania beef industry.
Sam Wright- QLD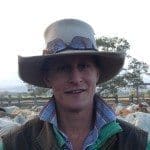 Sam is from Nebo in Central Queensland. After completing his Bachelor of Business Management and Commerce at the University of Queensland, he moved back to the family property to co-manage the breeder and fattening operations of his family's business. Sam's goals for the future are to operate a profitable and sustainable family beef business that will succeed for years to come. Sam is interested in playing an active role within the beef industry and aims to address areas of concern such as animal welfare, production costs, social media and profitability. At just 22 Sam is determined to improve his networking with other young beef enthusiasts to increase his involvement across this broad industry.
Kitty Sheridan – SA

Kitty is from a mixed cattle and cropping operation outside Dubbo NSW, and now holds the position of Livestock Operations Leader within the Teys Naracoote Complex in South Australia. Throughout her career Kitty studied a Bachelor of Animal Studies at Charles Sturt University in Wagga Wagga before operating as a leading hand at the Teys Charlon Feedlot in Vic. She works closely with producers, processors, agents and fellow beef youth. She has goals for the future to become a trainer and assessor so she can educate youth on how to become more involved within the industry as well as operate and own a cattle property.  The  main industry issue she wishes to address involves the retention of people as well as forming a clearer picture of the processing industry to external sources. Kitty wishes to immerse herself within the beef industry at a deeper level regarding the decision and policy making areas of both State and National Organisations.
Kevin Stark – VIC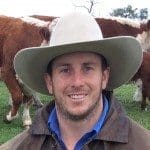 Kevin has completed a Bachelor of Aerospace Engineering but he believed he was destined to return to his family cattle, sheep and irrigation farming property in Southern Victoria, which he now co-manages. Kevin has a strong community focus and wishes to increase his engagement particularly with state youth groups. Kevin has goals to increase the genetic capabilities of his stud herd, whilst maintaining his commercial herd operation. Kevin's personal career goals are to increase his input into policy making committees as well as increase his marketing and promotion of beef within Victoria. Kevin believes that with his knowledge he could assist within gaining awareness on competitiveness on a world stage as well input into increasing promotion of the Australian grassfed product. Kevin applied for the NAB Agribusiness Rising Champion Initiative to increase his networking profile, grasp policy decisions and market focus areas, so he can begin to input into State and National issues within SFOs and Cattle Council.
Emily Bryant – WA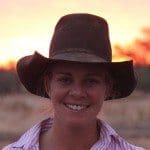 Emily is a woman with passion and drive for all things beef. Located on Argyle Downs 120km south east of Kununurra WA she manages a 1000sqm station for Consolidated Pastoral Company. Starting as a cook she has built her way to the top. Emily manages a finishing property for dry cattle for live export into South East Asia, off loading 7,500 head annually she is determined to ensure she produces a high quality beef brand to this industry. Emily believes it is important for all pastoralists involved within the live export industry to operate as a team to constantly improve welfare standards, manage external criticism and ensure proper management of cattle whilst in transit. She is excited for this opportunity to progress her knowledge, industry networks and gain a deeper understanding of policy issues currently facing this industry.  She is excited for the future of the beef industry and is proud to be involved.
Bronte James – NT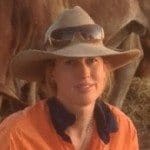 Bronte James co-manages her family run station within the northern farmlands of the Northern Territory. A mixed grazier and cattle operation spanning a total 2,800 sq km and running approximately 12,000 cattle, Bronte and her brother have four staff members recruited from different walks of life. Bronte's passion for the beef industry and her property is infectious with the overall goal to increase the profitability, sustainability and efficiency of her operation. After a stint in the mines Bronte returned home to maintain the property due to the ill health of her father. Alongside her brother they employ workers from local communities across the NT. She has had an abundant amount of community involvement and is excited to progress into more State and National areas of the beef industry. She believes in achieving goals such as public awareness, sustainability, disease prevention and ensuring we mentor youth. Bronte believes it's her time to contribute back into the national areas of the beef industry and is determined to gain more knowledge of the political side of the beef industry.
Geoff Birchall – NSW

Geoff 's passion for beef stems from his family property located near Tamworth on the North West slopes and plains of NSW. He operates a beef cattle stud and commercial herd focused on utilising cross genetics to improve herd productivity, carcase quality and yields. The pursit of greater production potential within his herd has led him to visit South and North America for research within genetics, leading him to the importation of semen for his herd. Geoff is an Art4Agriculture Young Farming Champion, has won numerous RAS awards for his cattle and is a qualified chartered accountant. Geoff is determined to make a mark in the industry within his new export business that he has started aiming to educate the Chinese retail market on the benefits of Australian beef. Geoff  is working to develop concise strategies to maximise prosperity and opportunity for our beef products.  Geoff  is excited to be apart of this intitave as he believes that this opportunity will provide him with the next platform in understanding polictical, policy and State organisation representation, provide him with key networks and aid in forming more youth involvement.
Source: Cattle Council of Australia