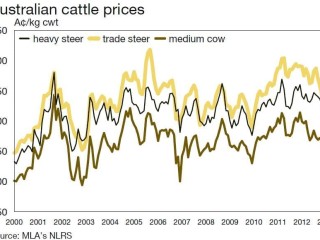 Forecasts of a drier and hotter year will drive key changes in Australian cattle production and market trends in 2013, according to Meat& Livestock Australia, as a three-year herd expansion runs out of steam and female turnoff increases and adds to supply.
In its 2013 projections report, released this morning, MLA describes the year ahead as a likely "turning point" for the Australian beef industry, as a run of wet years ends and herd growth plateaus.
The return to drier conditions is expected to see more female cattle sold for slaughter, which will lift beef production in 2013 and underpin higher beef exports, but will also cause downward pressure on prices.
2012 was a year of two halves. Wet conditions helped to prop up prices earlier in the year by reducing turnoff, restricting supply to market and keeping restockers interested in finding cattle to put on grass. However the influence of drier conditions as the year progressed saw slaughter levels increase, cattle prices ease and producers pull back from herd rebuilding, a trend that is expected to continue this year.
The net result is a forecast decrease in overall prices for 2013 compared to 2012.
However MLA notes that the 2012 average was boosted by very high prices at the start of the year, so, despite predictions of a lower price average in 2013, some improvement is still anticipated on the lower price levels we saw at the end of last year.
The negative influences on prices in 2013 will include an increase in turnoff, a poorer season, sluggish chilled beef demand and a high A$.
The positives will be higher US cattle and beef prices, which will permeate through to higher global frozen beef prices, and the continuation of increased exports to a range of smaller markets.
The brightest light for the Australian beef and cattle industry, not only heading into 2013 but for a further three to five years, is the US beef industry.
Record US cattle and beef prices and falling US beef production, underpinned by a 60 year low cattle herd, are expected to lift US beef import demand and lessen the impact of the growing US competition on Australian beef in key overseas markets, especially in Japan and Korea.
Rising prices in the US beef market should drive higher prices globally, especially for frozen manufacturing beef, MLA predicts.
The extent to which Australian exporters and producers can benefit from this trend will largely be determined by the value of the $A as the year progresses.
Away from frozen beef, however, the outlook for the chilled beef sales remains tough, thanks to continued weak consumer sentiment and reduced demand for higher priced beef in many of the traditional advanced markets, including Australia.
The high $A, sustained competition from the US and forecast higher beef production in both Japan and Korea offer little reason to suggest a recovery is likely for Australian exports to the important markets this year.
In volume terms Australia's beef exports are expected to increase further in 2013. The US is forecast to be the fastest expanding market (in volume terms) for the second year in succession. Growth is also expected to continue into most of the smaller Asian markets, along with the Middle East, while the increased access for Australian beef into Europe is expected to again assist grainfed exports to this market.
The outlook for the live cattle sector continues to be tough, with the tightening import permits into Indonesia impacting on the viability of northern Australian producers.
The further reduction in import permits for 2013 is expected to increase the pressure for cattle producers to find alternative markets, which could be accentuated if the 2012-13 wet season is below expectations.
However, judging by the limited success in expanding markets over the past year, the longer term outlook for the trade still seems heavily hinged upon Indonesia.
MLA expects live cattle exports to total 550,000 head in 2013, down by 14pc on the 641,000 head exported in 2012.