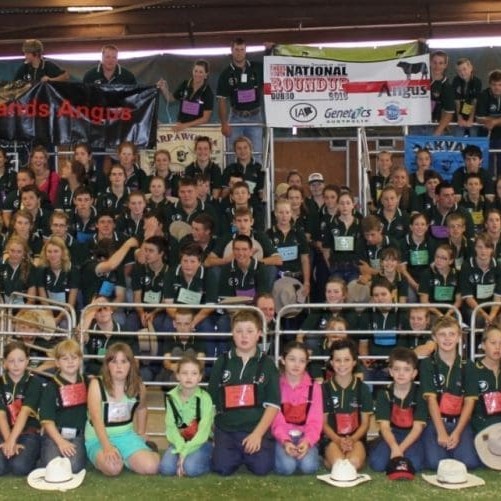 A RECORD number of Angus Youth members from across Australia and New Zealand gathered in Dubbo for the recent Angus Youth National Roundup.
The event organised by a dedicated group of volunteers, included educational sessions, competitions and fun activities for the 200 plus participants.
Angus Australia took this opportunity to present a vast range of scholarships and awards to Angus Youths' top achievers.
The educational sessions were delivered by experts in the industry and included topics such as animal nutrition, lotfeeding, agronomy and the Meat Standards Australia program, with a particular emphasis on careers in the beef industry.
Competitions during the event included parader classes, judged by Kate Hallawell from Orange, cattle classes judged by Hayden Green and associate judge Luke Collins, plus a junior judging and herdsperson competition.
A special dinner and auction was also included in the National Roundup program, with 410 people attending on the Saturday night.
Last years' national champion young auctioneer, Joel Flemming, led the auction which raised more than $14,000 towards the Roundup.
Featured lots in the auction included a headbail donated by Leichts CIA and several elite embryo and semen packages.
Irelands Angus was the major sponsor for the event with Genetics Australia and Teys Australia being key supporters.
Angus Australia president Mark Gubbins described the youth event at Dubbo as a resounding success.
"How often can you get more than 200 young people to a country event in 43 degree heat and not hear a whinge? They just got on with the job," he said.
"To see so many young being involved in the beef industry is just pure pleasure. They are our future and need our encouragement. One of the highlights, for me, was seeing a young lad come out of the ring with his buddy leading a heifer that had just won a ribbon. The look on his face was priceless and totally summed up the roundup."
Mr Gubbins said Angus Australia was passionate about supporting the industry's youth. "It's about our beef industry and its future, and we certainly have a bright one with these young people."
Angus Australia congratulates Shelley Piper, Angus Youth co-ordinator, Matt Cherry, Trio Angus, and the 2013 Roundup committee for organising such a successful event.
A location for the 2014 Angus National Youth Roundup will be decided soon.