A 20 year journey to develop and evolve the MSA program has established a valuable foundation for the Australian cattle industry, with price signals going back to producers that reward eating quality and for meeting market specifications.
But we can do better, MLA general manager industry systems Michael Crowley told a forum celebrating 20 years of the MSA program in Melbourne on Monday.
Mr Crowley highlighted three areas where work is underway to build on 20 years of MSA for the future (Tomorrow: Rod Polkinghorne looks ahead to 2040):
Lifting the language barrier
In June 2016 the Australian Beef Language Review handed down 46 recommendations in line with the industry's aim of becoming more consumer-outcome focused.
Since the release of the review, 12 recommendations have been put into action, including the implementation of the Eating Quality Graded (EQG) cipher (see yesterday's article); the removal of meat colour as an MSA minimum requirement; the development of an additional Grain Fed Finished standard and cipher; and an Animal Raising Claims Framework for Beef Production in Australia addressing a need for more specific descriptors underpinning brand claims.
But there is still progress to be made.
"Our language needs to enable how we move forward in the future," Mr Crowley said.
"As we have shown over time we can be more outcome focused and if we pack product on eating quality first, we're reducing complexity, and we're also making sure we're not unnecessarily downgrading product."
43 percent of Australia's national adult cattle slaughter graded MSA, and the aim is to get to 50pc by 2020.
But there are still many cattle that comply with MSA requirements that are not currently packed as MSA product. MLA's research shows that if all eligible cattle that comply with MSA requirements were packed as MSA, the industry would generate an additional $46 million in value every year.
That is an additional $46 million the industry has just "left on table" in a 12 month period alone, Mr Crowley said.
"And if you consider that to run the MSA (program) is about $8m a year, yet we're still leaving $46m a year on the table in lost opportunity.
"These are the sorts of things that by implementing Eating Quality graded, we can start to look at the eating quality we want, who is it for, who is our customer and how are going to translate that back into the pricing signals, and that will change over time as we start to get more of the product and the industry move to being more outcome focused."
Improving animal selection
Making sure we "start with the right animal in the first place" is at the centre of industry research into genetic technology and genomics.
The aim is to be able to identify the genetic potential of an animal to suit a market and to deliver a consumer outcome, and to make selection decisions earlier in an animal's life.
"If you think about the role of genetics in the whole production system, we're trying to select genetically superior animals that help us meet or exceed that consumer expectation," Mr Crowley said.
"How do we also make sure they are productive, they are healthy, they are reproductive, and they are meeting market specifications?
"They are the most efficient animals to process, we can link the whole value chain together by starting off with superior genetics, and then making sure we don't stuff it up through the rest of the value chain."
Objective carcase measurement
The other big area of investment, one that tends to capture most of the headlines, is objective carcase measurement to improve the accuracy of grading assessments upon which suitability to market specifications, and pricing back to producers, is determined.
Analysis of dual energy x-rays (DEXA) and other imaging technologies to provide an objective measure of lean meat yield is a key part of this process.
"DEXA was developed in the small stock sector to drive automation (robotic processing of lamb carcases), and it just so happens that an algorithm has been developed that can look at predicting and getting close to measuring lean meat yield, and giving that information back to producers, as well as helping to make selection decisions in the processing plant and automation which is going to reduce costs," Mr Crowley said.
The industry is also exploring the use of the simple "Nix" colour sensor, a $500 blue-tooth connected device that integrates with a smartphone app to provide a precise reading of meat colour, helping to remove the subjective nature of what should be an objective measurement.
Thermal imaging is also being trialled to measure stress in live animals.
"If we can measure that in a live animal, we can predict which animals may cut dark and manage them differently," Mr Crowley said.
"We're looking heart rate, respiration rate and flight speed, and it is showing some promise, so we are following these cattle through from on-farm to processing and collecting cuts and taking that through to consumer sensory (work), it is giving us powerful data to try to nail this on farm."
What will the red meat industry look like in 2025?
Mr Crowley presented the following slide to demonstrate the where the industry aims to be in seven year's time: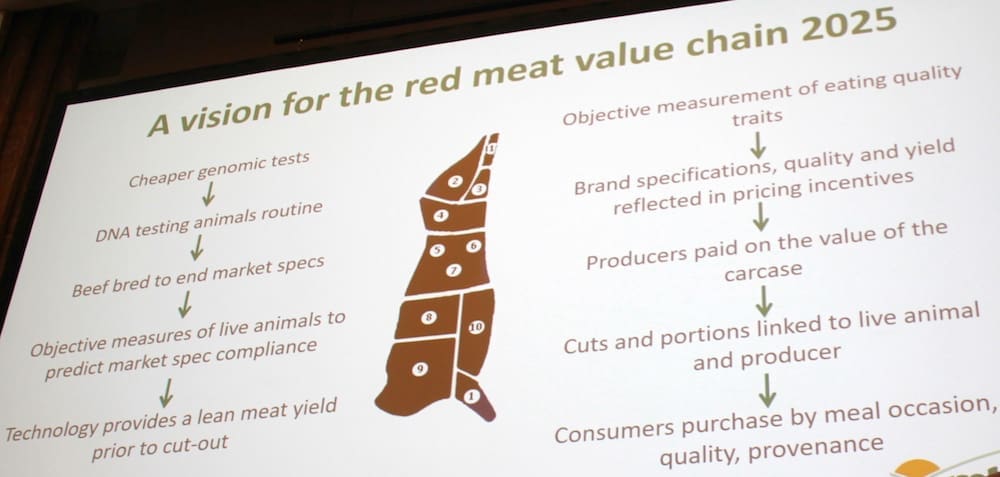 Click on images to enlarge
The big picture is cheaper genomic tests and more routine DNA testing making it easier to select genetics better suited to market specifications and specific consumer eating quality outcomes, with objective measurement for eating quality and lean meat yield cut-out combining to ensure producers are paid according to the true value of their carcases.