THE old saying, "A rising tide floats all boats," is certainly true for the Wagyu sector at present, where the extraordinary surge in overall young cattle values over the past 12 months is being clearly seen in some truly remarkable values for Wagyu-influenced feeders and backgrounders.
A survey of half of dozen of Australia's largest Wagyu beef supply chains by Beef Central over the past few days suggests well-bred Wagyu feeders 350-450kg are routinely trading in a range between 750c/kg and 800c/kg liveweight at present – but there are clear examples where premium lines are making even more than that. Fullblood feeders are worth at least a dollar a kilo on top.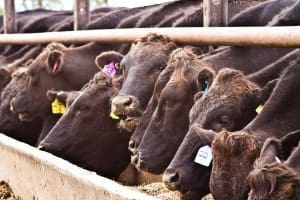 Wagyu feeder market values are notoriously difficult to pin down at any time, because the overwhelming majority of feeder cattle entering longfed branded beef programs are bought 'discretely,' out of the paddock. Only a very small percentage are traded through publicly visible transactions, either saleyards or online sales.
Pub talk among stakeholders recently has even speculated that the best F1 feeders could perhaps hit an extraordinary $10/kg sometime soon.
Certainly some lighter backgrounder-weight F1s around 300kg have traded above 900c/kg online recently, and lighter descriptions well above 1000c/kg liveweight – but we are yet to see any evidence of 'proper' feeder weights reaching the magic $10/kg milestone.
Smaller opportunistic one-off purchases are sometimes being made online to fill a few vacancies in a pen, but these are not really representative of the broader market, Beef Central was told.
"There's the core-business dedicated supply chain price, which accounts for the overwhelming majority of feeders being sold, and then there's a small spot market price, representing only a handful of cattle," one stakeholder said. "They are really the outliers, and do not reflect the main direct consignment supply chain model – but they get all the headlines."
"There are occasionally F1 and Fullblood sales being seen at $11-$12/kg, but they are for steers 200kg or less," one manager said. "It's easy to misinterpret the market."
In comparison with F1 feeders currently making 750-800c/kg liveweight, flatback heavy feeders this week are selling around 480-490c, and Angus around 560c. This suggests heavy F1s are currently trading at a premium of around 40-50pc over an equivalent Angus feeder.
Roll back to early 2020 when the drought first started to break, and Wagyu heavy feeders were making 330-350c/kg, at a time when Angus feeders were 310c. That 20-40c/kg Wagyu premium has now blown out to around 250c, contacts said – larger that it has ever been.
While young cattle price comparisons are inevitably made with the EYCI, which currently sits well above 1000c/kg, it has to be remembered that the EYCI is measured in dressed carcase weight terms – not liveweight. Some backgrounder type Wagyu F1 steers and heifers are currently making twice the EYCI indicator value.
Feedback from stakeholders is that a large (possibly 50c/kg) spread has emerged between the 'better-bred' and 'everyday' Wagyu x Angus F1 feeders, based on maternal and paternal genetics, weight, numbers involved in the deal, and general quality. Previous carcase performance was also a factor in pricing.
One supply chain manager suggested that the discount for F1s bred from 'non-Angus' dams was not as high as it once was – likely reflecting current supply. A quick scan through this year's AuctionsPlus F1 Wagyu sales shows a scattering of other maternal breeds, including Shorthorn, Murray Grey, Speckle Park, Hereford, Friesian, and even some Brangus and Droughtmaster.
A number of large F1 branded beef programs are currently actively advertising for feeders via Beef Central, the AWA website and other channels.
Dedicated supply
What's clearly evident this year is that a lot more F1 Wagyu breeders have locked-in to dedicated supply agreements with beef supply chains, than has been seen in the past.
International demand for high quality Australian Wagyu remains extremely strong, despite COVID disruptions, and it's this which is fuelling the high level of demand and competition for a smaller pool of suitable feeder cattle – still recovering after earlier drought liquidation among breeding herds.
Attractive cost of gain in the feedlot is also encouraging some operators to move to lighter weights, which while even more expensive in c/kg terms, are cheaper in $/head terms, and can be grown-out relatively inexpensively. In essence, some buyers are happy to pay a significant premium for lightweights, because their Cost of Gain at around 350c/kg to add weight currently is so attractive.
Attractive Cost of Gain has also seen some yards add 'a few extra days' to feeding programs (in one yard's case, 40 days), to try to optimise marbling performance.
"I can't see F1 feeders getting much dearer than they are now," one large supply chain manager said, when asked whether $10/kg feeders were a possibility. "There's no money in it now for Wagyu programs selling branded beef – I can tell you that," he said.
Trading on AuctionsPlus
Online marketing platform AuctionsPlus does carry some Wagyu lines, but trading is extremely thin, to say the least. This inevitably adds questions about the reliability of any market data based on these figures alone.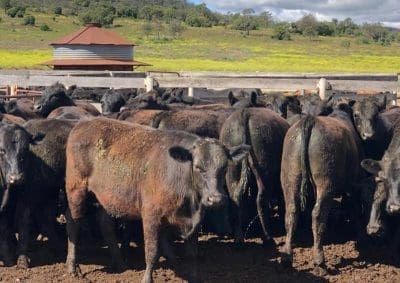 Across 79 yearling and weaner sales held on AuctionsPlus this year, Wagyu-influenced cattle between 200-400kg have accounted for only around 2300 head, representing only a tiny fraction of overall Wagyu feeders and backgrounders traded over that period. Most of those transacted online were lighter backgrounder weights, with only a handful averaging above 350kg. Lot sizes, also, have tended to be very small – with many being 20 head or less.
Nevertheless, some recent examples of heavier F1 sales online have clearly demonstrated the current 'extreme heat' in the F1 market. As an example, last Friday a line of 36 Wagyu x Angus F1 feeder steers (pictured), 414kg at 11-13 months from Baradine NSW sold for 898c/kg liveweight, or $3720 a head. Their 37 heifer sisters 372kg made 882.4c/kg. One of the keys to this sale was that they were exceptionally well grown feeders out of high quality Millah Murrah and Milwillah blood Angus cows by a Sumo Fullblood bull.
A second line of 14 F1 Wagyu x Angus steers also sold online on Friday averaged 374kg at 12-13 months, making 874.3c/kg, while their 14 heifer sisters, 344kg, made 871c/kg.
The Australian Wagyu Associations plots F1 Wagyu sales data from AuctionsPlus versus the industry's feeder indicators on an annual basis. The graph below, plotting the eight months to the end of February, shows Wagyu F1s (blue dotted line), continuing to climb away from mainstream feeders (orange line), reaching an average of 600c/kg by February, but continuing to grow since then.
F1s will be slower to recover than the rest of the breeding herd
While short supply is clearly part of the current record pricing being seen for F1 feeders, several supply chains told Beef Central this week that the recovery in numbers is likely to take longer than for the broader cattle industry.
"That's because cattlemen in the depths of the drought sold off their terminal breeders used for F1 production first, and then started on their cows used for straight Angus breeding," one contact said.
"It means there's relatively less F1 calves on the ground, in proportion to straight black types this year. And the reverse will apply in the rebuilding phase – producers will re-establish their purebred Angus cattle first, and only then return to F1s, attracted by the price premiums."
"It could take an extra year or two for Wagyu, in the recovery process. That's always been the case in the past."
"It means that while everyday flatback and Angus feeder prices may well come off the boil with this year's spring flush of calves, the Wagyu job won't, because of lack of numbers – we're still a year or so away from that."
Wagyu bull prices lift
Several contacts reported a jump in demand again for Wagyu herd bulls over the past four or five months, with one prominent stud recently selling 30-odd yearling bulls in the paddock for around $12,000 average.
Suitable Fullblood herd bull prices had gone from only $6000-$8000 to $12,000-$14,000 in a relatively short period, one contact said.
"The price signals are saying, 'buy Wagyu bulls', but there's not enough bulls to go around now. The problem is deciphering which are the right bulls to use in F1 programs," he said.
"Bull breeders got stuck with surplus Wagyu bulls in 2019, when nobody wanted them, and now the cycle has gone the other way. But these current feeder prices – at least $2/kg above an equivalent Angus feeder – will inevitably attract some Angus breeders back into F1 breeding – especially using their heifers," the contact said.
However a lot of the extra bulls being purchased are only going out now, meaning feeders will not start to appear until 2023.
"It will only be the year after next when Wagyu supply chains will start to see greater numbers, that will allow them to breathe a little easier," he said.
TEM's analysis
Thomas Elder Markets' Matt Dalgleish recently took a look at Wagyu feeder prices, using the (albeit very thinly traded) AuctionsPlus public price data versus the EYCI.
"Filtering AuctionsPlus sales data for F1 Wagyu types that are similar to EYCI cattle types, we can see that average monthly F1 Wagyu prices have rallied strongly throughout 2020 and are nudging 1800c/kg (carcase weight equivalent, not liveweight) as of August 2021," Mr Dalgleish said.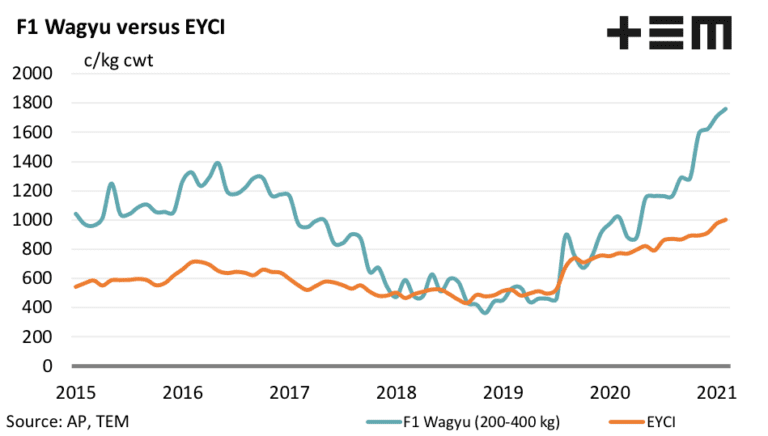 "After the Wagyu feeder 'glut' of 2018-19 (see Beef Central's earlier report), in recent times the premiums have returned to levels that are consistent with the upper end of the normal range," Mr Dalgleish said. Since 2015 the F1 Wagyu to EYCI spread had averaged a 47pc premium, with a normal range in the premium of 8-85pc.
Movements in the spread would be considered extreme, based on the historic variation, when below a discount of 30pc or above a premium of 125pc. Currently the monthly spread of F1 Wagyu to the EYCI is sitting at a 76pc premium, Mr Dalgleish said.
Mecardo's analysis
Mecardo also looked at Wagyu feeder pricing in June, suggesting the average Wagyu bonus over everyday feeder steers had reached 80pc, at that point. It warned, however that premiums could be highly variable, based on specification.
F1 cattle in the mid-range 280-330kg liveweight range fetched the highest premiums.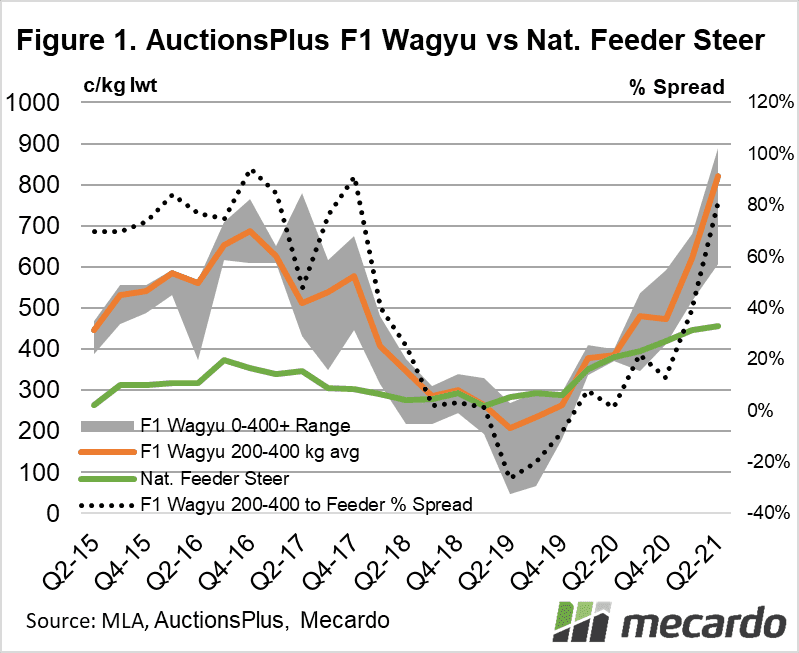 "After suffering a major collapse between 2018 and 2019, Australian F1 Wagyu cattle premiums on AuctionsPlus have recovered to a level of 80pc above the national feeder steer indicator," Mecardo said.
"Five years ago, back in 2015, it was the norm for F1 Wagyu steers listed on AuctionsPlus to achieve eye-watering prices in excess of 70-80pc above the national feeder steer indicator.
"This premium collapsed rapidly between 2018 and 2019, bottoming out at  a minus-30pc discount in March 2019, before mounting a steady recovery up to the present day. That's even despite the impact of COVID on foodservice throughout 2020," Mecardo said.
The collapse in the Wagyu premium back in 2018/19 had been attributed to an oversupply issue, where some producers made attempts to enter the marketplace with non-Angus Wagyu crossbreeds.
Animal weight could also have impacts on value, Mecardo said, with heavier steers +400kg lwt typically attracting a lower premium, but also, very light (less than 200kg) cattle too. Mid-range 280-330kg steers attract the most consistent value advantage.