INDEPENDENT meat industry analyst Simon Quilty has written-off recent optimistic Chinese rhetoric around its pig herd recovery, suggesting the country's pork production will remain heavily impacted by African Swine Fever for years to come.
China's rate of recovery from ASF – or perhaps more accurately, its lack of recovery – will continue to have an enormous bearing on global meat protein trade and prices in the years ahead.
Mr Quilty, from Global Agritrends, was speaking on a panel session on global meat trade held as part of the ABARES 2021 online conference yesterday.
Prior to 2018, a staggering 50pc of the world's pig population resided in China – some 435 million head. At the height of the ASF disease impact, China's pig inventory fell by 42pc, to 254 million head, leaving an enormous protein void that the country attempted to fill with imports.
The disease has since spread across 15 countries in Asia, and eight in Europe.
In November last year, Chinese officials made a claim, suggesting the pig herd had recovered to 90pc of its former capacity, Mr Quilty told yesterday's webinar.
"This was a startling number, to say the least," he said. "They went on to say that by mid-2021, pig numbers would be full restored."
In the meantime, though, there had been a wave of ASF outbreaks across China this year.
Global Agritrends estimates than China has lost between seven million and eight million sows in the latest disease outbreak over the past eight weeks.
"Yet, the Chinese rhetoric over recovery continues," Mr Quilty said, "with China saying only this week that it will be fully recovered by the middle of this year."
So what data can be trusted? Mr Quilty looked at China import data for pork, beef and chicken; local Chinese piglet prices; and other anecdotal evidence to provide some answers.
Local Chinese piglet prices had risen in recent times, currently at 98RMB per head. Prior to the arrival of ASF, prices averaged 25RMB.
"They are now four times as high, and going higher. This does not indicate a herd about to regain its former 100pc level – it is quite the opposite," he said.
Despite enormous investments in large-scale, 'disease-free' piggeries across the country since 2019, it continued to be a struggle for China to rebuild its pork production capacity.
"Higher piglet prices are good evidence of that," Mr Quilty said. "It's a similar story for China's hog prices. In the pre-ASF era, prices averaged around 10-20RMB/kg. Today they sit at 30-40RMB.
"We've had a recent rush to the door due to the disease, but we expect a sharp rebound, and for those prices to go higher. For breeding sows, prices have been stubbornly holding at around 75RMB/kg since July last year, compared with 30RMB in re-ASF times – more than double today from what they were. Once again, this is a herd that is far from recovered, and is struggling to rebuild."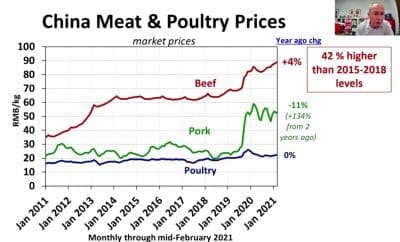 Similar signals were evident in Chinese meat prices, presented in the graph above. Beef price currently sit at 42pc higher than the average of 2015-18 levels, and pork, a whopping 134pc higher.
"Once again, it tells us that this market is far from recovered," Mr Quilty said.
Imported meat skyrockets
Chinese import data for pork, beef and chicken show that in 2017, volume of the three proteins combined was 2.7 million tonnes, before skyrocketing to 8.8 million tonnes in 2020 – three times the pre-disease levels – because of the vacuum created by ASF and the lack of domestic pork.
"With the recent announcement of further ASF outbreaks across the country, we expect 2021 to now well exceed last year's meat import volume – possibly around 9.5 million tonnes," Mr Quilty said.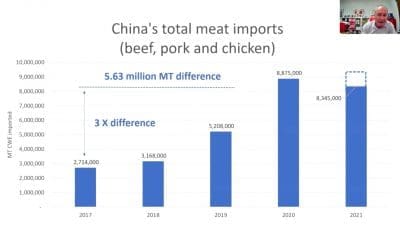 Further disease outbreaks
Anecdotal evidence included ongoing reports in Chinese media about further ASF disease outbreaks.
Last week, a futures analyst working with KOFCO, the Chinese government's meat buying arm, said the damage caused by the epidemic this winter was much more serious than last year, estimating that 20pc of sows in northern China had been impacted, and up to 30pc in parts of southern China.
Another consulting firm, Yongyi, on Sunday said that Chinese breeding sow numbers for both January and December were down significantly, estimating that overall sow numbers were down 37pc compared with pre-ASF levels.
"These are damning numbers in terms of what is really going on in China, and yet the government rhetoric continues," Mr Quilty said.
"Here we have them announcing just one case of ASF in the past month, with only 1000 pigs being culled at the time."
So what has led to the estimated 7-8 million sows being lost in the past eight weeks? There were two factors in play, Mr Quilty said.
Two new strains of ASF had emerged, due to the use of illegal (less effective) vaccines.
"The end result is that highly virulent strains have now come forward, and in addition, a natural mutation has occurred in ASF."
Between them, they were sweeping through the large Chinese piggery 'super-complexes' that had been constructed on the past two years, to shift the country's pig herd out of smallholder backyard operations to much larger, more efficient, and easier to manage (against disease threats) multi-storey 'industrialised' pork producing facilities.
"These facilities were once thought to be bullet-proof, disease protection wise," Mr Quilty said.
"But this 'solution' has now become the 'problem.' These large complexes each house an enormous number of animals, and have concentrated the disease spread problem. As a result, the disease has swept right through these large complexes."
There were also a number of other reasons why Chinese pork production was struggling.
Poor genetics and low litter sizes had caused real problems. This was partly because females that were to be used for meat consumption were now being used for breeding, and experts were saying these retained gilts were not performing at all.
"The end result is lower carcase weights and smaller litter sizes. In addition, the ASF disease has never stopped, and other diseases have also appeared, such as SARRS and Foot & Mouth, which continue to plague Chinese pork production," Mr Quilty said.
"Add that to the new strains of ASF being seen, and it means Chinese hog rearing, as well as sows, is really problematic in China today."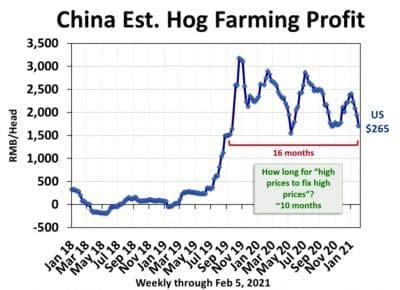 Hog farming profits
As the graph above shows, large hog farming profits averaging US$265/head have been experienced in China for the past 16 months, since the onset of ASF.
"Traditionally, these type of returns would only last no more than 10 months – because high prices tend to fix high prices. So what's going on? There's leakage in the system. There are the deaths and low productivity through ASF and other factors that continue to result in not enough animals in the system to meet Chinese pork demand. Ongoing high profit points to more and more problems within China's pork rebuild," Mr Quilty said.
China's live hogs and futures market (graph below) also points to the ongoing supply challenges and tightness in the future, with prices ranging from 26-28RMB/kg.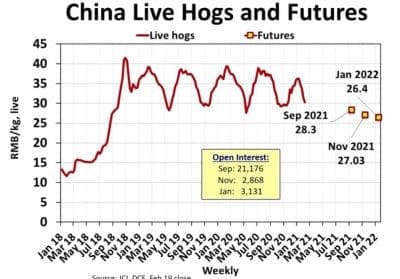 "Even China's own futures market out to January 2022 suggests supply will be very tight in the coming months. Those pre-ASF levels of 10-12RMB/kg look to be a long way off," he said.
The rhetoric about pork recovery coming out of China simply was not true, Mr Quilty said. "The pricing data tells us that; the imported meat data tells us that; and the other anecdotal evidence tells us that."
"The removal of another 7-8 million sows this year due to a second wave of infections, new viruses, poor genetics and production issues has set China's pork re-build back many years," he said.
Corn and cereal prices in China were likely to fall in the short term, as piggery feedstuff demand eases, while hogs pork, sow and piglet prices are expected to increase in coming months, due to the new outbreak.
"In summary, as a result, imports of pork, chicken and beef are likely to increase this year due to the shortfall, and exceed last year's 8.9 million tonnes. But at the same time there is a global shortage of beef. This will see higher beef and lamb prices in 2021."
Questions
During questiontime, a stakeholder asked why China was still importing so much corn and soy, given the recent disease impact on the sow herd.
"The situation in terms of losses in the sow herd has occurred only in the past 6-8 weeks," Mr Quilty explained.
"A lot of orders for feedstuffs are already in the pipeline, and have been for a good while. For the market to respond to recent disease impacts and see that, will take some time. But just last Friday, soybeans on the Dalian Futures Exchange fell by 5pc, and there was a recent 3-4pc correction in corn and wheat prices in North America. US corn has been driven since July last year by demand out of China."
Another stakeholder asked what Mr Quilty's 'best guess' was for how long it would take China's pork industry to recover.
"Dare I say it will be prolonged," he said. "But such predictions are based on key pieces of evidence based on pricing and imports – and China has now cancelled the January figures which were due to come out. That may well be related to the problems we are seeing."
"But I'm guessing that a 7-8 million sow loss (producing a knock-on effect in the production of piglets), will mean an impact of at least 12-18 months."
"We are still trying to ascertain how much more loss there will be. But with dry conditions and (northern hemisphere) summer coming on, ASF will probably be kept under some control, for the time-being. The question is, how much more damage could be done before those warmer months arrive."