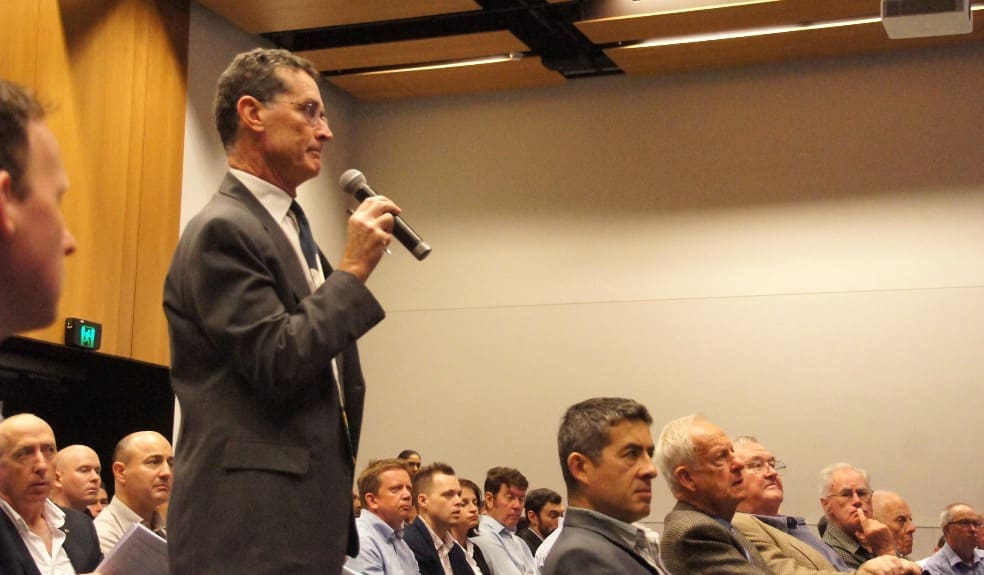 PROSPECTS of receiving a rare dividend, re-opening the Livingstone Beef processing plant near Darwin, and whether Brexit represented risk or opportunity for Wagyu beef exports were among topics raised by shareholders during questiontime at yesterday's AA Co annual general meeting in Brisbane.
A modest attendance, made up mostly of a front row of suits (institutional investors), and a contingent of smaller 'ma and pa' investors, sought answers and information on wide ranging topics during yesterday's meeting.  Here's a summary of what was on shareholders' minds:
Dividend drought
While sympathising with the board over the impact that drought had had on the AA Co business this year, long-term Brisbane shareholder Cam Ryan suggested an even bigger and longer drought had been experienced by shareholders, in delivery of dividends.
"The last dividend was paid on 1 October 2008," he said. "That's the real drought."
"Some of my mates, also long-term shareholders, have dropped out, due to the lack of dividends and disastrous share price, but I've stuck it out. I'm aware that there are positive elements in the 2019 annual report, and I complement the board on that, and the hard work that's been done in a difficult year."
A second shareholder said not one of the current AA Co board was on the board when a dividend was last paid 11 years ago. "Is there a view that in the foreseeable future that a dividend will become available, or is AA Co simply a cash-cow where shareholders keep providing finances for the operation of the company, and for the directors to receive their fees?" he asked.
Chairman Don McGauchie said he and a number of other directors held shares themselves. "We all bear the pain of getting this company to the right point. But we are turning this company around. When I came onto the board, there had been dividends paid, but also, there was a significant amount of debt, and it was not possible to go on doing that, based on increasing land prices."
"That was not a sustainable strategy. What we have to do is get the company re-built, generating the profit needed to get the debt under control, and when we have those things working well, then of course we will deliver dividends," he said.
Flood support
Shareholder Cam Ryan also asked whether AA Co had benefited from government support in the wake of the February floods, and if not, why not.
Managing director Hugh Killen said as a public company, AA Co was not eligible to receive the federal/state government financial support after the floods.
"But during the gulf event, we received a significant amount of support from our neighbours, helping us out in a time of need. So while we did not get government support, we received it from our communities. But we give back, wherever we can, in this support as well – both in terms of time and resources among our people, and in providing a significant amount of money to help local producers ship fodder after the flood."
Chairman Don McGauchie said the company had talked with the federal government over projects to improve management of such events in future – putting in some bitumen, all-weather airstrips on private properties, for example.
"They would be important for use in events like this year's flood, and the Flying Doctor could use them all the time," he said. "That's an area that would support the entire community."
'And there's no doubt that the meteorology system in northern Australia is completely useless. There is practically nothing between Darwin and Brisbane to support better forecasting."
"So there are investments the Federal government could make, as well as roads and bridges, that would deliver a great deal of benefit to local communities, and we will continue to push it."
Opportunities from flood event?
Another shareholder asked whether the 2019 flood event had delivered any opportunities for AA Co, as well as obvious setbacks.
"One of the things we have learned is that it's possible to get floods as large as this," Mr McGauchie said.
"Based on local community history over a lifetime, we had built flood refuges and designed fencing to some extent to manage such situations. What we have learned is that those things can be significantly worse than imagined, based on earlier experience.
"We're now looking at how we fence the country, the type of fencing we're using, to not only manage the land during ordinary times, but how it will react to even more severe floods than those we have seen earlier.
"We will learn from the February experience, in where we position cattle at certain times of the year, given that these floods do not occur at all times of the year, but a part of the wet season."
Mr McGauchie also touched on the structure and size of the AA Co herd, having lost 40,000 breeders in the February flood.
"It allows us to start to model how many breeders we need to hit our forecasts for market demand, for the sort of beef we produce. What cattle do we want and what breeding herd structure do we want? We have lost cattle both through the drought and the flood, so how do we (use that re-set) to structure the future breeding herd for the best value in the marketplace, and the type and volume of product that those luxury brand customers out there want to buy from us?"
Risk management
Another shareholder raised concerns about AA Co's approach to future risk management.
"I think the Gulf flood and the present drought are not isolated challenges," he said. "Global warming is happening, and climates are changing. Have you developed any strategies around managing future climate risk?
Hugh Killen said as a company, AA Co 'absolutely accepted' the realities of climate change.
"As we work through the impacts of both drought and flood, it gives us an opportunity to think about how we manage those animals in these changing environments more sustainably"
"The problem with that is, that accepting the science doesn't mean we understand how, when and where those impacts are going to be felt. The way I think about it is that there is a demand for certainty around climate change and its impacts on the country which it is simply not possible to deliver.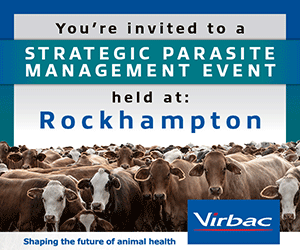 "I think we will see a period of more extreme weather across Australia, and we're seeing that play out in a number of areas, including this year's drought and flood events."
"We are going to see cattle herd numbers across Australia materially lower in the next couple of years, as we work through the impacts of both drought and flood, and I think it gives us an opportunity to think about how we manage those animals in these changing environments more sustainably.
"That's both in terms of mitigating against fodder and water loss, but also thinking about things such as flood impact.
"In terms of how AA Co manages that risk, it's about making sure we have the right amount of animals on properties, which sounds a pretty simplistic thing, but at our scale they have to be moved at the right time," he said.
One of the technologies AA Co was looking at in the Gulf and the Northern Territory was the use of virtual fencing, under a trial designed to move animals more quickly and efficiently, if and when required.
Comparing AA Co to Treasury Wine Estates
Several shareholders raised contrasts they saw between AA Co and another company they held shares in – Treasury Wine Estates.
Both turned a rural input into a product, which was marketed internationally, one shareholder pointed out. Noting the 'contrasting financial fortunes' of both companies, he asked whether AA Co was considering some of the strategies Treasury Wines had applied in its business model.
Mr McGauchie pointed out that AA Co's new head of sales and marketing had come from Treasury Wine.
"One big difference, of course, is that Treasury has been building its brands (Penfolds Grange for example) for a great deal longer than we have, and are now reaping the benefits of that brand investment," he said.
"Treasury has been very generous in supporting us, and the experience of Treasury is something that we value. But we'd love to have brands as old as Grange – when Wallara is as old as Grange, let's hope it is kicking the same sort of goals."
Mr Killen pointed out that one of the biggest differences between the two companies was that AA Co had a very long supply chain – both in terms of distance and time.
"We cover a large part of Australia, and it's a five year process to get those animals into primal cuts – and there is only so much shelf-life in those products once they are produced. With wine, it is slightly different."
"But fundamental to AA Co's strategy is getting brands into the market that consumers can identify with, and are will pay a premium for. Treasury's Penfolds brand is a small part of what they do, but it is the highest recognised part from a brand margin perspective. When we think about our premium prestige brands Wallara and Westholme, think about that role they play within the company."
The second part of AA Co's corporate strategy would really turn the company 'on its head,' Mr Killen said.
"We'll actually get to the position where we are demand-led, and not supply-led. That was fundamental to what Treasury did, and it has not really been done in our part of agriculture before – animals are traditionally just bred-out, processed and sold to the highest bidder. We're looking at a very different business model in AA Co, but it's difficult, and it takes time, but we are really seeing the evidence of that starting to work throughout our business now."
"Creating a demand-led business is fundamental to our strategy, and how we use all of our brands to make that happen across the portfolio of our business and around the world will be important."
Corporate charge
A shareholder asked about AA Co's 'corporate charge' (operating expenses costs), claiming that Treasury Wines – 20 times the size of AA Co – had a corporate charge only double the size of AA Co's.
Mr Killen said he doubted the comparison was accurate, but said AA Co had to build out the right team to execute against its new strategy.
"That means making sure we invest in our brands, and our marketing and sales efforts. In comparison, when I started in the business, there were two meat sales people working for AA Co. Our promise is about getting closer to our customer, and taking some investment. Once we build our brands, it's a number that will stay reasonably finite. But we want to continue to invest in our brands and get the right amount of money around those as well. In my mind our corporate charge is not outsized at all."
Brexit impact?
A shareholder asked what impact Brexit was likely to have on AA Co's ability to penetrate the European market with branded beef.
"For us, I think Brexit is definitely more of an opportunity than a threat," Mr Killen said.
"There is definitely a threat in the EU quotas that are being renegotiated at the moment – specifically for Australian supply chains producing 100-day or shortfed 'commoditised' product. There will definitely be production systems in Australia that see that as a threat," he said.
"For us, we produce a very high quality product, and so we come into the EU under a completely different quota.  So some of the renegotiations that are going on now don't have any impact on us at all. If anything, it opens the way for higher-value, higher margin markets."
Secondly, it gives Australia the opportunity to renegotiate all of our trade agreements back into the UK. I see this as a wonderful opportunity for this organisation, and we have people in the EU now, opening up those discussions in Europe and the UK," Mr Killen said.
Livingstone's future
A shareholder asked about prospects for the 'mothballed' Livingstone beef processing plant to be opened some time this financial year.
"One issue that has emerged since we closed it last year is drought in the Northern Territory, and the whole processing industry Australia-wide is under significant pressure in terms of slaughter volume, and that is likely to be the case for a while," Mr McGauchie said.
Mr Killen said it was important to understand that Livingstone was not 'mothballed.'
"When you mothball an asset like this, it starts to deteriorate significantly, virtually straight away. This is an asset that I would describe as being in a suspended state of operation – we continue to make sure that we have all of our licenses in place, and that the core of the plant is kept in running order, so we retain the value that we believe is in the Livingstone plant," he said.
"How do we strategically leverage that opportunity in the future? Meat processing is a boom/bust cycle, and with the current cull that is happening in the Australian beef herd due to drought, there will be an under-supply of slaughter animals for some time.
"But we are in the right position now, with Livingstone Beef. We will continue to review our options, and make decisions in due course – but the key thing is keeping the plant in an operating state, to provide that optionality."
Board cattle experience
With the departure of David Crombie from the AA Co board this year, a shareholder asked which AA Co directors still had 'direct cattle farming experience.'
"In terms of actual ownership of cattle, and livestock production experience, it would be Hugh Killen and myself," Mr McGauchie said.
"I think it remains a very significant skill requirement on a board like AA Co," the shareholder said.
"What we are doing is widening this company's base very considerably into marketing," Mr McGauchie said. "If we had all farmers on this board, I think we would be subject to a great deal of criticism.
"We don't want the board to grow too big, so what we are doing is structuring a board with a balance across all issues. We will be retaining David Crombie's skills, across all of industry, through the new pastoral advisory group, and have built a marketing and branding committee, together with the finance skills and management skills on the board. I think we have good balance," he said.