MOST young steer categories trended down in AuctionsPlus trading this week.
Cattle numbers dropped back,  with 7649 head offered, a decline of 25 percent on the week before. The weekly Weaner and Yearling sale continued to dominate the offerings with 5629 head listed, representing 74pc of cattle presented.
With much-needed rain beginning to fall in some areas, overall clearance picked up to 55pc.
Cow and calf listings came predominately from NSW, with 1681 head listed. The average price achieved was $1208/head, much the same as last week.
From Euroa, VIC, a line of Angus cows and calves, with cows 30-32 months old averaging 503kg, and supporting 4-6 week old calves at foot, returned the top price of $1620. This line is travelling 600km to Parrakie, SA.
From Bombala, NSW, a line of Angus cows and calves returning $1080 are set to travel across the pond to Tasmania. Another highlight saw a line of Charolais/composite cows 4-5 years with 1-3 month old Angus-sired calves at foot return $1140.
A line of 15 Angus not station mated heifers and calves, offered by Booragul Angus, at Piallaway, NSW returned $2750. These heifers are 25-26 months old, with Angus-sired, 1-2-month-old calves at foot. This line will travel to Salt Ash, NSW.
From Aramac, a line of 11 PTIC Santa cows sold for $650. Averaging 420kg, these cows were 3-8 years and joined to Santa bulls. This line will travel over 1000km to Kureelpa, QLD.
A line of 32 PTIC Limousin cows from Nundle, NSW returned $675. These cows are 3-12 years old, averaging 532kg. They are joined to Limousin bulls and are making the short journey just over the border to Goondiwindi, QLD.
Weaned heifers weighing up to 300kg averaged 237c this week, selling to a top of 282c. From Binnaway, NSW a line of 120 Angus heifers 11-12 months averaging 227kg returned the top price. These heifers were bred from Wattletop, Eastern Plains and Bald Blair Angus bloodlines, and were purchased by a QLD buyer at Meandarra.
A line of 20 Angus heifers averaging 277kg from Penshurst, VIC returned 253c or $700 when bought by a Tasmanian buyer.
From Pemberton, WA a line of 76 Angus cross yearling heifers averaging 482kg at 14-16 months returned 536c/kg dressed or $1374. Offered by the same vendor was a small line of mixed sex export weight cattle 20-24 months averaging 621kg which sold for 460c/kg dressed or $1543.
Yearling heifer numbers were boosted this week by a significant offering of nearly 500 head from Romani Pastoral Co, Quirindi, NSW. A 100pc clearance was achieved for the vendor, with Angus backgrounder heifers averaging 290c or $633, topping at $635. The 384 Angus heifers were 12-13 months, bred from Rennylea Angus bulls and averaged 218kg. Also offered was a line of 53 Angus/Hereford backgrounder heifers averaging 219kg which sold for 241c or $530.
Weaned steers weighing up to 300kg averaged 253c this week, selling to a top of 282c. The top price was returned by a line of 90 Charolais cross steers from Condamine, QLD, 10-14 months averaging 281kg.
Tasmanian buyers remained active, securing a line of 109 Hereford steers 10-12 months averaging 266kg from Narrandera, NSW for 253c or $675.
Another highlight saw a line of 85 Angus feeder steers 12-13 months averaging 432kg, bred from Barwidgee, Coolana & Weeran bloodlines, return 307c or $1330. These steers will travel nearly 700km to Burra, SA.
In a breakdown of young cattle sold this week, by weight range:
Steers less than 250kg sold from 216c to 313c to average 253c; while heifers sold from 155-291c to average 263c
Steers 250-300kg sold from 182-338c to average 274c; while heifers sold from 206-257c to average 242c
Steers 300-350kg sold from 269-319c to average 289c; while heifers sold from 236-275c to average 256c
Steers +350kg sold for 259c
Steer Highlights
12 to 13 month old, 268kg, Angus steers from INVERELL, NSW sold for 338c/905
12 to 13 month old, 342kg, Angus steers from BINGARA, NSW sold for 319c/1090
12 to 12 month old, 366kg, Angus steers from JUNEE, NSW sold for 309c/1127.1
10 to 14 month old, 281kg, Charolais Cross steers from CONDAMINE, QLD sold for 283c/795
10 to 13 month old, 279kg, Droughtmaster Cross steers from SPRINGSURE, QLD sold for 270c/754
12 to 13 month old, 432kg, Angus steers from CARAMUT, VIC sold for 308c/1330
16 to 18 month old, 374kg, Limousin/Angus/Limousin steers from INDIGO VALLEY, VIC sold for 268c/1000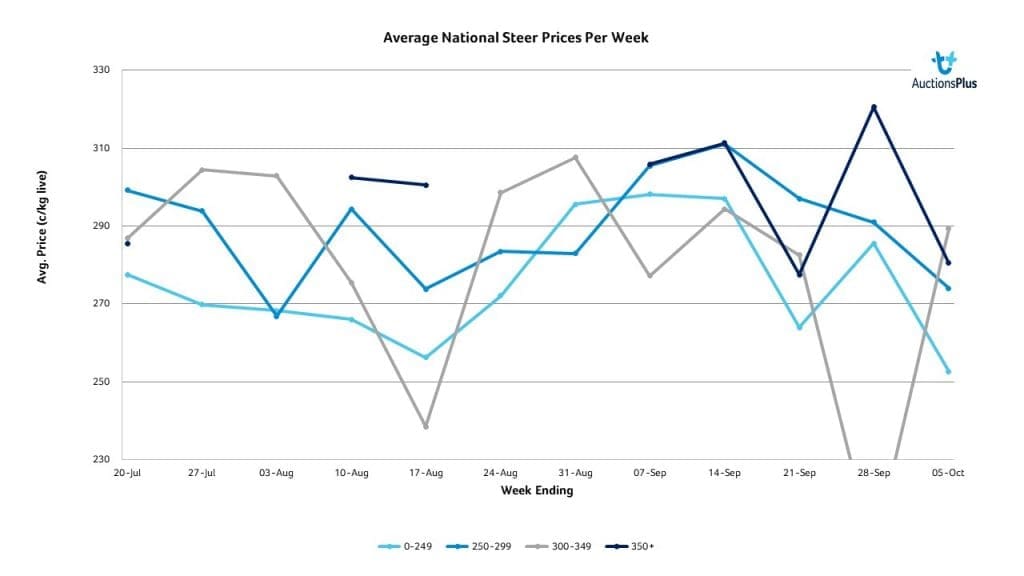 Heifer Highlights
14 to 15 month old, 247kg, Angus heifers from WALGETT, NSW sold for 292/720
12 to 13 month old, 218kg, Angus heifers from QUIRINDI, NSW sold for 292/635
12 to 13 month old, 323kg, Angus heifers from WOODSTOCK, NSW sold for 276/890
7 to 12 month old, 268kg, Angus heifers from WINTON, QLD sold for 258/690
5 to 9 month old, 194kg, Angus heifers from WINTON, QLD sold for 250/485
10 to 14 month old, 265kg, Charolais Cross heifers from CONDAMINE, QLD sold for 246/650
12 to 13 month old, 276kg, Angus heifers from PENSHURST, VIC sold for 254/700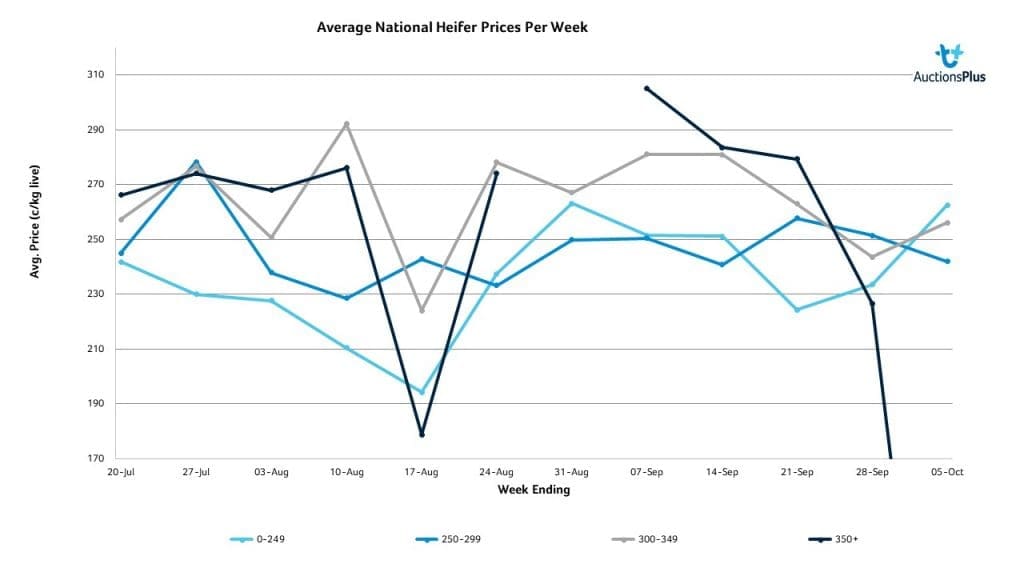 Source: AuctionsPlus