A 17 percent reduction in offerings to 16,966 head, together with rain through key regions, fuelled buyer competition on AuctionsPlus this week.
Most young steer and heifer lines lifted in value, especially among lighter descriptions, while prices also increased through most proven breeding lines, including PTIC heifers.
Rain across large regions of Eastern Australia this week, especially through southern Queensland, gave the market further impetus, with the EYCI pushing to another record high.

Year-on-year, the market is 30-40pc higher across a range of categories and given the latest three-month rainfall outlook from BOM, positive seasonal conditions look like they will reinforce the market at recent levels through to the end of the year.
Light young steers were again a rare item this week, with a large component of dairy influenced lines on offer through the lightest weight segment in the southern market. However the 280-330kg and 330-400kg lines prices jumped significantly, with clearance rates of 88pc and 92pc, respectively. For the 280-330kg weight segment, the 1115 head sold to fierce competition, averaging 35c/kg higher, at 625c, while the 330-400kg segment kicked 32c to average 585c, with a much lower offering of only 847 head for the week.
Demand for feeder steers remained strong, with the 1233 head of +400kg steers selling to a 92pc clearance and averaging 2c higher, at 540c.
A 48pc contraction in the number of 200-280kg heifers offered this week assisted with a 20c/kg jump in the weekly average to 624c – with a 93pc clearance for the reduced offering. Prices for the 280-330kg and 330-400kg lines were little changed on last week, down 0c and 3c respectively.
Out of Young on the southern Tablelands, a line of 70 Angus NSM future breeders 12-15 months averaging 347kg made 607.2c/kg or $2105 a head. A second run of Shorthorn x Angus half sibs, similar age and weight, made 577.6c/kg.
Breeding cattle
Numbers were again very thin through the proven breeding lines, with the 1689 PTIC heifers making up the largest segment of the market. The clearance rate for PTIC heifers was up slightly on last week, at 65pc, while the average price jumped $192 on last week, to $2573/head. NSM cows with CAF sold to a strong level of interest averaging $97 higher on the previous week, at $3427/head – with an 84pc clearance for the 865 head offered.
Out of Niangala on the NSW northern tableland, a line of 50 Angus and Angus cross cows 4-8 years, mostly fat score 2s averaging 430kg, with 50 Angus calves at foot made 804.3c/kg live, or $3460 the pair.
Prices as at 2pm Friday 1 October.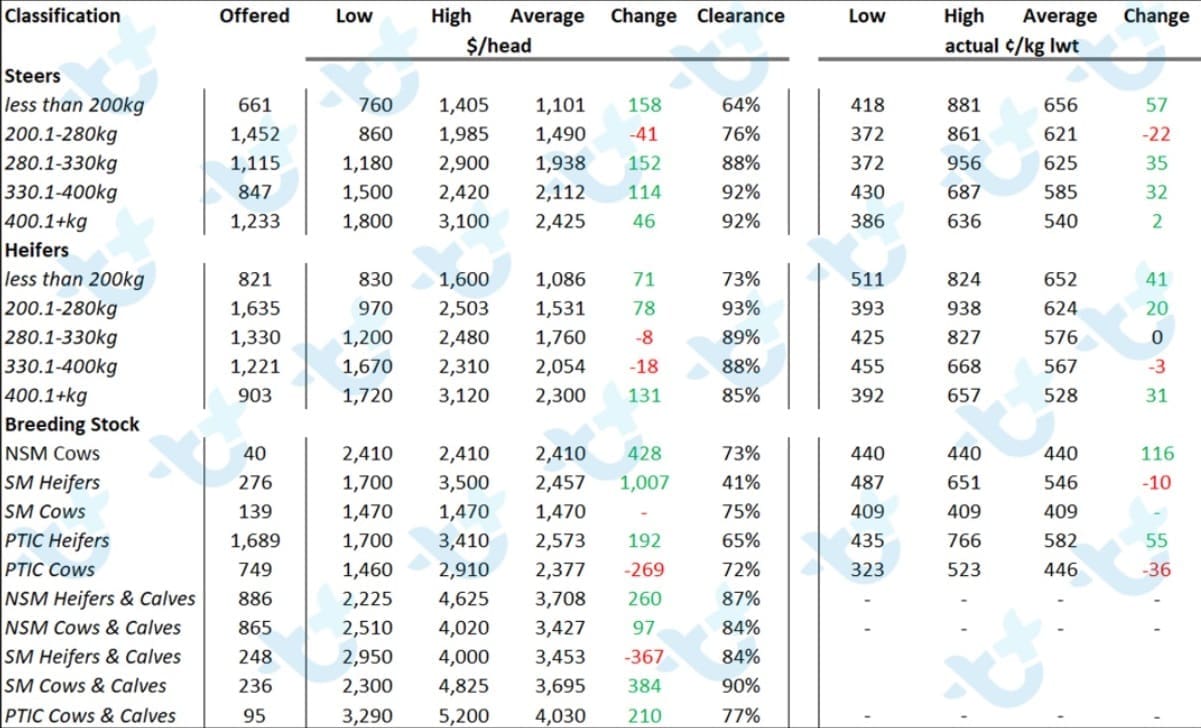 Upswing of online buyers drive prices at HRLX Prime Sale
AN influx of StockLive buyers participating in the Hunter Regional Livestock Exchange Prime Sale on Wednesday sparked fierce competition across multiple categories and helped push the steer price to reach 800c/kg.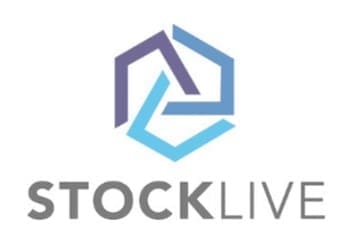 Grant Whatham, Thomas Livestock, said the overall market was firm and described the online buying activity as a sale highlight. In total, 37 per cent of bids across the auction were made via StockLive.
"This week there was no set pattern for what the online buyers were chasing," Mr Whatham said.
"They bought a wide range of cattle, from heifers to steers to bigger cattle, to light-weight weaners.
"This was a reward for vendors, as there was a wider range of buyers across their cattle, and although StockLive buyers didn't secure all of the lots, they were the underbidders in many cases."
Private Tamworth feedlot operator Logan Penfold, who was among the StockLive buyers, was looking to purchase steer lines within the 340kg to 350kg weight range for his business, which generally has between 60 and 80 head on feed.
A highlight in his purchases included a good-quality Charolais cross steer pen, offered by Jason Smith, which sold for 536c/kg.
"As the market prices are higher, lately I have been buying lighter cattle to background on a leased paddock, but the steers I bought at HRLX on Wednesday were ready to go straight onto the feed," Mr Penfold said. "Once finished, they will go straight onto Woolworths."
The full inventory purchased by Mr Penfold also included two Angus pens, both knocked down for 480c/kg.
The sale's volume online buyer was Inchbold Farming, Yarrawonga, Victoria, which secured a 58-head share of the yarding.
The heifer portion purchased included an eight-head Angus pen, drawn from EC Pastoral Company, which made 520c/kg.
A Limousin steer pen, offered by Jason Smith, was also snapped up for 520c/kg.
Bull sales heat up
Earlier in the week, during the National Charbray Bull Sale on Monday at Central Queensland Livestock Exchange, which achieved a sale gross of $705,500,000, the growing trend of buyers opting to purchase online was clear.
Lauren Burn, from Tasmania, created a sale highlight when she secured premium and well sought-after bull, Wattlebray Pin Up WATP815/9, for $35,000 via StockLive.
The stylish 1080kg, 34-month-old bull, bred by Trevor and Lolita Ford, Wattlebray Charbrays, Chinchilla, was the winner of the Senior and Grand Champion Male in the Interbreed at Beef Australia 2021 and drew significant buyer attention.
Another online highlight included John Mercer's purchase of Trifecta Quarterback Jack TFBQ063 for $8000.
Bred by Bryce and Lucy More, Trifecta Charbrays, Condamine, the 22-month-old bull was sired by Greenfields Lincoln (C5) and out of a Trifecta Kandy cow.
The sale's online volume buyer was Brett Christie, who secured three lots, all for $4000.
Sources: AuctionsPlus, Stocklive