YOUNG steer and heifer category prices remained robust, albeit with some of the categories lacking the "rampant buyer enthusiasm" from the previous smaller weeks, on AuctionsPlus this week.
While most young steer and heifer categories lifted in price in c/kg terms, lower clearance rates were in evidence. This week produced a total commercial cattle offering of 18,191, the highest seen since early November, with an increasing number of vendors reportedly keen to get cattle to market, especially through the lighter steer lines, to cash-in on the excellent prices and set themselves up for the end of summer.
With January's holiday-disrupted markets now in the rear-view mirror and the normal weekly rhythm set to return in February, the true level of the national cattle market will be established in coming weeks. Recent movement of the benchmark Eastern Young Cattle Indicator, almost hitting 1200c/kg earlier this week, only to fall 6pc in the following two days, highlights how the holiday period can contribute to the volatility of the young cattle market.
Corresponding with the return to normal market schedules in February, was another promising three-month rainfall outlook from the Bureau of Meteorology. Given that the market has largely priced-in a continuation of the excellent conditions across Eastern Australia heading towards Autumn, further "expected" falls in the coming months shouldn't move the market too greatly.
As with most markets, it will be the unexpected, or underwhelming, that will create any potentially big shifts in the coming months.
The main feature of this week's commercial sales was a lower clearance rate across the young cattle lines, while PTIC heifers continue to be the largest market segment. Even though the lightest steer categories had a larger influence of dairy cattle this week, the heaver lines were mixed. Steers 330-400kg averaged 25c/kg higher on last week, averaging 627c, with a subdued 59pc clearance for the 2447 head offered.
Heavy feeder steers slipped back slightly on last week, down 3c, to average 538c/kg liveweight, or $2326/head.
Clearance rates were also lower through the young heifer lines, as buyers' recent willingness to purchase at any cost took a step back. Through the 1620 head of 280-330kg heifers offered, the clearance rate slipped to only 68pc, while the average price edged up 2c/kg to average 657c. Heavy heifers lifted 12c on last week, to 541c.
Breeding cattle
Through the proven breeding lines, PTIC heifers were again the largest market segment, with the 2822 head selling to a 78pc clearance. After some volatility through January, the average PTIC heifer price finished at January at $3087/head.
From Rolleston, Central Queensland, an offering of 56 PTIC Brahman heifers 444kg at 20-30 months, sold $700 above their reserve, making 576.7c to return $2560/head.
From the south, a line of 62 23-month-old Angus PTIC heifers averaging 397kg from Coleraine, Victoria, returned $2760/head, heading into South Australia, while three lines totalling 121 Angus PTIC heifers 16-27 months from Armidale NSW made from 711.3c/kg for the heaviest line averaging 432kg, to 748.5c/kg for a line averaging 420kg.
Prices as at 2pm, Friday 28 January.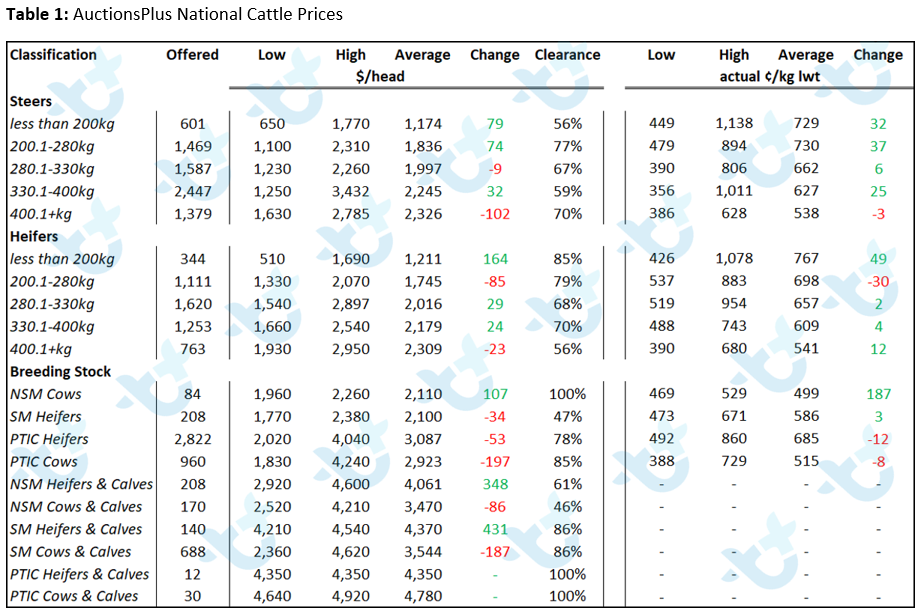 Source: AuctionsPlus