BUYER confidence lifted in AuctionsPlus cattle trading this week, with clearance rates and prices trending upwards across all sales. Catalogue numbers were consistent with the previous week, at 8750 head.
PTIC females were a highlight, with the 1078 head offered found an 82pc clearance and PTIC heifers were on average $133/head dearer.
Steers and heifers weighing up to 280kg were up by 29c/kg on average this week, while steers weighing above 330kg reached 340c. Southern Queensland was the most active purchasing region, securing 980 head, followed by the Riverina, NSW.
PTIC heifer and cow listings dropped this week by 684 to total 1929 head. PTIC heifer prices continue to improve, selling from $1070 to $1380 and averaging $1281.
PTIC cows sold from $850 to $1720 and averaged $1161, up $61. Top price was achieved by a line of 48 three-year-old Angus cows from Coolah, NSW, PTIC to Angus bulls, which are heading to Adjungbilly, NSW. Three lines of Rennylea blood PTIC heifers account Boonerah Pty Ltd, Hexham, VIC sold for $1370 and $1380. These heifers were 23-24 months of age and are PTIC to Angus bulls.
Cow and calf numbers remained steady this week, with 210 head offered. Walker & Co, Winton, QLD listed 147 mixed age station-mated Santa cows with 140kg calves at foot, which sold for $1350. The same vendor also offered three lots of PTIC cows totalling 159 head which averaged $1263 and topped at $1360, with all four lots were purchased out of SA, following the sale of the Walker family properties in the Winton district. From Texas, QLD, 31 mixed age Limousin x Braford cows with CAF sold for $1210 and will travel across the border to Dunedoo.
Steers less than 280kg sold from 260-335c, averaging 300c, up 29c on last week. Highlights included 89 Angus weaned steers 9-12 months, 250kg from Goondiwindi, QLD selling for 319c; 58 Angus weaned steers 10-11 months, 273kg from Goulburn, NSW selling for 335c; 114 Angus backgrounder steers 8-15 months, 198kg from Burra, SA selling for 255c; 11 Angus weaned steers 9-10 months, 245kg from Chudleigh, TAS selling for 309c.
Steers between 280-330kg sold from 245-320c, averaging 308c, up 2c on last week. Top price was achieved by 56 Angus yearling steers from Nundle, NSW. The steers were 11-12 months, 323kg and were purchased locally. Other highlights included 55 Charolais weaned steers 8-9 months, 312kg from Goondiwindi, QLD selling for 294c; 15 Angus weaned steers 11-12 months, 301kg from Cudgewa, VIC selling for 320c.
Steers above 330kg sold from 300-340c this week, averaging 326c, up 7c on last week. Top price was achieved by 12-14 month old, 338kg Angus feeders a/c Yammatree Family Trust, Cootamundra. Similarly, 80 Angus weaned steers from Cudgewa, VIC, 11-12 months averaging 350kg returned 335c and will travel to Burra, SA. A line of 33 Angus feeder steers 12-13 months, 365kg from Bylong, NSW sold for 319c.
Lighter heifers less than 280kg sold from 211-295c, averaging 245c, up 29c on last week. Top price came for 38 Angus weaned heifers from Woodstock, NSWm 9-10 months averaging 262kg. Other highlights included 99 Charolais/Charbray weaned heifers 6-7 months, 229kg from Goondiwindi, QLD selling for 239c; 71 Angus backgrounder heifers 8-15 months, 198kg from Burra, SA selling for 255c.
Heifers above 280kg sold from 194-272c and averaged 263c. Top price was achieved by 48 NSM future breeders 21-22 months averaging 379kg from Cassilis, NSW. The heifers will travel to Bulart, VIC. A line of 34 Limousin x Charbray weaned heifers 8-9 months, 312kg from Goondiwindi sold for 253c to a buyer from Rochester, VIC.
In a breakdown of young cattle sold this week, by weight range:
Less than 200kg: Steers sold from 250-314c to average 284c; while heifers sold from 212-281c to average 234c
200-280kg: Steers sold from 268-336c to average 309c; while heifers sold from 210-295c to average 249c
280-330kg" Steers sold from 245-338c to average 309c; while heifers sold from 194-307c to average 278c
330-400kg: Steers sold from 300-340c to average 331c
Steer Highlights
9 to 12 month old, 201kg, Charolais/Angus/Charolais steers from TOOBEAH, QLD sold for 325c/$653
9 to 12 month old, 250kg, Angus steers from GOONDIWINDI, QLD sold for 320c/$800
8 to 9 month old, 312kg, Charolais/Charbray steers from GOONDIWINDI, QLD sold for 295c/$920
10 to 12 month old, 299kg, Poll Hereford steers from TALWOOD, QLD sold for 291c/$870
12 to 14 month old, 338kg, Angus steers from COOTAMUNDRA, NSW sold for 341c/$1,151
9 to 10.5 month old, 285kg, Angus steers from BOMBALA, NSW sold for 339c/$965
12 to 13 month old, 365kg, Angus steers from BYLONG, NSW sold for 320c/$1,165
11 to 12 month old, 350kg, Angus steers from CUDGEWA, VIC sold for 336c/$1,175
11 to 12 month old, 301kg, Angus steers from CUDGEWA, VIC sold for 321c/$965
8 to 15 month old, 198kg, Angus steers from BURRA, SA sold for 306c/$605
8 to 10 month old, 295kg, Angus steers from CHUDLEIGH, TAS sold for 339c/$1,000
9 to 10 month old, 245kg, Angus steers from CHUDLEIGH, TAS sold for 310c/$760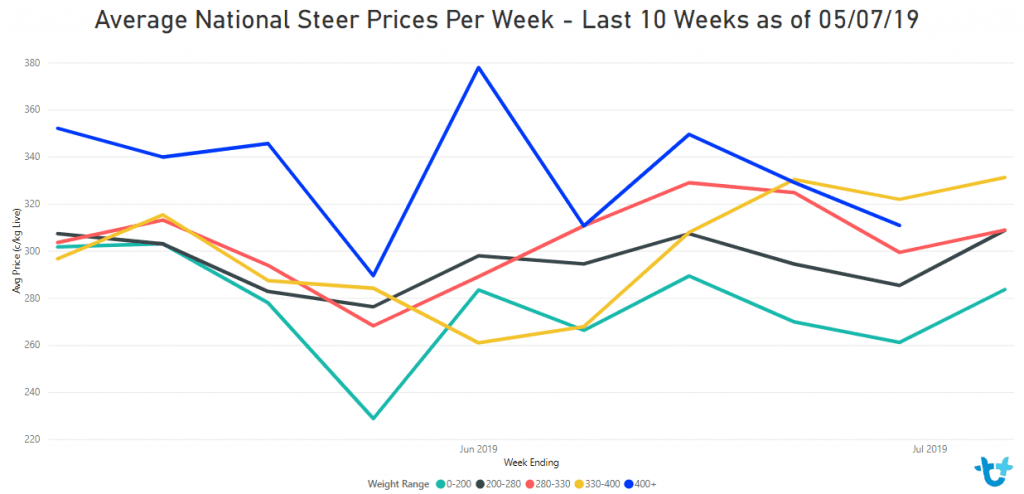 Heifer Highlights
8 to 9 month old, 312.3kg, Limousin/Charbray heifers from GOONDIWINDI, QLD sold for 253c/$790
6 to 7 month old, 229.8kg, Charolais/Charbray heifers from GOONDIWINDI, QLD sold for 240c/$550
9 to 10 month old, 302.7kg, Angus heifers from WOODSTOCK, NSW sold for 308c/$930
9 to 10 month old, 262.6kg, Angus heifers from WOODSTOCK, NSW sold for 296c/$775
21 to 22 month old, 379.2kg, Shorthorn heifers from CASSILIS, NSW sold for 273c/$1035
22 to 23 month old, 353.4kg, Angus heifers from INVERELL, NSW sold for 272c/$960
8 to 15 month old, 198kg, Angus heifers from BURRA, SA sold for 256c/$505
8 to 15 month old, 198.5kg, Angus heifers from BURRA, SA sold for 256c/$506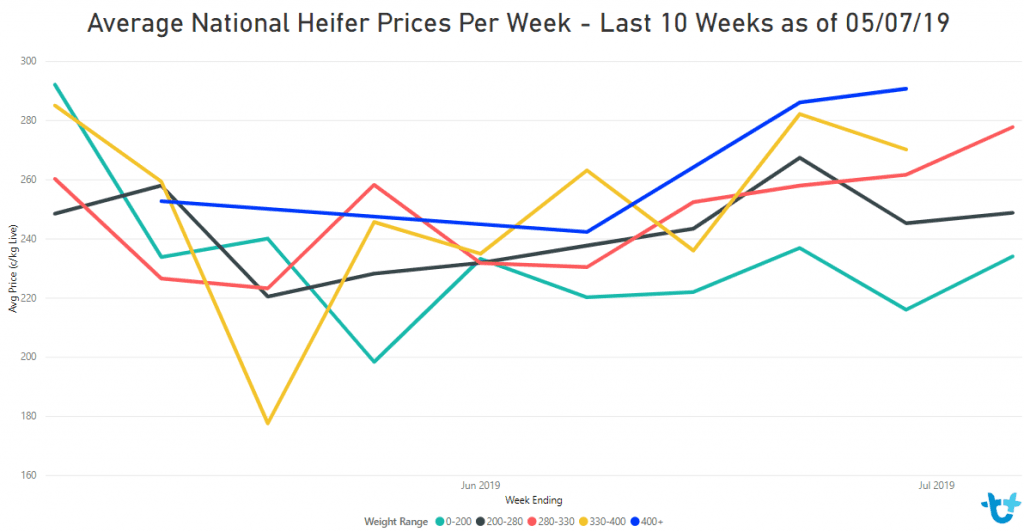 Source: AuctionsPlus