MANY steer and heifer weight categories were 20-30c/kg higher in a larger AuctionsPlus offering this week.
Cattle numbers jumped 3808 head for a total offering of just short of 10,000 head. Interest was high this week with 657 people logging into the auction with the recent rain falling across parts of the eastern states. Competition lifted, with clearance rates rising to 64pc for the Weaner & Yearling sale and 61pc for the Eastern States cattle sale.
Cow and calf units increased this week with 714 head offered. This was boosted by an offering of 300 cows and calves from Winton, QLD which sold for $1440 to a buyer just down the road at Longreach. These Droughtmaster and Droughtmaster cross cows were aged 3-13 years averaging 468kg with Droughtmaster calves at foot.
Young breeders averaged $1555 this week, selling to a top of $1950 for a line of Angus cows and calves from Euroa, VIC. These cows were three years old averaging 528kg, with calves at foot by Angus bulls.
Proven breeders averaged $1450 this week, selling to a top of $1600 for a line of Angus cows and calves from Stoneleigh, VIC. The cows were seven years old averaging 566kg and were re joined to Angus bulls.
Joined heifers averaged $996 this week, selling to a top of $1580 for a line of Angus heifers 21-22 months averaging 502kg from Molong, NSW. The heifers were PTIC to Angus bulls. Another highlight in the heifer offering was a line of Angus x Droughtmaster heifers from Roma, QLD, aged 17-20 months averaging 404kg and PTIC to Burenda and Hazeldean Angus bulls, which sold for $1115.
Young joined cows averaged $1127 this week, and sold to a top of $1900 for a line out of Molong, NSW. These Angus cows were rising three years averaging 633kg and were PTIC back to Angus bulls.
Proven joined breeders averaged $903 and sold to a top of $1250 for a line of Hazeldean blood Angus cows from Cooma, NSW. These cows are aged 5-8 years averaging 573kg and were PTIC to Angus Bulls.
Weaner steers weighing up to 250kg sold from 240c to 342c this week to average 301c/kg. The top price went to 251 Santa steers from Rolleston, Central QLD. These EU-accredited steers were 6-8 months averaging 206kg.
Weaned steers weighing 250kg + sold from 288c to 347c this week to average 318c/kg. The top price went to a line of Hazeldean and Reiland blood EU-accredited steers 8-9 months averaging 271kg from Book Book, NSW. Yearling and grown steers weighing 260kg to 450kg sold from 286-355c this week to average 310c/kg. Top price went to a line of EU-accredited Angus steers 17-20 months, averaging 446kg from Walcha, NSW. These steers were sold to a feedlot after grass-finisher and feedlot competition from NSW and QLD.
Weaner heifers weighing up to 250kg sold from 197-346c to average 257c/kg, with the top price going to a line of EU accredited Santa heifers from Rolleston, QLD. These heifers were 6-8 months and averaged 197kg. Weaner heifers above 250kg sold from 222-382c to average 270c/kg. The top price went to a line of Romagnola heifers from Coolabah, NSW. These Hamilton Park and Wing Valley blood heifers were 6-9 months averaging 254kg.
Yearling and grown heifers sold from 265-296c to average 280c/kg, with the top price going to a line of Charolais cross heifers 14-18 months averaging 396kg from Yea, VIC.
In Tasmania, a line of Charolais & Charolais cross steers, 7-8 months averaging 345kg sold for $1060 or 308c/kg.  From the same vendor the sisters of the steers averaging 331kg sold for $840 or 254c/kg. From Mayberry, a line of Gelbvieh x Murray Grey heifers, 6-8 months averaging 289kg sold for $675 or 233c/kg, and from Longford a line of Poll Hereford x  Angus heifer 6 to 8 months averaging 266kg sold for $630 or 237c/kg.
In Western Australia, Angus weaner steers 170-240kg dressed sold for an average of 517c/kg estimated dressed weight. Mixed sex weaners averaging 152kg to 198kg dressed sold for an average of 511c/kg and a line of crossbred mixed sex yearlings, 197kg dressed from Northcliffe sold for 508c/kg.
A small line of Lawson blood Angus heifers from Manjimup sold for $730. These heifers were aged 8-9 months and averaged 274kg. A line of dairy cows aged 4-10 years averaging 282kg dressed sold for 417c/kg.
In a breakdown of young cattle sold this week, by weight range:
Steers less than 250kg sold from 240-342c to average 301c; while heifers sold from 197-346c to average 254c
Steers 250-300kg sold from 292-347c to average 321c; while heifers sold from 200-382c to average 262c
Steers 300-350kg sold from 282-340c to average 305c; while heifers sold from 246-278c to average 260c
Steers 350+ kg sold from 260-355c to average 295c; while heifers sold from 230-296c to average 263c
Steer Highlights
6 to 8 month old, 206kg, Santa Gertrudis steers from ROLLESTON, QLD sold for 342c/$705
5 to 8 month old, 221kg, Angus steers from HANNAFORD, QLD sold for 335c/$740
15 to 17 month old, 316kg, Brahman Cross steers from EMERALD, QLD sold for 294c/$929
17 to 20 month old, 445kg, Angus steers from WALCHA, NSW sold for 355c/$1581
8 to 9 month old, 270kg, Angus steers from BOOK BOOK, NSW sold for 348c/$940
8 to 9 month old, 341kg, Angus steers from BINALONG, NSW sold for 312c/$1065
5 to 6 month old, 141kg, Hereford steers from MOUNT TAYLOR, VIC sold for 315c/$445
7 to 8 month old, 249kg, Angus steers from EUROA, VIC sold for 301c/$750
14 to 18 month old, 377kg, Angus steers from THOLOGOLONG, VIC sold for 287c/$1080
10 to 11 month old, 333kg, Angus steers from COONALPYN, SA sold for 288c/$960
8 to 9 month old, 244kg, Murray Grey steers from REEDY CREEK, SA sold for 246c/$600
7 to 8 month old, 344kg, Charolais/Angus steers from DELORAINE, TAS sold for 308c/$1060
9 to 10 month old, 337kg, Angus steers from NORTHCLIFFE, WA sold for 282c/$950
8 to 10 month old, 356kg, Angus steers from PEMBERTON, WA sold for 281c/$1000
11 to 12 month old, 445kg, Angus/Friesian steers from MANJIMUP, WA sold for 261c/$1160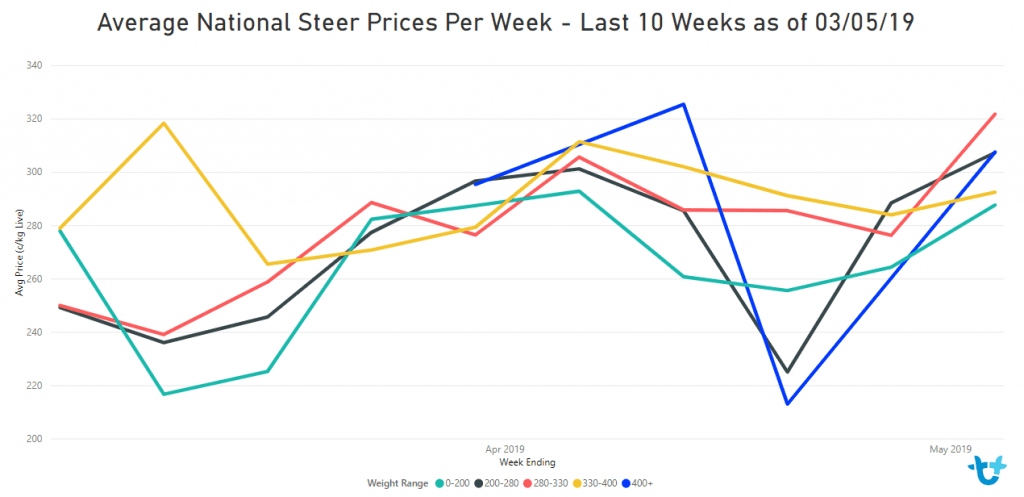 Heifer Highlights
6 to 8 month old, 196kg, Santa Gertrudis heifers from ROLLESTON, QLD sold for 347c/$680
6 to 8 month old, 196kg, Santa Gertrudis heifers from ROLLESTON, QLD sold for 319c/$625
6 to 9 month old, 254kg, ROMAGNOLA/ROMAGNOLA X heifers from COOLABAH, NSW sold for 382c/$970
7 to 8 month old, 163kg, Angus heifers from URALLA, NSW sold for 309c/$505
30 to 42 month old, 374kg, Santa Gertrudis heifers from ARMIDALE, NSW sold for 230c/$860
14 to 18 month old, 395kg, Charolais/Angus heifers from YEA, VIC sold for 296c/$1170
13 to 17 month old, 345kg, Charolais/Angus heifers from YEA, VIC sold for 279c/$960
10 to 11 month old, 316kg, Angus heifers from COONALPYN, SA sold for 274c/$865
12 to 14 month old, 327kg, Angus heifers from STRATHALBYN, SA sold for 266c/$870
7 to 8 month old, 331kg, Charolais/Angus heifers from DELORAINE, TAS sold for 254c/$840
6 to 8 month old, 266kg, Poll Hereford/Angus heifers from LONGFORD, TAS sold for 237c/$630
6 to 8 month old, 289kg, Gelbvieh/Murray Grey heifers from MAYBERRY, TAS sold for 233c/$675
8 to 9 month old, 274kg, Angus heifers from MANJIMUP, WA sold for 267c/$730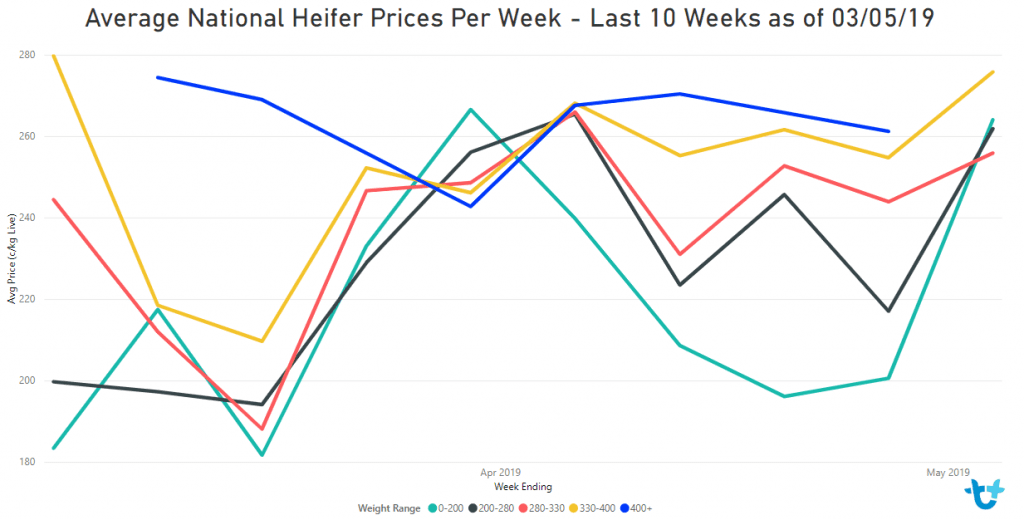 Source: AuctionsPlus