YOUNG cattle price records were again re-set on AuctionsPlus yesterday, as light weaner steers pushed past 700c/kg for the first time.
Confidence in the cattle market continued to strengthen with the 14,429 head offered this week achieving an 84 percent clearance. The ongoing competition between restockers and processors, evident across the store market, is driving prices upwards and holding them there.
A new national record for steers was set at 705c/kg with a line of 153 Angus and Angus x weaned steers 3-4 months averaging 158kg, offered by AL & ED Uebergang Partnership from North Star, NSW,  which will head south to Swan Hill, VIC.
The dearer market trend was evident in most stock categories with the most significant jump claimed by the light steers less than 200kg, increasing 100c to average 583c.
A significant portion of this week's offering hailed from Queensland with North & Southern QLD being the two largest listing regions, offering 2339 and 1601 head respectively. Purchasing was dominated by Central Western NSW, with 2170 head returning the region, followed by Southern Queensland with 1403 head and Riverina NSW with 1210 head purchased.
Young cattle
Steer numbers were firm on last week with 4533 head offered, achieving 90pc clearance.
Light steers less than 200kg sold from 334c to the new c/kg national record price of 705c, averaging 583c, nearly 100c dearer than last week.
Steers 200-280kg sold from 386c to 571c, to average 472c, easing 27c. Top price of the category was achieved by Mooney Pastoral Co from Bundella, NSW, with an offering of 18 Angus and Angus x steers. The backgrounders were 8-10 months averaging 201kg and will travel to Scone, NSW.
Steers 280-330kg rose 27c, selling between 359c and 567c to average 467c. Watershed Partnership from Harden, NSW, topped  the category with a line of 41 yearling Wagyu x Angus steers, 10-13 months averaging 298kg.
Feeder steers 330-400kg sold from 281c to 472c, averaging 430c, 12c dearer than last week. The top price hailed from Mumbannar, VIC, with DM & GW Hancock offering 90 yearling Angus and Angus x steers. The Weeran and Lawson blood steers were 12-14 months averaging 353kg.
Heavy steers +400kg continued the upward trend in prices, selling from 328c to 440c, to average 402c, up 16c. The highest price of the category was achieved by a line of 38 Hereford steers from Sandy Creek, VIC, offered by JE & TR Wright. The steers were 11-12 months averaging 410kg and will cross the border to Holbrook, NSW.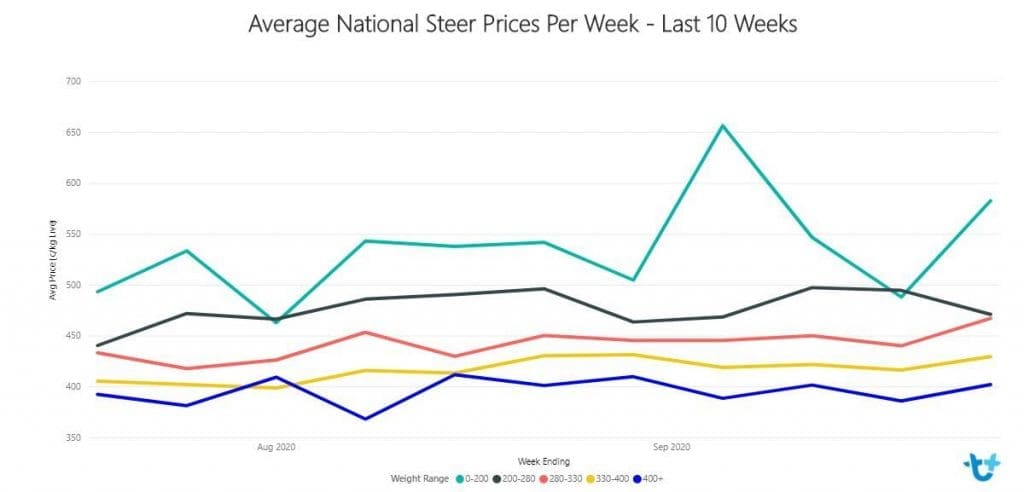 There was 4070 weaner and yearling heifers offered this week, achieving an 89pc clearance. Heifers averaging less than 200kg sold from 481c to 602c, averaging 516c, up 16c. Top price hailed from Peranga, QLD, with Berndale Beef offering 28 Speckle Park x Santa heifers. The Wattle Grove blood heifers were 6-9 months averaging 190kg and will travel south to Armidale, NSW.
Heifers 200-280kg sold between 335c and 538c this week to average 445c, back 9c. From Bundella, NSW, Mooney Pastoral Co achieved top price with an offering of 27 Angus and Angus x heifers, 8-10 months averaging 208kg.
Heifers 280-330kg were 10c dearer this week, with prices ranging from 375c to 531c, averaging 449c. The top price was attained by a line of 33 yearling Angus heifers from Harden, NSW, offered by Watershed Partnership. The Bongongo and Moonganella blood heifers were 10-13 months averaging 281kg and will head to Tamworth, NSW.
Feeder heifers 330-400kg sold from 341c to 495c, averaging 434c, up 8c on last week. From Coonabarabran, NSW, PA & SW Johnston offered the top priced line of 50 NSM Angus heifers. The EU accredited future breeders were 10-11 months averaging 348kg and will travel west to Dubbo, NSW.
Heavy heifers averaging 400kg+ also sold to a dearer market trend, up 11c, selling between 389c and 414c to average 404c. Top price was achieved by a line of 49 NSM Angus, Shorthorn and Angus x Shorthorn heifers, by Futter Park Ltd from Harden, NSW. The future breeders were 13-14 months averaging 416kg and will head south to Holbrook, NSW.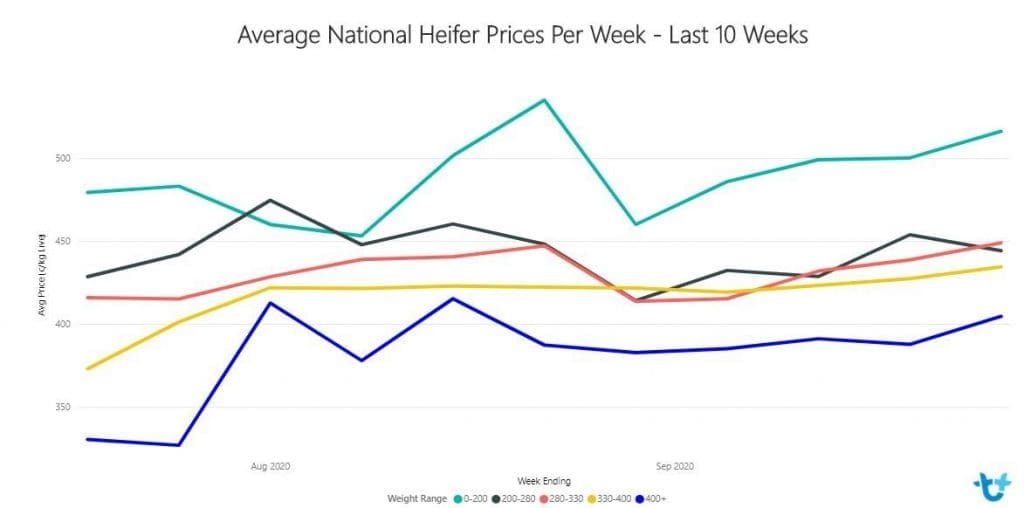 Breeding cattle
Cows and calves were in high demand this week, achieving 88pc clearance and increasing by $111 in valuer on the previous week. They sold between $1400 and $3620, to average $2614. The top price was achieved by 14 NSM Angus heifers and calves from Upper Stowport, TAS, offered by Deep Creek Cattle Services. The Kinlock & Hazeldean blood heifers were 23-25 months averaging 534kg, with CAF 4-9 weeks averaging 92kg.
PTIC cows sold from $1250 to $2590, averaging $1808, easing $50 from last week. The highest price of the category was attained by a line of 37 PTIC Angus cows offered by Titibar Pastoral from Glen Innes, NSW. The cows were four years old averaging 636kg, and four months PTIC. They will travel to South Australia.
PTIC heifers also eased this week, back $147 to average $1700, selling from $700 to $2490. From Gunnedah, NSW, a line of 25 PTIC Angus heifers offered by Myall Springs Organic topped the category. The EU-accredited heifers, based on Booragul bloodlines were 25-26 months averaging 556kg and are 4-6 months PTIC to registered Wagyu bulls.
Among larger lines sold this week, 200 PTIC heifers, mostly Charbray x Brahman and composite breeding, 22-30 months offered by AJM Pastoral, Richmond made from 425c/kg to 443c/kg.
From Marble Bar, in northwestern WA, almost 350 Angus backgrounder steers 10-18 months averaging 230kg made 400c/kg.
Down in Tassie, there were 279 head offered, achieving 100pc clearance. Weaner and yearling steers sold from $860 to $1690, to average $1362, easing $21 from last week. The top price was achieved by a line of 17 Angus steers by 'P.H. Stewart & Sons (Dunlop Park) from Thirlstane. The backgrounder steers were 12-13 months averaging 389kg.
Weaner and yearling heifers sold from $780 to $1490, averaging $1166, back $210. From Fingal, Frodsley and J & M Burbury Family Trust offered the top priced group of 10 yearling Poll Hereford heifers. The Quamby Plains & Chester Poll Hereford blood heifers were 12-13 months averaging 362kg and will remain in Tasmania.
In a breakdown of young cattle sold this week, by weightrange:
Less than 200kg: Steers sold from 334-705c to average 583c, while heifers sold from 481-602c to average 516c
200-280kg: Steers sold from 386-571c to average 472c, while heifers sold from 335-538c to average 445c
280-330kg: Steers sold from 359-567c to average 467c, while heifers sold from 375-531c to average 449c
330-400kg: Steers sold from 281-472c to average 430c, while heifers sold from 341-495c to average 434c
+400kg: Steers sold from 328-440c to average 402c, while heifers sold from 389-414c to average 404c.
Source: AuctionsPlus