THIS week's AuctionsPlus online cattle market saw numbers total 12,549 head, down 16pc from the particularly large offering the week before.
PTIC heifers was the only stock category to increase in value from the previous week, averaging $1312, a lift of $31. New South Wales dominated the buying with the North West Slopes and Plains purchasing the most stock, followed by the Riverina.
Cows and calves were in high demand being the highest throughput category purchased. Cows and calves sold from $850 to $2090 this week, to average $1287. Top price was returned by a line of 15 Angus NSM cows and calves from Branxholme, VIC. The five year old cows averaged 583kg with Angus-sired calves 1-2 months of age.
PTIC females sold from $840 to $1850 this week to average $1459. From Casterton, VIC, 15 EU accredited PTIC Angus cross heifers 21-22 months averaging 475kg sold for the top price, and will travel to Horsham, VIC.
Light steers less than 200kg sold from 211c to 336c this week and averaged 287c. Top price was returned by a line of 58 unweaned Angus steers  8-9 months averaging 184kg from Nowendoc, NSW, which will travel to Murray Bridge, SA.
Steers 200-280kg sold from 250c to 383c this week and averaged 297c.
Steers 280-330kg sold from 264c to 383c and averaged 314c. Top price was achieved by a line of 117 Angus backgrounder steers 11-13 months averaging 302kg from Coolah, NSW. These steers will travel to Breeza, NSW.
Heavy steers 330-400kg sold from 198c to 366c this week, and averaged 308c. Top price was achieved by two lines of 70 yearling Angus steers from Robin Hill, NSW offered as a run out the gate. These Millah Murrah and Texas Angus blood steers were 341kg at 13-15 months of age and both lines will travel to Breeza, NSW.
Steers plus 400kg sold from 300c to 312c and averaged 310c. Top price was returned by two lines of 42 Angus cross feeder steers 15-17 months averaging 410kg from Holbrook, NSW, which will travel to Lavington, NSW.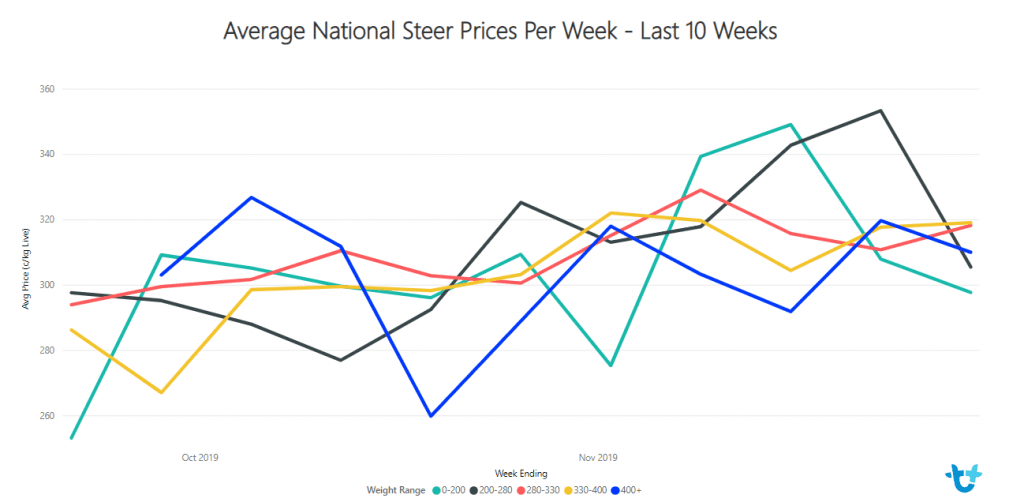 Heifers less than 200kg sold from 225c to 303c this week to average 257c. Top price was returned by a line of 21 Limousin x Angus calves from Merriwa, NSW. These calves were 3-5 months averaging 160kg and will travel to Dunedoo, NSW. Heifers 200-280kg sold from 149c to 271c and averaged 223c. Top price went to a line of 46 weaned Angus heifers 12-14 months averaging 253kg, from Cooma, NSW.
Heifers 280-330kg sold from 180c to 288c this week to average 259c. Top price went to a line of 98 NSM yearling Angus heifers 15-16 months averaging 287kg from Crookwell, NSW.
Heavier heifers 330-400kg sold from 150c to 297c and averaged 262c. Top price went to a line of 75 NSM Angus future breeders 8-11 months averaging 337kg from Condamine, QLD, travelling to Warwick.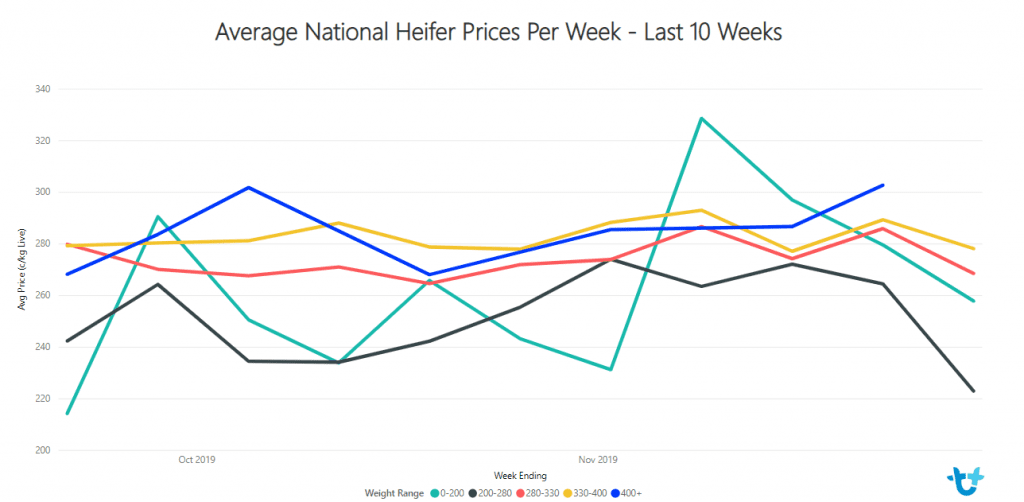 Charity auction
This week's CSIRO charity semen auction, offering about 5000 straws of semen from the 1980s and 90s, representing a number of breeds and composites saw the majority of the 151 lots sell, peaking at $60 a straw for seven straws of US Red Angus bull, Red Leachman Monu 4X.
Source: AuctionsPlus