CATTLE numbers lifted slightly on AuctionsPlus this week to 8539 head, up 3pc. However buyer confidence waned, with prices slipping across all young categories, as this week's BOM July-September climate outlook suggests another tough three months ahead for much of the country.
Yearling and grown steers continue to experience the strongest demand, with a 75pc clearance. The North West Slopes and Plains was the most active purchasing region, buying 1019 head. Processors saw good value in the heavier steers offered in Friday's auctions, purchasing 460 head.
PTIC heifers and cows once again dominated listings, making up 34pc of total offering. PTIC heifers sold from $750 to $1320 and averaged $1148, up $99 on last week.
Top price went to a line of 15 Hereford/Friesian heifers 20-22 months, from Kyabram, VIC, joined to Speckle Park bulls. They found a buyer at Mount Compass, South Australia.
Grown and mixed age PTIC cows sold from $680 to $1420 this week to average $1100.
Highlights included 3-7 year old Poll Hereford cows from Dubbo, NSW selling to a buyer in Dandenong, VIC for $1320; and 4-10 year old Simmental x Brahman cows from Boonah, QLD selling to a buyer in Moura for $1290.
Steers less than 280kg sold from 214-344c, averaging 271c, down 20c on last week. Highlights include 109 Angus weaned steers 8-9 months averaging 243kg from Gundagai, NSW selling for 344c; 48 Angus weaned steers 6-8 months averaging 158kg from Mendooran, NSW selling for 319c; 80 Santa x Angus steers 6-9 months averaging 270kg from Jackson, QLD selling for 292c.
Steers 280-330kg sold from 278-343c and averaged 306c. Top price went to a line of Angus weaned steers from Glen Innes, NSW. The steers were 10-11 months averaging 319kg and are heading to Black Mountain, NSW. A line of Angus weaned steers 10-11 months averaging 309kg from Armidale, NSW made for 296c.
Steers 330kg and above sold from 301-335c and averaged 319c, down 9c on last week. Top price went to a line of Angus weaned steers from Jugiong, NSW, 9-11 months averaging 350kg, selling to a buyer in Blayney, NSW. Yearling Angus steers 12-13 months averaging 338kg from Baradine, NSW sold for 323c.
Weaner and yearling heifers sold well this week, producing a 71pc clearance for the 1500 head offered. Light heifers less than 200kg sold from 183-261c to average 216c. From Nyngan, NSW, 34 Poll Hereford weaners 128kg made 262c. The heifers are 4-5 months and sold to a buyer in Narrandera, NSW. Another line of 50 Angus weaners 7-8 months averaging 175kg from Jennings, QLD sold for 320c. The heifers found a buyer across the border in Walcha, NSW.
Unjoined heifers 200-280kg sold from 219c to 280c and averaged 251c. A line of 20 Red Angus weaners 202kg from Woodstock, NSW found the top price, heading to Albury, NSW. Another line of Speckle Park heifers, 10-12 months averaging 278kg from Halls Creek sell for 278c to a buyer in Stowport, TAS. Heavier heifers were highlighted by a line of Angus 349kg from Nowendoc, NSW sold for 258c to a buyer in Berrima, NSW.
Among larger lines sold this week:
117 Red Angus x Santa backgrounder steers, 7-17 months averaging 309kg from Longreach QLD sold for 278c/$860
From Rolleston QLD, 200 Santa weaned steers, EU eligible, 8-10 mths averaging 213 kg, made $590 and $550
104 Angus weaned heifers, EU, 9 mths averaging 214 kg from Narrabri NSW made $525
107 Angus feeder heifers 12-22 mths averaging 288kg from Ulamambri NSW made 254c/$730
From Dunedoo NSW, 120 Angus steers, 10-14 mths averaging 277kg made 299c/$830
109 Angus weaned steers, 8-9 mths averaging 243kg from Gundagai NSW made $835
In a breakdown of young cattle sold this week, by weight range:
Steers less than 200kg sold from 219-319c to average 261c; while heifers sold from 183-262c to average 210c
Steers 200-280kg sold from 214-344c to average 287c; while heifers sold from 219-280c to average 244c
Steers 280-330kg sold from 278-343c to average 300c; while heifers sold from 254-273c to average 262c
Steers 330-400kg sold from 301c to 335c to average 322c; while heifers sold from 251-258c to average 255c
Steers 400+ kg sold at 311c; while heifers sold from 280-295c to average 291c
Steer Highlights
9 to 12 month old, 264kg, Angus steers from GOONDIWINDI, QLD sold for 309c/$815
6 to 9 month old, 270kg, Santa Gertrudis/Angus steers from JACKSON, QLD sold for 293c/$790
8 to 9 month old, 242kg, Angus steers from GUNDAGAI, NSW sold for 345c/$835
10 to 11 month old, 319kg, Angus steers from GLEN INNES, NSW sold for 344c/$1,095
17 to 20 month old, 402kg, Angus steers from MERRIWA, NSW sold for 311c/$1,250
9 to 11 month old, 350kg, Angus steers from JUGIONG, NSW sold for 336c/$1,175
7 to 17 month old, 309kg, Red Angus/Santa Cross/Santa Gertrudis steers from LONGREACH, TAS sold for 278c/$860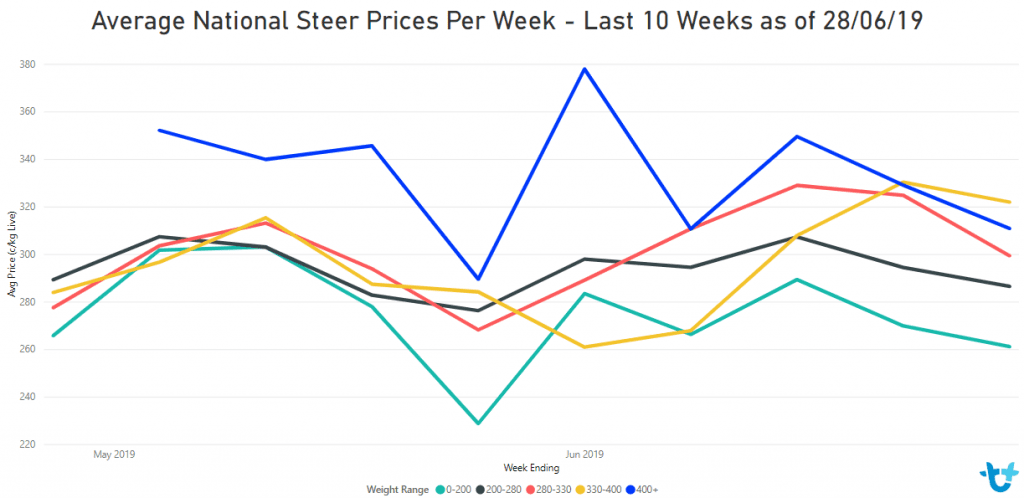 Heifer Highlights
10 to 13 month old, 202kg, Santa Gertrudis heifers from ROMA, QLD sold for 220c/$445
7 to 8 month old, 174kg, Angus/Hereford heifers from JENNINGS, QLD sold for 184c/$320
7 to 9 month old, 201kg, Red Angus heifers from WOODSTOCK, NSW sold for 280c/$565
10 to 12 month old, 223kg, Speckle Park, Angus x heifers from HALLS CREEK, NSW sold for 279c/$620
9 to 12 month old, 349kg, Angus heifers from NOWENDOC, NSW sold for 258c/$900
11 to 12 month old, 339kg, Angus heifers from DUNGOWAN, NSW sold for 251c/$850
10 to 13 month old, 456kg, Angus heifers from PINNAROO, SA sold for 296c/$1,350
18 to 24 month old, 474kg, Angus heifers from NORTHCLIFFE, WA sold for 280c/$1,327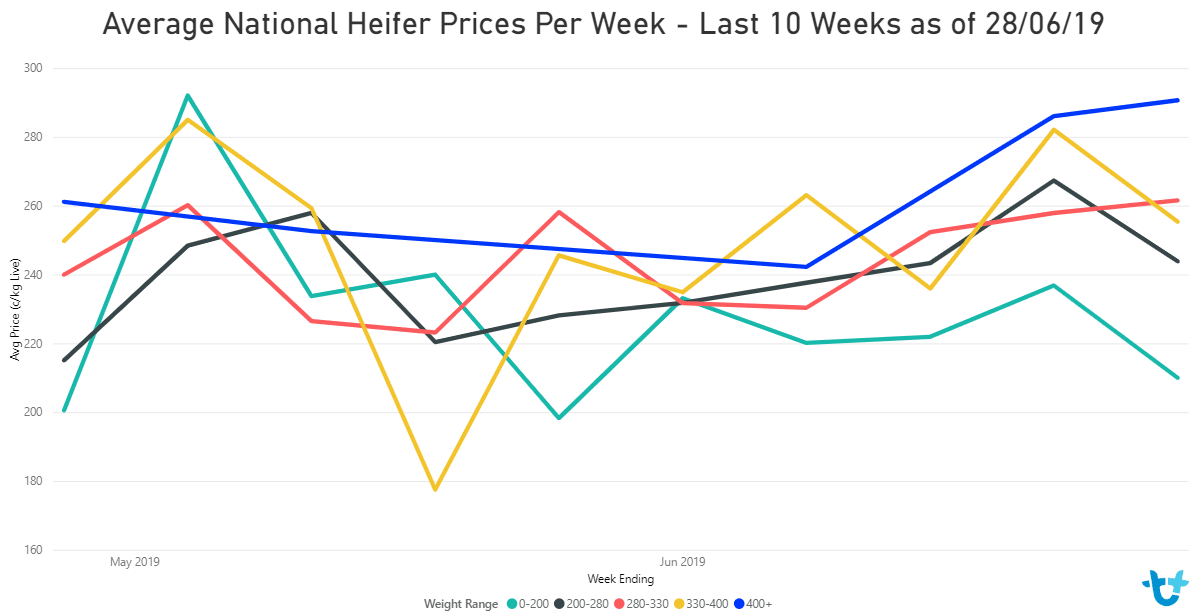 Source: AuctionsPlus