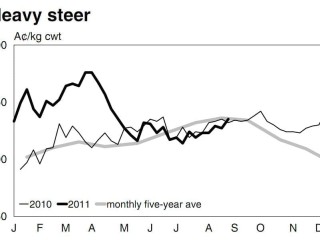 The Eastern Young Cattle Indicator has risen to its highest level since mid-May after rainfall reduced supply and fuelled further price rises last week.
Cattle yardings in eastern states eased by 6 percent last week according to the National Livestock Reporting Service.
NSW was most affected, with widespread rain the main reason for 19pc reduction in turnoff in that state compared to the previous week.
Meat and Livestock Australia reported on Friday that young cattle yardings were particularly lower, which saw the Eastern Young Cattle Indicator (EYCI) gain 5.25c/kg for the week to close at 390.25¢/kg cwt.
This is the indicators highest level since mid-May.
Demand has strengthened from all major buyer categories – feeders, processors and restockers – who have also been buoyed by the recent downward adjustment in the $A.
MLA expects seasonal conditions to drive continued demand for cattle to return to paddocks.
""The recent rain across NSW and Victoria will do a lot in ensuring grazing conditions will be reasonable heading into spring – possibly preventing an influx of unfinished cattle later in the year.
"Additionally, it will help restocker and backgrounder orders remain relevant, underpinning the young cattle market in a fashion similar to late 2010.
"Rain is forecast for Queensland, which would certainly top things off heading into spring."
Another notable trend in recent weeks has been the dearer trends for grown steers on the back of improved demand from export processors.
As Beef Central reported early last week processors lifted direct-to-works rates recently to entice more cattle into the market, which has since been reflected in saleyard prices.
"This week, physical market prices reflected the upward shift in demand for heavy cattle, as medium grown steers averaged 1c dearer at 175c/kg lwt, heavy three score grown steers to processors sold at 186c, as the four scores lifted 4c to 183c/kg lwt," MLA reported.
"Bullocks experienced rises of 4¢ to 7¢ – averaging 186¢/kg lwt or $1,208/head. Carcase weight prices reflect the quality on offer, as bullocks averaged an estimated 336c/kg cwt."
Heavy grown steer rates in southern Queensland are currently averaging 311¢/kg cwt – 3pc below the same period last year.