THERE was some recovery evident in young cattle prices in online trading this week, after blanket falls across all weight range the week before.
Elders and Nutrien's AuctionsPlus platform offered 12,141 head last week, down 12pc from last week.
Overall results were mixed and heavily influenced by breed and genetics. Buyers continue to be willing to pay good money for the right article, while standing out in a highly selective marketplace is becoming more difficult.
Steer numbers were back 31pc on last week, while most other categories were steady. PTIC heifers continue to hit the market in large numbers as they regained the price advantage over PTIC cows this week.
Steers 200-280kg offered 594 head this week, 528c/kg, up 12c on last week, for a 68pc clearance. From Euroa, Victoria, 15 Poll Hereford steers 9-10 months averaging 248kg returned 525c/kg.
Listings of 280-330kg steers increased to 973 head, and averaged 476c/kg, – up 14c on last week for a 71pc clearance. From Crows Nest, Southern Queensland, 36 Charolais/Charbray steers 12-16 months averaging 312kg returned 430c/kg.
A smaller offering of 651 steers in the 330-400kg category averaged 418c,  down 21c for a 51pc clearance. From Tenterfield, NSW, 11 Shorthorn steers 15-18 months averaging 385kg returned $1440/head – $90 over the reserve.
Heavy steer listings fell this week to 932 head and averaged 517c, up 116c/kg, but were heavily influence by breed and genetics. From Cecil Plains, Southern Queensland, four lines each of 78 (total 312) F2 Wagyu x Angus F1 steers (3 mobs) and heifers (1 mob), all 12-18 months and averaging from 332kg to 418kg returned from 680c/kg to 691c/kg for the steers, and 723c/kg for the heifer line, or $2400 to $2845/head. The offering was already set up on a backgrounding ration.
Heifer listings were firm this week with strong clearances achieved for the lighter lines. Light heifers less than 200kg averaged only 405c/kg across 209 head.
The 200-280kg heifer category registered 769 head this week and averaged 451c – rising 18c on last week for a 73 clearance. From Bingara, NSW, 108 Angus heifers 7-9 months averaging 274kg returned $1480/head or 540c/kg.
Listings of 280-330kg heifers doubled from last week and were met with strong demand as the 998 head averaged 405c – improving 3c/kg and registering a 73pc clearance. From Gurley, NSW, 40 Angus heifers 5-8 months averaging 314kg returned $1375 or 438c/kg.
Listings of 330-400kg heifers were back this week, with the 825 head averaging 385c, down 13c on last week. From Kingston, SA, 26 Watervalley Black heifers 12-18 months averaging 346kg returned $1240/head.
Heavy heifers +400kg averaged $1656/head or 380c/kg across the 566 head offered.  A line of 21 Angus heifers 29-30 months averaging 452kg from Jingellic, NSW returned $1670 or 370c/kg.
Breeding females
Breeding stock numbers were firm this week with a small decrease in PTIC heifer listings balanced out by increased PTIC cows. Results were mixed and prices ranged significantly as buyers were selective on quality.
The 2100 PTIC heifers offered averaged $2337/head for a 38pc clearance. Post-sale negotiations are expected to lift clearance as agents and buyers find a middle ground in the current market.
From Yarck, Victoria, two even lines of 30 Angus PTIC heifers aged 30-31 months averaging 550kg returned $3420 and $3440. The heifers were PTIC to Angus bulls and accompanied by a veterinary certificate.
Increased listings of 1179 PTIC cows weighed down on prices, averaging $2292/head – down $49 from last week for a 54pc clearance. From Biloela, Queensland, 44 Santa PTIC cows 3-5 years and averaging 541kg returned $2260. The cows were PTIC to Angus bulls.
From Chatsbury, NSW, 21 Angus station mated cows with calves at foot returned $3120. The cows were rising three-year-old, joined to Angus bulls and averaged 521kg.
Prices as at 2pm Friday, 24 February.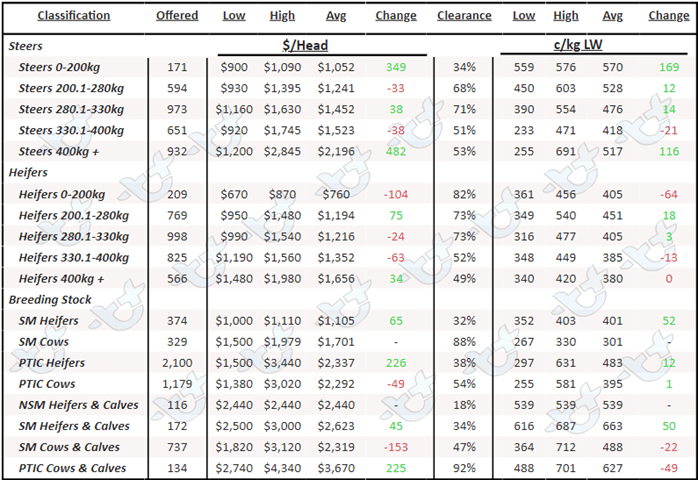 Source: AuctionsPlus