THERE was a sharp rise in most young cattle prices on Elders and Nutrien's online marketing platform Auctions Plus last week.
Commercial cattle listings in sales held on Friday fell slightly to 7085 head, down three percent. The reduced offering was met with healthy competition as clearance rose to 65pc, and value over reserve lifted by $20 to average $133.
Low prices and high pasture availability is causing greater retention of cattle on farm. Buying activity is likely to ramp up as the industry edges closer to spring and the days get longer.
Steers 200-280kg saw positive results in the week, averaging 419c/kg or $972/head – up 75c from the previous week while registering a larger offering of 1287 head for a 74pc clearance. Prices ranged from 327-585c.
From Pallamallawa, NSW, 41 Angus steers 8-10 months averaging 271kg returned $930 or 343c/kg, and will travel to a buyer near Lucindale, SA.
Steers 280-330kg had a reduced offering of 871 head, achieving an average of 381c/kg – up 25c from the previous week for a clearance of 67pc.
Prices ranged from 334-463c. From Ladysmith, NSW, 109 Angus steers 9-11 months averaging 303kg returned $1290 or 426c and will travel to a buyer near Korumburra, Victoria.
Some big lines of weaned steers were offered out of western and far western Queensland this week.
Two lines of weaned steers totalling 216 head out of Isisford saw the first run of 96 Brangus/Droughtmaster/Angus types 281kg at 7-9 months make 463c or $1300 a head, while a second run of 120 lighter Brangus/Droughtmaster types 230kg make 585c or $1340.
From further west near Quilpie, an annual turnoff of weaners saw four pens totalling 523 weaned steers 4-8 months mostly around 224kg, drafted into Charolais x and Droughtmaster x types, sold from 378c/kg to 416c/kg. A further 434 heifer sisters 4-8 months at 200-215kg sold from 284c to 331c.
Heifers
Heifers 200-280kg registered a larger offering of 823 head with prices increasing 26c/kg to average 303c, for a 90pc clearance. Prices ranged from 232-388c.
A line of 50 Angus heifers 7-8 months averaging 214kg from Burraga, NSW returned $760 or 356c and will travel to a buyer in Mallala, SA.
Heifers 330-400kg had a larger offering of 349 head and averaged 316c or $1151/head, up 17c from the previous week achieving a 90pc clearance.
Prices ranged from 235-386c. Fifty-nine Charolais x Angus heifers from Coonamble, NSW aged 12-14 months and averaging 347kg returned $1140 or 329c/kg and will travel to a buyer near Dirranbandi, QLD.
Breeding females
PTIC heifers registered 503 head and averaged $1359/head for a 31pc clearance. From Holbrook, NSW, 26 Angus heifers 22-23 months averaging 459kg returned $1850/head and will travel to a buyer near Temora, NSW.
PTIC cows registered a larger offering of 574 head, averaging $1599, an increase of $103 from last week for a 60pc clearance. From Coonamble, NSW, 38 Santa cows 2-4 years averaging 513kg returned $1540, going to a buyer near Bourke, NSW.
Prices as at 2pm Friday 7 June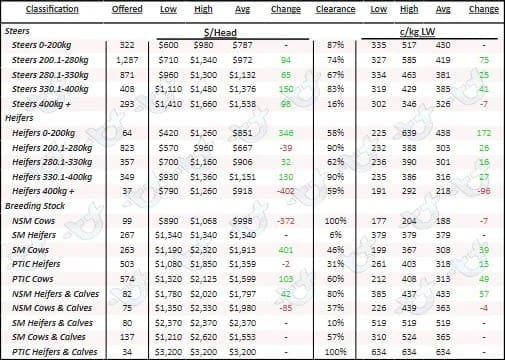 Source: AuctionsPlus