PRICES were up across all ten young steer and heifer weight categories on AuctionsPlus this week, where 17,412 head were offered – up 10pc on the week before. AuctionsPlus has now offered more than 100,000 head of cattle in the past six weeks, with the market continuing to be driven by unprecedented buyer confidence.
Through the young steer categories, prices were up across all five weight divisions, led by the 330-400kg category which lifted 38c/kg to average 561c/kg liveweight. Heavier feeder steers +400kg lifted 15c/kg to average 514c, with some outstanding lots presented across the 850 head offered.
Demand for lighter and younger steers shifted the 200-280kg category 14c higher on average on last week, to average 635c, with a healthy 97pc clearance for the 2113 head offered, while the 280-330kg segment lifted 15c to average 514c.
For the young heifer category, the largest jumps were at the lighter end of the weight categories, with heifers less than 200kg averaging 682c/kg this week, up 17c, while heifers 200-280kg attracted a catalogue of 2468 head, selling to a 90pc clearance, with prices up 24c for the week averaging 622c. The very thin offering of +400kg heifers saw average prices lift 9c/kg to 473c.
Amongst breeding stock, the PTIC heifer category dropped 9c/kg this week to average 560c, with some targeted lines offered. With a total of 1513 head offered for the week, the subdued clearance rate of 63pc, also showed that there was still some distance between vendors expectations and buyers limits.
A line of 53 Angus heifers 22-24 months averaging 401kg, EU eligible from Hernani, northern tablelands NSW, bred from Te Mania and Clunie Range bloodlines, and mated to high-index Wagyu bulls, made 775.2c/kg to return $3110.
One of the features this week was PTIC sexed embryo lines, with the two female lots delivered an $80-170 premium over the two male lines – with both female lines reaching $2640/head.
Proven breeder offerings were again largely reflective of quality, with the 700 PTIC cows offered averaging 17c/kg higher this week, at 475c.
A large line of 50 PTIC Angus x Hereford cows 32-38 months averaging 515kg, with 52 calves at foot, out of Leeton VIC sold to $4270.
Prices as at 2pm Friday, 20 August.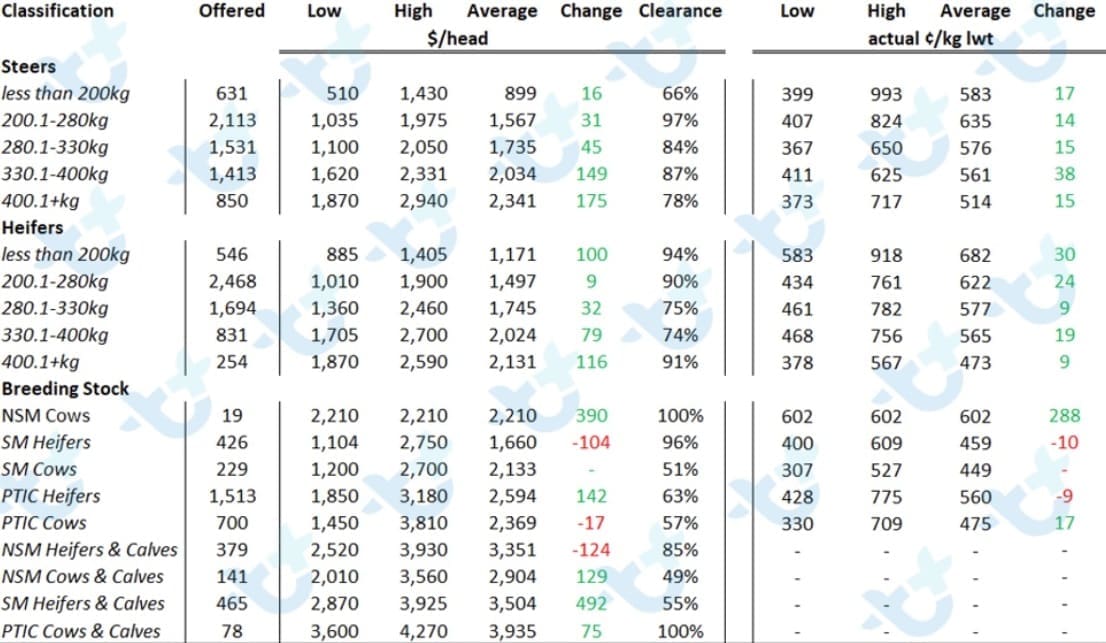 Source: AuctionsPlus