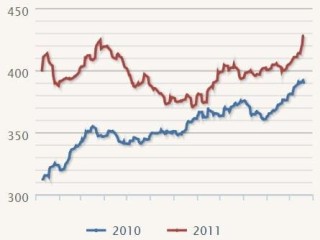 Good news if you're selling, not so good if you're buying, but regardless of your point of view, the strength of young cattle prices in 2011 has now officially been without parallel.
The benchmark young cattle indicator for Australian eastern states cattle markets surged to an all-time high of 428¢/kg cwt yesterday, soaring past the previous record of 424.25¢/kg cwt set earlier this year on March 28.
After finishing last Friday at 413.5¢/kg cwt, the EYCI jumped 14.5c, or 3.5pc during the past two days.
The EYCI's strength has been driven by continued favourable seasonal conditions across major production areas and has occurred largely in defiance of subdued trading conditions in major domestic and export markets for beef.
Good rainfall at critical times has kept restockers buying to make use of available feed and has also given producers the option to hold cattle for longer to add more value through weight. Wet conditions have further disrupted the flow of cattle to market on several occasions this year, exacerbating supply shortages and driving prices higher.
With the country's largest weekly store sale Roma not selling due to an end of year break, Meat and Livestock Australia's attributed this week's sudden price rise to "very strong demand for a limited supply of suitable cattle".
"While the EYCI has tracked well above year ago levels throughout December, the kick in the past two days has been largely due to very strong demand from all buying sectors," MLA said.
"Recent widespread rain has sustained buying demand from restockers and feeders, keen to secure cattle over the summer months.
"Additionally, demand from processors has been notably higher in recent days, with buyers willing to purchase any suitable cattle to be processed before the annual holiday closures."
MLA noted that, interestingly, the Casino market in northern NSW, held on Monday, was the main contributor to the jump in the EYCI, while higher prices were also recorded at all three NSW markets held on Tuesday.
Additionally, also prices averaged higher at Warwick yesterday, no doubt influenced by no Roma sale being held.
Collected by MLA's National Livestock Reporting Service (NLRS), the EYCI is a seven calendar day rolling weighted average of 24 young cattle types from 26 prime saleyards in Queensland, New South Wales and Victoria.
Cattle included are vealer and yearling heifers and steers, C2 or C3, with live weight greater than 200kg. Cattle included in the EYCI can be purchased by all sectors of the cattle trade, including feeders, restockers and processors.