OVERALL offerings on AuctionsPlus this week totalled 10,439 head, back 19 percent on the week before.
Record high prices did little to dampen buyer enthusiasm for sales, with clearance rates exceeding 95pc for some of the largest steer and heifer categories.
The unrelenting surge in the young cattle market continued this week, as the EYCI cracked the 950s for the first time. The ability for the market to continue to trade at ever increasing levels is almost as fascinating as the actual prices received.
In previous periods, as recent as November, January and April, the record levels reached in the market had been somewhat fleeting, with a quick 3-5pc draw back in the following weeks.

Prices rose in most young steer and heifer young steer categories increased this week – with steer clearance rates ranging from a near capacity 93-97pc. Steers 330-400kg averaged 26c/kg higher on last week, averaging 545c/kg, while the +400kg segment of the market averaged 21c higher at 494c/kg. Light descriptions less than 200kg was the only steer category to register a decline in price this week, falling 23c/kg to average 586c/kg.
There was a significant drop in the number of young heifers offered this week, which in turn contributed to some very spirited bidding. Prices were mostly higher among the heifer offering, with 280-330kg descriptions rising 68c to average 605c, and +400kg rising 55c to average 497c. The only segment to decline in value was 330-400kg, which fell 15c to average 507c/kg.
As part of a larger selection offered, 89 Santa Gertrudis steers from Kilkenny Pastoral Co at Aramac, western Queensland, sold to $1,970/head – averaging 351.1kg liveweight and between 10-14 months of age. Also out of western Queensland, a line of 90 Angus/Droughtmaster cross steers, averaging 333.8kg liveweight, sold to $1,800/head – equating to 1045.3c/kg lwt.
While the clearance rate for the breeding lines this week did not match the exceptional young cattle rates, there was still very strong buyer interest. Boosted by some good quality lines on offer, average prices for PTIC cows jumped $354 this week to $2804/head, with an 83pc clearance for the 1149 head offered. Similarly, PTIC heifers, with a clearance of 76pc for 1142 head offered, averaged $2278 – which eroded almost half of last week's gains.
A line of 64 weaned Angus heifers 7-8 months averaging 227kg out of Glen Innes NSW made 714.6c/kg or $1620/head, while 75 Angus weaned steers 10-12 months averaging 262kg out of Narrabri NSW made 704.8c/kg or $1850/head.
From the breeding side of the market, an excellent line of 46 PTIC Simmental and Simbrah cows out of Meandarra, Queensland, sold to $2880/head. Offered as part of a dispersal sale, the three-year-old cows averaged 521kg. Out of Padthaway, SA, 24 NSM Angus cows with calves at foot sold to $2900/head, with the 4-6-year-old cows averaging 428kg.
Prices as at 2pm Friday.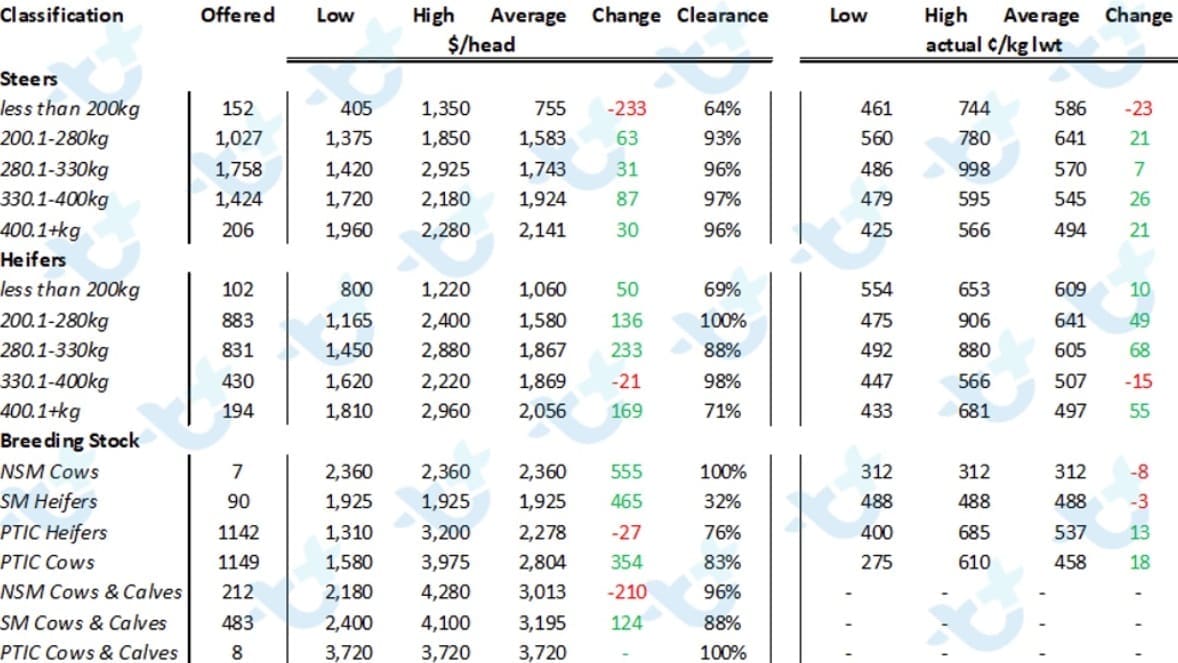 Stocklive buyers contributed 20pc of bids at IRLX, NVLX and CTLX sales
StockLive buyers contributed 20 percent of bids at three major store sales this week, bolstering overall buying competition and helping to drive strong results.
The online action kicked off at the Inverell Regional Livestock Exchange store sale on Thursday, where the overall market lifted by between 30 and 40c/kg compared to the previous auction.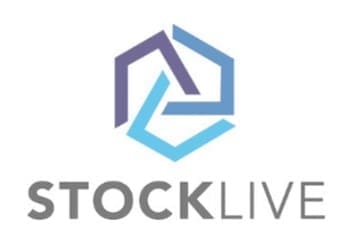 Hunter Valley agent Zac Ede, Bailey Property and Livestock, was buying on behalf of the sale's online volume buyer and secured more than 80 head of mostly Angus cross heifers.
"The lines we bought will predominantly go into the buyer's trading program, heading straight onto a great oats crop," Mr Ede said.
"We chose Angus cross heifers as it means after they are finished with the oats crop there are options to move them straight to a feedlot or keep them on, join them up, and sell them as PTIC."
Mr Ede said a tightening supply of suitable cattle in the Hunter region had buyers looking further afield.
"We were easily able to put together 82 head at this sale," he said.
Highlights in the online purchase included a 33-head portion of th Clerkness Pastoral Coy run, which averaged 198kg and were bought for 622c/kg.
Will Claridge, CL Squires and Co, noted online buyers were most competitive across the light weaners and in the cow and calf market, and said fierce demand was driving the overall market lift.
"We have had a great season here in our region, and the overall supply of store and restocker cattle is scarce," he said.
"The quality offered was very good. Due to the recent cold and wet weather, most lines didn't have great condition but the breeding quality was high. It's a credit to the vendors who have invested in their bloodlines and now it's all paying off for them in a good market."
In total, the steer price at IRLX peaked at 708c/kg for a 222kg PF and ME Hasslewood offering, which returned $1567/head.
Meanwhile, at the Northern Victoria Livestock Exchange Store Sale on Thursday, the trend of online buyers homing in on female lines ramped up.
A Quirindi buyer purchased 69 head of Angus heifers, including a GD and WA Heiner run which averaged 284kg and was bought for $1530/head.
The buyer also secured a KJ and EL Land pen, of 16 head averaging 238kg, for $1440/head.
Sarah Kennedy, from Glenrowan, also secured a run of heifers for her business that encompassed an AJ and MR Cheesley run of 283kg Limousin cross cattle for $1475/head.
Mrs Kennedy, who runs a cutting and campdraft horse-training facility Rocking K Ranch with her husband Paul, was looking for quiet stock that would have a dual purpose of being useful within their training programs and go on to be a profitable trading item.
"We try to buy cattle around the 270kg mark," Mrs Kennedy said.
"We have found, given our grass and feed, we can turn them over quicker in that range."
The purchase, which she made on her mobile in between helping Paul work young horses in their arena, also included a Ken and P Heath 254kg Angus pen for $1460/head.
Later in the week at the Central Tablelands Livestock Exchange Store Sale on Friday, new buyers entered the market via StockLive, again chasing female lines.
Paul Costigan, Ray White Rural Canberra and Yass, bought on behalf of a Goulburn buyer restocking their breeding operation, securing an 18-head M and K Fenton offering of 285kg Angus cross heifers which sold for $1680/head.
"We were looking for heavier-weight heifers, ones that aren't too far off being a suitable age for joining," Mr Costigan said.
"Those kind of cattle are certainly a hard item to find at the moment."
Another online buyer snapped up a total of 60 Angus cross heifers, with a highlight in their purchase including a F.N.S Pty Ltd pen, which averaged 341kg and sold for $1700/head.
Sources: AuctionsPlus, Stocklive