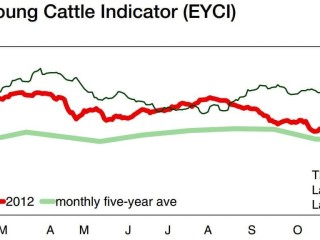 The Eastern Young Cattle Indicator this week slipped to its lowest level since late January 2010, dropping 7.5c.kg for the week to close at 339c/kg yesterday afternoon.
The EYCI now stands 60.75c/kg below its level of one year ago, and is now level with the five year average.
In its weekly market report issued today Meat & Livestock Australia said that with only four weeks remaining until livestock markets effectively conclude for 2012, there appears to be a very limited likelihood of an upswing in prices.
"With most reports indicating that processors are heavily booked through to Christmas closures, any processor competition at saleyards is expected to be scarce, providing little incentive for upward movements for finished lines," MLA's market bulletin said.
"Given the supply situation to processors, widespread rain is the main factor that could lift prices, although this would be largely felt across the younger and lighter lines offered through saleyards.
Indeed, the recent dry and very hot run across many regions has dented restocker and feeder confidence, with many producers awaiting a much needed downpour to lift confidence – to either purchase additional stock or retain current numbers."
All of the MLA NLRS' national cattle price indicators declined this week, driven by a 3pc rise in throughput and the continued hot and dry weather.
"Recent weeks have reportedly seen restockers and feeders reluctant to purchase stock, while reports of declining demand from processors due to sufficient numbers is also influencing prices," MLA said.
The vealer steer indicator eased 2c to 350c/kg cwt; yearling steers dropped 17s to 335c/kg; medium steers slipped 5c to 320c/kg; heavy steers suitable for slaughter lost 7c to 324c/kg; the cow indicator dropped 2c to 266c/kg while feeder steers fell 3c to 181c/kg.
MLA said lower cattle prices along with the increased processing rates were fuelling higher export volumes.
It noted that November shipments are again expected to be very high following on from the record volumes of October.
"One bright spot in the export arena continues to be manufacturing beef prices to the US, with the benchmark 90CL import prices reaching a new all-time high this week at 211.5US¢/lb."