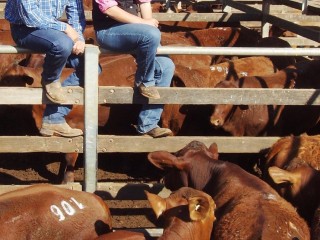 The Eastern Young Cattle Indicator has climbed above the 400c level for only the fourth time in its history as supply issues drive young cattle prices higher.
The EYCI closed at 400.5c/kg yesterday after strong demand for young cattle from restockers and feedlot buyers continued at sales at Roma, Warwick, Gunnedah, the Central Tablelands Livestock Exchange and Wodonga.
The EYCI spent two periods above 400c/kg earlier this year, from January 11-24 and then again from March 1 to May 3, during which time it peaked at a record 424.25c/kg (March 28).
Sharp rises in the Australian dollar versus the US dollar since that time and its negative impact on export market confidence ended that run and forced the EYCI down to a 2011 low of 370.5 on June 27.
While the Australian dollar remains well above parity with the US$, demand for restocking based on good supplies of paddock feed in many areas in the approach to spring and a slightly more optimistic outlook in export markets has gradually driven prices higher.
Prior to this year the EYCI was last above 400c/kg in 2005 when bans on US exports to key markets due to BSE issues created a spike in demand.
At Pakenham on Monday, the NLRS reported that a very small supply of top quality vealers resulted in a line of six heavy vealer steers selling up to 287.6c/kg – believed to be a Victorian record.