CATTLE numbers edged 3pc higher to 8260 head on AuctionsPlus sales this week, while clearance rate eased a little to 63pc.
Yearling and grown steers continued to generate stronger prices, up 13c on last week to average 303c, while yearling and grown heifers jumped by 36c to average 251c.
The Riverina remains the most active region, purchasing a total of 1499 head followed by the NSW North West Slopes and Plains.
Feeder steers continued to attract strong bidding competition, typified by a line of 54 Angus and Angus cross feeders from Borambola, NSW averaging 457kg at 14-15 months, which returned 330c.
Large numbers of PTIC females flooded the market this week, making up 25pc of the listings. Numbers were boosted by the Elders Southern Female feature sale numbering more than 500 head. PTIC first-calving heifers sold from $950 to $1200 this week, averaging $1049, down $101 on the week before.
The top PTIC price was achieved by 30 Angus heifers from Harden, NSW, 22-23 months averaging 407kg, and joined to Angus bulls.
Grown and mixed age PTIC females averaged $1095 selling from $710 to $1600, $67 up on last week. The top price was returned by 23 PTIC cows from Gilgandra, NSW, with cows 4-5 years, 674kg, and joined to Poll Hereford bulls.
Other highlights saw 71 Ultrablack PTIC cows from Beaudesert, QLD return $1270. These Nindooinbah blood cows were 3-8 years, 643kg, joined to Ultrablack bulls and will remain in QLD.
Cows and calves sold from $690 to $2000 to average $1350, down $26 on last week.
The top price was achieved by a line of Angus heifers, 34-36 months averaging 572kg from Everton, VIC. Other highlights included a line of 21 NSM Angus cross cows 5-7 years, 504kg with Angus sired CAF from Inverell, NSW bought by a Proston, QLD buyer for $890. From Naracoorte SA, 23 Angus station mated cows, 4-7 years averaging 590kg with Angus CAF returned $1480.
Steers weighing 280kg and under sold from 256c to 350c this week, averaging 291c, up 7c down on last week. Highlights included 72 Charbray/composite weaned steers aged 7-10 months, 269kg from Blackwater, QLD selling for 282c; Angus steers 7-10 months averaging 207kg from Bingara, NSW selling for 318c and travelling across the border to Barnawartha North, VIC; 41 Poll Hereford weaned steers, 7-8 months, 220kg from Elong Elong, NSW sold for 281c to a buyer at Mount Compass, SA.
Steers weighing 280-330kgs averaged 322c, selling from 300c to 335c. Highlights included Angus steers 299kg, 7-10 months from Glen Innes, NSW selling for 323c to a buyer across the border in QLD; Angus steers averaging 329kg at 10-11 months from Coolah, NSW returning 331c.
Steers weighing above 330kg sold from 310c to 349c, averaging 327c. Highlights included Angus steers 359kg at 8-10 months from Caramut, VIC which returned the top price going to a buyer at Burra, SA; Angus cross steers 350kg, aged 11-12 months from Spring Ridge, NSW selling for 320c.
Light heifers under 280kg averaged 245c, selling from 201c to 291c this week, up 8c on last week. Highlights included Angus cross heifers 212kg, 6-10 months from St George, QLD selling for 259c; Angus heifers from Coonabarabran, NSW 9-11 months averaging 279kg selling for 289c.
Heifers above 280kg sold from 256c to 292c and averaged 268c, 31c up on last week. Highlights included Angus heifers 11-13 months averaging 363kg from Narrabri, NSW, selling for 271c; and Angus x Hereford heifers 13-15 months, averaging 329kg from Lucyvale, VIC selling for 256c.
In a breakdown of young cattle sold this week, by weightrange:
Steers less than 200kg sold for 229c; while heifers sold from 200-291c to average 241c
Steers 200-280kg sold from 256-350c to average 297c; while heifers sold from 213-328c to average 270c
Steers 280-330kg sold from 284-334c to average 323c; while heifers sold from 256-260c to average 258c
Steers 330-400kg sold from 310-349c to average 334c; while heifers sold from 259-292c to average 282c
Steers 400+ kg sold from 328-330c to average 329c; while heifers sold for 286c
Steer Highlights
8 to 10 month old, 189kg, Angus steers from GOONDIWINDI, QLD sold for 289c/$545
7 to 10 month old, 217kg, Charbray/Composite steers from BLACKWATER, QLD sold for 286c/$621
7 to 10 month old, 258kg, Charbray/Composite steers from BLACKWATER, QLD sold for 283c/$728
6 to 10 month old, 265kg, Brahman/Brangus steers from BLACKWATER, QLD sold for 259c/$685
9 to 11 month old, 245kg, Angus steers from GREENETHORPE, NSW sold for 351c/$860
8 to 10 month old, 345kg, Angus steers from KHANCOBAN, NSW sold for 349c/$1,205
14 to 15 month old, 436kg, Angus steers from BORAMBOLA, NSW sold for 330c/$1,440
13 to 14 month old, 434kg, Angus steers from MUDGEE, NSW sold for 329c/$1,425
8 to 10 month old, 349kg, Angus steers from CARAMUT, VIC sold for 349c/$1,220
8 to 10 month old, 311kg, Angus steers from CARAMUT, VIC sold for 331c/$1,030
14 to 15 month old, 333kg, Hereford steers from LUCYVALE, VIC sold for 315c/$1050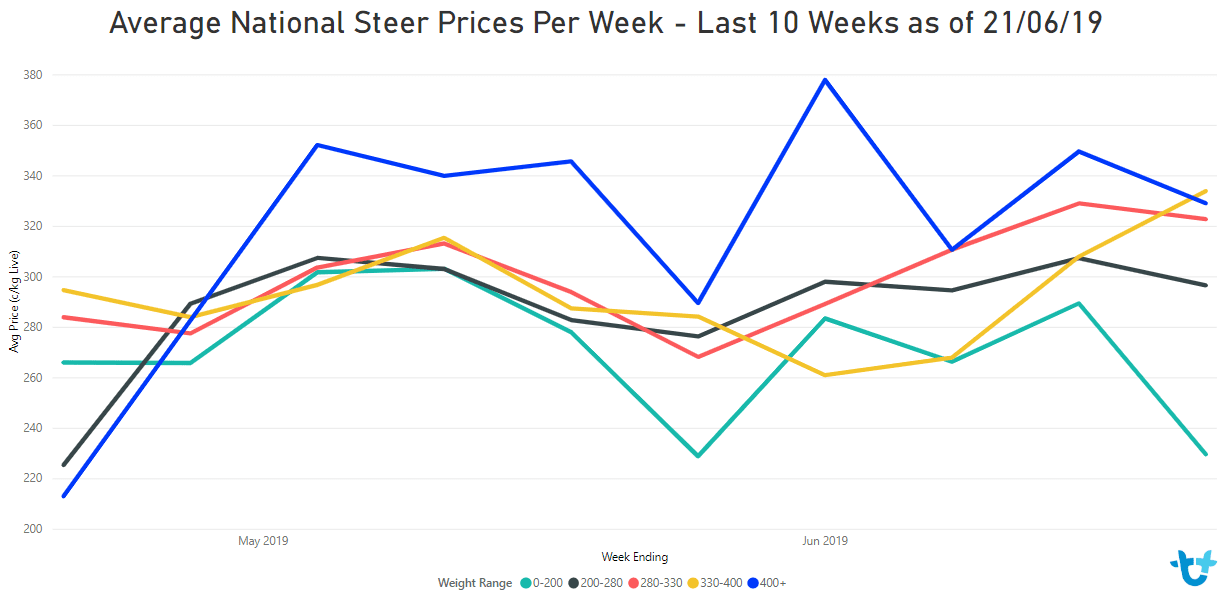 Heifer Highlights
6 to 10 month old, 212kg, Angus/ heifers from ST GEORGE, QLD sold for 260c/$550
6 to 9 month old, 254kg, Angus Cross heifers from MILLMERRAN, QLD sold for 213c/$540
13 to 14 month old, 332kg, Angus heifers from SINGLETON, NSW sold for 293c/$970
10 to 12 month old, 195kg, Angus heifers from ALBURY, NSW sold for 292c/$570
10 to 11 month old, 332kg, Angus heifers from YASS, NSW sold for 289c/$960
18 to 22 month old, 436kg, Poll Hereford/Hereford heifers from WODONGA, VIC sold for 287c/$1250
13 to 15 month old, 312kg, Angus/Hereford heifers from LUCYVALE, VIC sold for 257c/$800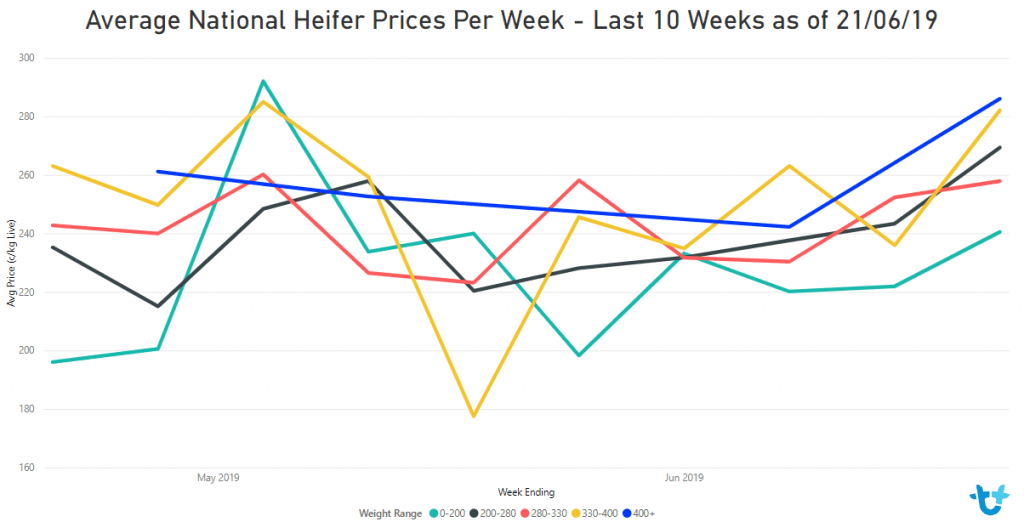 Source: AuctionsPlus