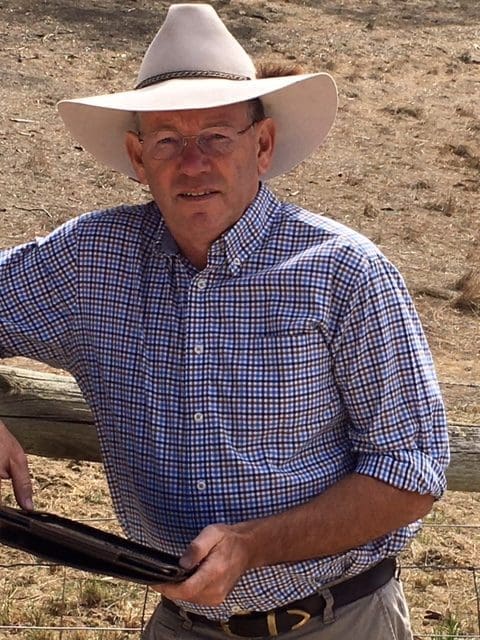 September has been big: Agency training at Wodonga in the first week, Queen Elizabeth moving on, King Charles moving in, stud bull sales all over Australia setting records in all breeds – showing absolute confidence in the beef industry, Merino ewe sales at Hay, Marrabel and Jamestown showing quality does get a premium. Geelong and the Panthers winning their premierships, A visit to the Tattykeel Aussie White sale at Oberon to see a ram make $240,000 and the first of the commercial rams donated to Spinal Cords Australia for $45,000, speaking to agents and clients about funding trade and breeder opportunities. Everywhere I have been is Irish green with full rivers and big crops – so much yellow, and if reaping started now you would probably get a tonne to the acre of tourists and cameras in the canola to boot.
Tony White, Gateway Livestock, Dubbo was my State Livestock manager when I was at Inverell. We discussed the pending supply glut for lambs, sheep and goats leading into summer and how it is being magnified by processor capacity. Both of us agreed the last 5 years it has been easy to sell livestock. Make a call – truck in 3 days. How things have changed in the last 2 months. Both of us commented it might be time to roll some old agent practices back onto the field.
Tony was a great advocate for the following, Remember how I was banging on about creating relationships early in the year – well now is the time they pay off. In large supply periods leading into summer, like it is now, smart agents are booking delivery space – processor and feedlot. Price will look after itself when you are arranging delivery and if a producer doesn't like the price at the time of delivery get on the phone and find someone that does. Its amazing how quickly a 5 – 8 week waiting period changes some thoughts about price.
Ideas on the road. As many in our industry know we can do some big miles in a short time and the advent of the podcast has been a god send, instead of singing to Nana Maskouri backed by Iron Maiden. I know more about Spitfires, Mustangs, global food security and how giving kids a kick in the arse did do some good than I ever thought I would. (I maybe did not learn much from the podcast about the arse kicking benefits from parents teachers and bosses as I was well educated in my younger days)
My index idea – why do we not have a buyability index? With all of the information available – Grain prices, fuel pricing, seasonal trend analysis, feed position, rain, supply available, currency, EBV's  etc etc etc it should be very simple to put together a base line index for commercial livestock that shows where an acceptable value sits for buying a commodity based unit like a Merino wether lamb, an Angus steer or a Hereford heifer.
All of a sudden you are trying to work out why it won't work aren't you? Instead of jumping to the negative try to work out how to make it work for your own business.  Andrew Hosken from Hosken Livestock and Property, Tamworth taught me about basis contracts many years ago. The basis principal applies to my buyability index concept very well – base price is what the stock standard model is worth as a commodity, the basis adjustment (+ or -) factors your feed regime, breeding value, acceptable margin, season etc. Presto we have a buyability index that can provide you with a guide on value instead of basing it on the last weeks sale reports. It may mean you don't buy stock but it also might mean you don't make a loss.
Cattle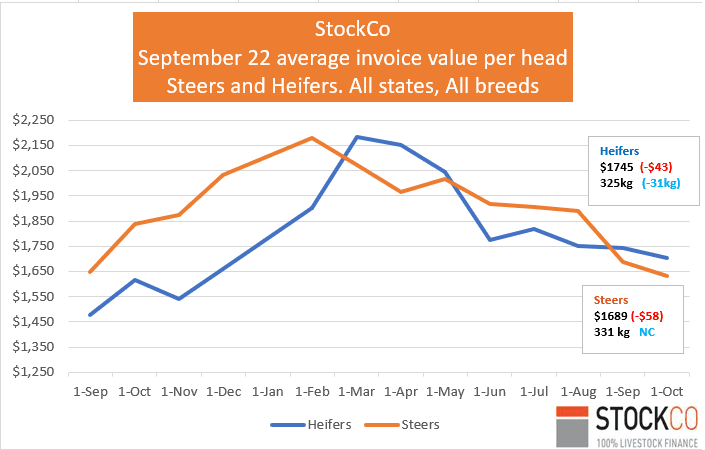 The cattle job has rebounded but with a little more thought than the meteoric rises last year. Speaking to several agents many cattle buyers are sitting on their hands trying to work out the margins. Now the last of the drought cattle have washed through and the compensatory weight gains and price lifts are gone the margins are not as sexy. However, those with an eye on performance, target market and most importantly – buy price are still doing very well.
Weaning calves – over the last 2 years we have seen a distinct drop off on calves weaned before hitting the weaner sales. In a bullish market anything with a head and tail makes good money – even when they are bellowing their guts out. Now with rates settled and margins tightening buyers will start to look for weaned cattle to avoid weight loss. Do yourself a favour and wean properly. There is plenty of hay and it does bring more buyers to your pen at sale time or on Auctions Plus.
Geoff Shipp, Elders Company agent Gingin WA said it has been a very slow 3 months for cattle numbers in WA. Feed situation is good with calves coming on well. However the very large cropping programs are seeing many cattle sold as weaners and not being carried through as trade cattle. Geoff thinks without more cattle being put out onto grass during October and November supply after Xmas for trade bodies may become an issue in WA and reward those prepared to have a go.
Mick Corcoran, Pitman Deakin at Moree said the wet has really impacted the logistics on moving cattle. He was in the process of organizing helicopters to check cattle around Coonamble and further west because it is so wet. He said "even Brewarrina and Walgett are waterlogged. Feedlots are looking for cattle with a couple of orders out there trying to pull cattle into dryer areas to create an access pool for supply. Cross bred steers are trading around $5.20 however one producer is offering 500 450 – 480 crossy feeders on A+ Friday 7t ". This will test the water and allow for some price discovery I think and may kick XB prices up a bit – good agency practice. Cattle are only just starting to perform in many areas although those that have wintered cattle north of Broken Hill have achieved fantastic results – fat cows and big sappy calves. PTIC heifers had a bit of a surge 3 weeks ago after the last QLD rain but that market has settled back a bit now.
Tim McKean Wilks & Mckean Livestock and Property, Wagga opened with "its bloody wet".  Wagga yardings are only 2000 each week and cattle are only just starting to move. Feeders are in demand with pricing on Angus around $5.85 but numbers are very short with feedlots calling to secure supply and best quality are moving towards $6.00. Cows are hitting $4.30 with most trading at $3.80 – $4.00. Light heifers have been buyable however many are doing the sums on steers at present considering the numbers in November / December will drag the rate down.
With a bit of sun the last week of September started to see invoice prices uptick which should reflect in the October numbers. QLD led the charge with demand for young light cattle improving
Sheep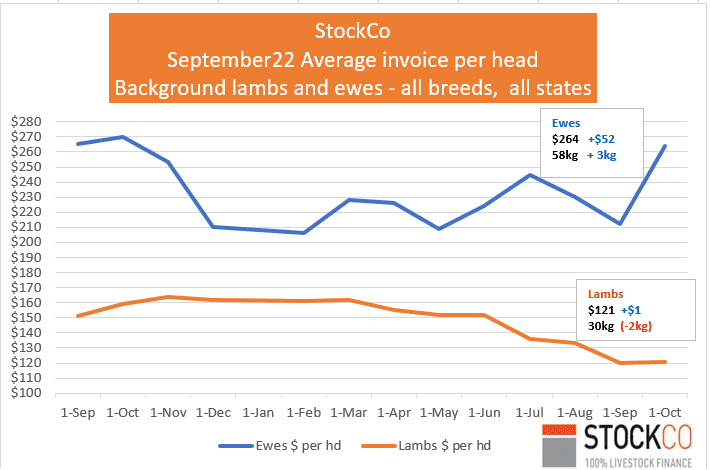 The lamb concertina. We don't see it very often and this piece is just to make producers and agents aware of what is looming. Normal seasonal sale of new season lambs progress southwards starting in August and finishing in the deep south mid to late December. The rains early September saw feed get going again and the sell mentality have a hand brake put on it. Now with a very green and wet season early lamb sales have pushed back by at least 4 – 5 weeks.
The massive supply of 2nd cross southern lambs around Ballarat, Hamilton, Mt Gambier, Naracoorte and many other areas are still marching towards their normal sale windows. In the past this convergence of supply areas formed a significant delivery bottleneck which was addressed by processors adding additional shifts to capture the numbers and quality. It is very difficult for any processor to find staff for another shift this year.
Under these conditions price is normally the first victim so what do we do? As I wrote in July get your first drafts gone early – the ewe has done the job on the tops so don't waste her efforts. The balance will be determined by your program, seed, flies and shearers I expect but whatever, make your call early. If you are going to hold till next year shear now, if sale is the only option take the price and move on because every week is pushing more numbers together.
Opportunities on lambs and ewes. Speaking to agents this week it seems the lack of forward contracts is deterring some from buying lambs to put out for a 2023 delivery. My suggestion is speak to your agent and processor about booking some space and have a go. Forward contracts in the spring are a luxury that were born in the last drought to capture a limited supply. Supply is not an issue at this time so if you are holding your breath for forwards it might be a few weeks yet if any appear. Current prices for merino and xb lambs are good buying (where is that buyability index). WA is under huge supply pressure and no slaughter space so do your sums and look west as well.
Don Morgan Livestock manager for AWN WA let me know the sheep and lamb job in WA has become very sticky. Many of the processors are still feeling the brunt of the COVID worker shortage from July and the lack of Visa workers. This has been magnified by the uncertainty of the sheep live export trade created during the election with only 1 ship loading out since recommencement. Most processors are booked until Xmas which has seen new season lamb pricing fall into the low $6 ranges. Ewes are also feeling the pinch and this is reflected in big lines at the right price becoming available. One example this week I heard of was 1200 quality 72kg, 1.5 year old ewes heading East for $170.
Ron Rutledge, Nutrien Vic / Riv sent a note on a great result for a Riverina, single vendor sale run on A+ this week. 21,200 merino wether lambs averaging $98.58 with buyers from Longreach in QLD, all the way to Tullermarine in Victoria. Drafted into truck size lots and well bred this line up created significant interest at a great overall average.
Ewe buying time is here as many tried to jump in early on joinable young ewes. The lamb market is just holding but numbers may drive prices down early October
Goats
Gus Foote Nutrien Charleville said the hooks rate has definitely eased off with prices ranging from $6 to $6.70. Heavier skin off goats are $6 – $6.40 and lighter skin on are in the mid $6 range. With the change in season the supply of goats is ramping up quickly with waiting periods for kill space 4 – 7 weeks. Having seen the number of goats around I think further pressure on pricing going into summer and next year is a sure bet.
Speaking to Paul Leonard, National Livestock Manager for TFI the week before TFI's Bourke plant started he said "we will be taking a steady approach to the recommissioning with our main focus on training staff and then moving through our accreditation requirements to meet end user supply protocols." Having seen pictures of this works and understanding the professionalism of the TFI approach this restart will be a game changer for SA, NSW and QLD goat producers.
Don't let market reports scare you away from an opportunity. – too often we are put off buying because we see the top prices listed as the headline. Speaking with Daniel Doecke, Spence Dix and Co at the Marrabel ewe sale mid-month the top run of Tiller Thompson 1.5 yr ewes made $408 to repeat buyers. Yet Daniel and his team supported their sale with orders that saw both vendors and buyers go home happy with the result without blowing the bank up. The same story at Hay with the top price being for less than 250 ewes.
My point is that most of the merino ewes ranged between $200 and $270 and value for money were very buyable. The same happens in the cattle market with selected lines in large yarding's quoted but the majority are at good value for seller and buyer. Time to get your funding requirements in place even if it is only until the harvest cheques start to roll in.
Kids finishing school – take the time to speak to your kids about what they want to do and what they want to learn once the school books are thrown in the cupboard. There are so many great opportunities available in agriculture at present that don't need a Uni degree. Feedlots, Agency, Processing, Studs, Stations, Merchandise the list is endless. Not too many who have a go early fail in life and the experience creates more opportunity. Every day I get asked if there are any "good ones" around looking for a job. My advice is getting 12 months away from home (weaning works for kids too), a good resume and an idea of what you want and lots of doors will open.
Remember life is not fair and they need to work for what they want though.
Opportunities
Wean your calves
Flies and more flies – treat now
Lambs are buyable – get stuck in
Great opportunity to upgrade your ewes
Book delivery space
Think about next year and what you can use your feed and stubbles for.
Train your staff
Get your finance sorted now
Take the time to get your school leaver set up for a successful working life.
Bio security should still be front of mind
Move stock off the river flats
.