THE chart tells the story: after a sustained and continuous rise spanning more than three years, goat prices have suddenly plummeted, losing more than 30 percent of their value in a few short weeks.
While early reports have blamed the higher Australian dollar, a 3-4c rise in currency clearly doesn't fully explain such a significant and swift price collapse.
One of Australia's largest goatmeat processors and exporters told Beef Central this morning that a significant build up of frozen goat meat in cold stores in the United States, as consumers push back against the unprecedented prices of recent months, has been a key factor.
"Most goat goes to feeding the Hispanic population in North America (which takes 80pc of global goat exports), and inevitably they are the people who drive the price at a retail level," TFI national smallstock manager Paul Leonard said.
"When you understand that your end-customers are people on low incomes, and we have seen goat prices rise from $2/kg to $7.50/kg, compared to heavy lamb at $5.50/kg, I guess it is no big surprise that at some period those prices probably needed to correct. There has been a push back at a retail level simply on price.
"My understanding is that they now have up to six months of forward purchased inventory, which is a lot more than they usually would."
At the same time Australia has continued to slaughter much larger numbers of goats than normal through winter.
National weekly slaughter rates normally ease back in June, July and August to around 15,000 head per week, but until the past few weeks Australia has still been processing 40,000-45,000 head per week.
Mr Leonard said the supplying coming forward had been contributing to the build of the large inventory of frozen goat in North America.
For about six weeks Australian processors had not been able to get a price for goats from export customers, he said.
"No one is offering, because they need to work through this inventory.
"There is no doubt that once they do work through it they will re-enter the market."
Where to from here?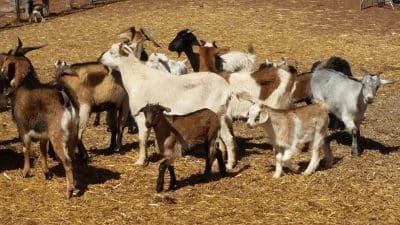 Producers will now be wondering whether further falls are likely.
Mr Leonard's view is that prices are likely to stabilise around the current level.
He said goat meat prices in Australia traditionally followed a similar trajectory to the light mutton prices, which are currently trading around $4-$4.50 per kilogram.
"Goats are back to around $4.80, they are somewhere back in that range where you would think they are probably going to settle," he said.
"The US is coming into their winter now which is when they will consume a lot more goat.
"I think it will sort itself out pretty quickly, it might take a couple of months, but they will certainly work through their inventory, and as they do they will start to buy in at a new level."
Producers have also responded to the sudden drop by pulling back the amount of goats being sold in recent weeks.
When prices began to hit the brakes two weeks ago the national weekly slaughter dropped suddenly from 40,000 head to 19,000 head. Official data showing last week's kill is not due until this evening, but Mr Leonard said he would not be surprised to see a figure of 15,000 or less.
"There is no doubt that with the price correction there has certainly been some push back from producers, obviously they want to sit and see where it goes.
"But I think it has stabilised now and I think it will sit at this level for a period of time now."
Mr Leonard said one of the factors that had helped to drive goat prices to such heights was the role goats played in helping abattoirs to fill a void left by a shortage of sheep.
"Goats are interchangeable in processing facilities with live sheep, or with mutton,
"As the sheep population dropped to 65 million and sheep became expensive compared to the global demand and nigh-on impossible to even procure in a reasonable season, goats gave processors an opportunity to put something on their hooks and to allow them to keep processing for five days a week.
"Because there was such global demand for goat meat, processors were able to pass on the significant price rise over the last four to five years, but eventually we got to the pointy end of the stick, and inevitably at the retail end people speak with their back pocket and that eventually happened."