MOST young cattle prices rose on AuctionsPlus this week – in the case of steers, quite sharply – as the effects of earlier rain and the prospect of more to come set in across eastern states.
Listing numbers rose by 1987 head or 41 percent this week to reach 6810 head. The lift in the size of the catalogues was accompanied by a strong jump in clearance rates, with 73 percent of lots on the national online marketing platform finding a buyer. Two weeks ago before the recent rain event, clearance was barely above 50pc.
Cows and calves made up 23pc of this week's listings, and sold strongly to average $1828.
A top price of $2520 was earned by a great line of five-year-old Limousin cows with Angus sired calves at foot from Finley, NSW (pictured below), heading across the border to Echuca, VIC.
The same price was made by Palgrove blood unregistered Charolais cows and calves from Birregurra, attracting fierce competition from buyers, before being secured by a buyer at Weerite in Victoria.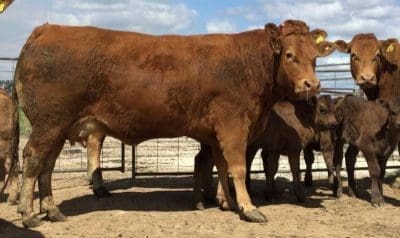 Joined heifers averaged $1657 this week, and ranged from $1205 to $1930. A line of 70 573kg Poll Herefords, bred out of Allendale blood cows, PTIC to Newry Angus bought the top price, being consigned from their home at Padthaway, SA, to a buyer near Kaniva, VIC.
Unjoined heifers averaged $1011 this week, and ranged from $765 to a top of $1230 for two-year-old Rennylea and Dunoon blood Angus heifers weighing 478kg, from Walwa, VIC heading up to Holbrook, NSW.
In specialty female lines this week, a pen of 38 Wagyu x Angus F1 NSM heifers & calves from Moonie, QLD 20-22 months and 430kg, made$2180. Four lines of Angus heifers totalling 100 head, PTIC to Stone Axe Wagyu bulls, from Berringama NSW attracted no bids, with a start price of $1630.
Steers averaged $1120 this week, and ranged from $885 or 349c/kg to a top of $1790 or 526c/kg for a line of 340kg Wagyu x Angus steers from Coolah, with the successful bidder hailing from Binnaway, NSW.
In a breakdown of young cattle sold this week, by weightrange:
Steers less than 250kg sold from 308c to 430c/kg to average 369c (up 23c); while heifers sold from 292-330c to average 317c (up 7c)
Steers 250-300kg sold from 321-401c to average 355c (up 13c); while heifers sold from 289-332c to average 314c (up 8c)
Steers 300-350kg sold from 271-357c to average 326c (up 30c); while heifers sold from 255-340c to average 296c (up 1c)
Steers 350 kg + sold from 279-334c to average 311c; while heifers sold from 257-303c to average 278c (down 45c)
Steer highlights:
Santa Gertrudis steers 7-11 months 237kg from MOONIE, QLD sold for 401c/$950
Angus steers 9-10 months 248kg from STANTHORPE, QLD sold for 385c/$955
Charolais x Brahman steers 23-26 months 411kg from CAPELLA, QLD sold for 318c/$1310
Charolais x Brahman steers 16-20 months 362kg from MURGON, QLD sold for 307C/$1110
Poll Hereford, Hereford steers 6-7 months 170kg from WILCANNIA, NSW sold for 430c/$730
Angus steers 6-7 months 249kg from TUMUT, NSW sold for 386c/$960
Charolais x composite steers 12-15 months 379kg from DELUNGRA, NSW sold for 316c/$1195
Angus x Poll Hereford steers 14-16 months 383kg from ORANGE, NSW sold for 309c/$1185
Angus steers 11-12 months 303kg from OMEO, VIC sold for 357c/$1080
Angus x Hereford steers 11-12 months 374kg from OMEO, VIC sold for 332c/$1240
Heifer Highlights:
Angus heifers 9-12 months 244kg from STANTHORPE, QLD sold for 326c/$795
Angus x Shorthorn heifers 13-16 months 341kg from YELARBON, QLD sold for 304c/$1035
Angus heifers 13-14 months 309kg from HOLBROOK, NSW sold for 340c/$1050
Angus heifers 13-14 months 372kg from MANDURAMA, NSW sold for 303c/$1125
Angus heifers 18-19 months 460kg from VIOLET TOWN, VIC sold for 266c/$1220
Angus heifers 24-28 months 478kg from WALWA, VIC sold for 257c/$1230
Source: AuctionsPlus