CATALOGUE numbers offered lifted 17 percent on AuctionsPlus this week, reaching 10,189 head, dominated by weaners and yearlings from dry areas, which comprised almost 80pc of the offering.
Several lotfeeders were active again this week and showed interest across all commercial sales.
All four heifer weight categories showed 5-10c/kg rises in value compared with the previous week, while most steer categories trended down (see graphs below).
Joined females were in supply with 1000 head offered. Clearance was limited for PTIC cows, where prices ranged from $820 to $1300, to average $1051.
A line of PTIC Shorthorn cows, 30 to 36 months out of Cumnock, NSW, sold for $1100 to a bidder out of Smithton, TAS, while a line of PTIC stud Angus cows offered by Trio Angus, Cassilis, NSW, aged 3-8 years returned $1800.
Two lots of two-year-old station-mated heifers from Lockington, VIC, included a line of Murray Grey heifers averaging 527kg which sold for $1200 and a line of Angus heifers 523kg which sold for $1300. Both mobs had been running with Merridale Angus bulls.
Cow and calf units were in short supply, with only 400 head offered. Prices ranged from $900 to $1350 and averaged $1106. Top price went to a line of unjoined Santa Gertrudis/Hereford cows and calves offered by Hassad Australia, from Trangie, NSW, purchased out of Wodonga, VIC. These 30 month olds averaged 572kg, with calves at foot by Santa bulls.
A line of unjoined two-year-old Limousin heifers with calves by Angus bulls, from Loomberah, NSW made $900.
A special sale offering of almost 60 Fulblood Wagyu females from Codenwarra Wagyu, Emerald QLD, all PTIC to Wagyu bulls and offered individually, produced a total clearance at rates from $1500 to $3100, depending on age and pedigree. All were offered with an expected BreedPlan terminal carcase index figure on the resulting calf – mostly ranging from +$120 to +$200.
Young cattle
The increase in weaner numbers contributed to a slide in clearance rates this week as buyers had the benefit of increased supply. Acland Pastoral Co, Oakey, QLD, offered a total of 1284 weaners across 12 lots. Among them were a line of Angus steers 7-12 months averaging 298kg sold for 285c/kg or $850, and a line of Santa heifers 7-12 months 183kg which sold for 251c/kg or $460.
There was an increase in smaller lots with 20 head or less this week, many travelling long distances from drought-challenged areas to better feed. Typical were 13 Charolais/Angus weaners selling for 262c/kg or $645 to travel 1400km from the NSW Northern Tablelands to South West Victoria; and 19 Angus heifers from the NW Slopes & Plains sold for 208c/kg or $360 to be trucked 1300km to South East Victoria.
The general practice of drafting and offering cattle into even deck loads for maximum competition is being challenged as buyers make the most of compiling several small lot sizes.
In a breakdown of young cattle sold this week, by weight range:
Steers less than 250kg sold from 238c to 309c to average 278c; while heifers sold from 207-276c to average 242c
Steers 250-300kg sold from 280-354c to average 299c; while heifers sold from 220-278c to average 245c
Steers 300-350kg sold from 250-330c to average 287c; while heifers sold for 257c
Steers +350kg sold from 263-298c to average 285c; while heifers sold from 237-295c to average 266c
Steer Highlights
Angus steers 11-12 months, 292kg, from BINNAWAY, NSW sold for 326c/$950
Angus/Shorthorn Cross steers 10-14 months, 356kg, from TALWOOD, QLD sold for 299c/$1060
Angus steers 10-11 months, 306kg, from TALLANGATTA VALLEY, VIC sold for 330c/$1010
Red Angus steers 8-10 months, 293kg, from BOYUP BROOK, WA sold for 282c/$825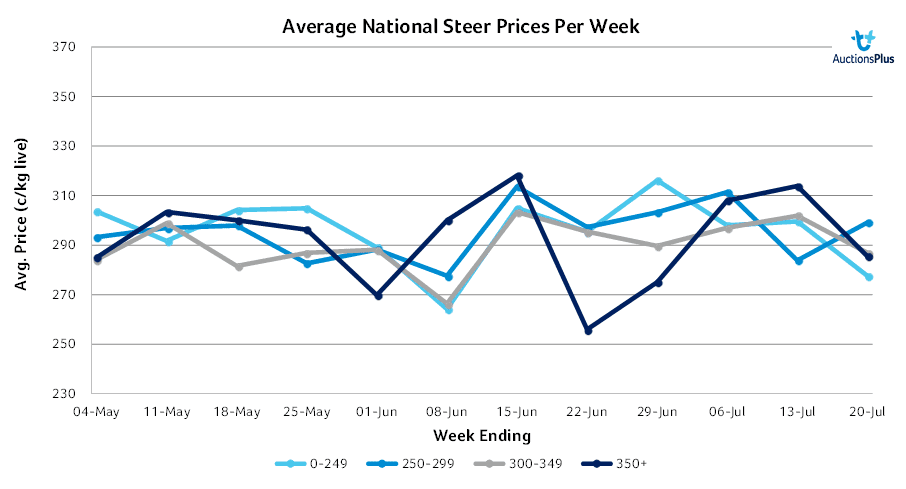 Heifer Highlights
Angus heifers 10-11 months, 358kg, from SODWALLS, NSW sold for 295c/$1054
Droughtmaster heifers 5-9 months 242kg, from WINTON, QLD sold for 243c/$585
Gelbvieh/Composite heifers 14-15 months 326kg, from WODONGA, VIC sold for 258c/$840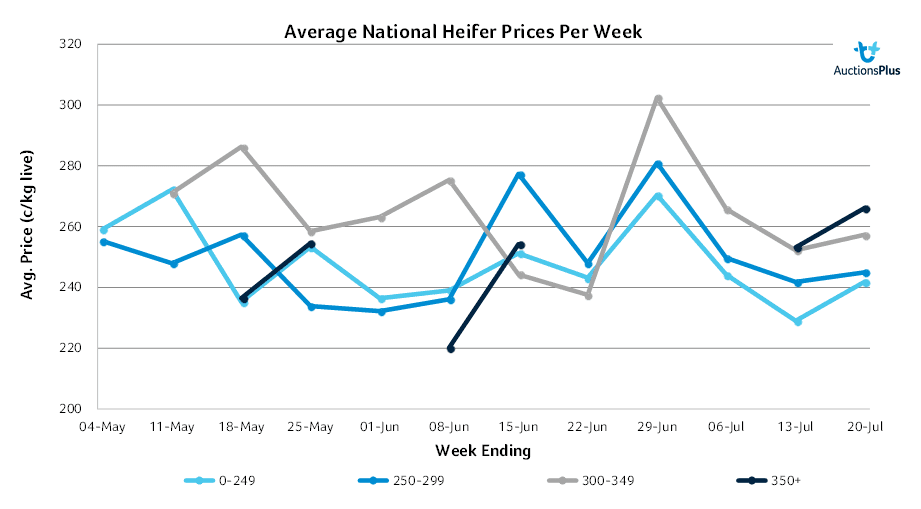 Source: AuctionsPlus