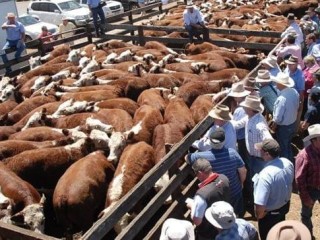 Victorian weaner cattle sales have opened on a strong note with most weaners in the medium weight range at the large Wodonga sale comanding 250-280c/kg yesterday
A limited number of northern buyers combined with strong interest from local and southern buyers to create a stronger market than last year, according to the National Livestock Reporting service.
Agents yarded 4415 weaners local areas and further afield including Mansfield, Holbrook, Corryong, Tallarook, Brindabella, Gundagai, Benalla and Wangaratta.
The yarding was larger than the corresponding sale last year. The NLRS said there was also more weight in the Angus cattle this year, however the overall quality of the yarding was mixed.
Competition was strong from the outset with buyers attending from Glen Innes, Cowra, Dunedoo, Tamworth, the Yarra Valley, all Gippsland regions, Harden and local areas.
The medium weight weaner steers ranged from $629 to $830 with the vast majority of sales from $724 to $770/head or an estimated live weight price of 250c to 280c/kg. The heavy weaner steers topped at $880 to average $814/head or 230c/kg lwt.
The medium weight weaner heifers sold from $585 to top at $710 with most sales from $645 to $665/head or an estimated 220c to 250c/kg lwt. There were also some plainer lines that averaged around $528/head. Heavy weaner heifers topped at $870 to average $760/head or 214c/kg lwt.
A pen of heavy yearling steers weighing an estimated 519kg topped the sale at $1045/head. Other heavy weights sold closer to $907/head or 211c/kg lwt.
The light end of the feeder steers averaged $807 after selling to $825/head. The medium weights reached $895 and sold around $858, as a single pen of heavy weights to feeders made $972/head. The light feeder heifers
To see the NLRS' full sale report and prices for Wodonga click here
At Casterton the opening Western District sale topped at $864 per head for a line of 40, 405kg Angus steers offered by Geoff and Sue Sinclair, Noss, Casterton, which sold for 215c/kg liveweight.
Selling agent Greg Bright described the 1800 head yarding as a "good, solid sale" with heavy steers selling from 210-220c/kg and lighter steers from 220c to 240c/kg.
Further west at the Hereford and Euro sale at Hamilton, Heath Templeton from Southern Grampians Livestock and Real Estate said prices were 2-3c/kg dearer than 12 months ago.
Heaver cattle in the 340-400kg range sold extremely well, fetching prices of 219-230c/kg. The top money on a price per head basis was achieved by Malcolm Robertson, The Highlands, for a pen of 405kg Hereford cross steers that sold for 229c/kg to return $927.
EU accredited cattle were also in high demand.
"Anything that was EU you saw a jump in the price, it is definitely a bonus to have EU on your cards," he said.
Most buyers at Hamilton came from Gippsland, South East South Australia and southern New South Wales. T&R Pastoral were also particularly active, Mr Templeton said.