CONSISTENT with wider cattle market trends being seen, prices for weaner steers slipped by 14c/kg on average, while weaner heifers dropped 17c/kg in AuctionsPlus sales this week.
Cattle numbers from commercial sales remained steady on last week with 8558 head listed. The offering was dominated by weaned steers, totalling 2607 head. Clearance remains consistent with the previous week.
Joined female numbers dropped back by 460 to total 1430 head offered. PTIC cows sold from $740 to $1360, averaging $1025. Top price went to a line of 37 four-year-old Angus cows averaging 541kg, mated to Angus bulls, from Nundle, NSW
From Keilira, SA, a line of Poll Hereford cows 10-11 years, joined to Hereford bulls sold for $930. This line was purchased by a SA buyer.
PTIC heifers this week sold from $1020 to $1360, with top price going to a line of 20 Angus heifers from Yea, VIC. These heifers are Banquet & Rennylea blood, rising 24 months and averaged 458kg. They were joined to Angus bulls and will travel over the border to Jindera, NSW. Elsewhere, a line of 60 Angus heifers 16-18 months, joined to Angus bulls, from Hernani, NSW returned $1020.
Cows with calves at foot totalled 651 head this week, with clearances at auction reflecting lack of buyer confidence. Cows and calves sold from $1100 to $1190, with the top price returned by a line of 128 Droughtmaster cross heifers & calves from Rolleston, QLD. These cows were rising three years and averaged 412kg, with Droughtmaster-sired calves at foot.
From Goondiwindi, QLD a line of 27 Speckle Park/Hereford cross heifers with Angus-sired calves sold for $1100. These heifers were 30-32 months averaging 431kg. This line will travel to Moree, NSW.
Weaner and yearling numbers increased by 881 to total 5642 head this week. Clearance at auction is a reflection of seasonal conditions resulting in supply outweighing demand.
Weaned steers return from 179c to 357c/kg, to average 273c, which is 14c down on last week. From Port Fairy, VIC a line of 31 Charolais x Hereford steers 4-6 months averaging 150kg steers sold for the top price. These steers will travel to SA.
Yearling steers returned from 190c to 288c/kg, and averaged 261c. A line of 107 Angus cross backgrounder steers 14-15 months averaging 265kg, from Emmaville, NSW sold for 272c.
Weaned heifers sold from 168c to 282c/kg this week, and averaged 215c, down 17c on last week. From Rockley, NSW a line of 85 Angus heifers  6-7 months averaging 210kg returned the top price.
Selling from 139c to 354c/kg, yearling heifers this week averaged 234c. A line of 72 Angus cross feeder heifers from Mount Pleasant, SA sold for 246c. These EU-accredited heifers averaged 252kg and were 8-14 months of age, and will travel across the pond to TAS.
In Tasmania, a highlight saw 100pc clearance achieved for vendor AA, PF & JT Dorigo from Lady Barron, TAS for 114 head listed over 9 different lots. The offering comprised of 64 yearling steers, averaging 274c or $926 and 50 NSM yearling heifers which averaged 275c or $881. The top price of the TAS cattle sale equalling $1190 or 330c/kg was returned by a line of 15 Angus unweaned steers 360kg at 9-10 months, from Scottsdale.
An additional 237 head were also available in the Landmark Gingin/Midwest Cattle Breeders Premium Heifer Sale held in Western Australia this week, which saw an average price of $988. A line of 10 Angus weaned heifers 8-10 month averaging 387kg returned the top price of $1490.
An offering of 140 PTIC Angus commercial heifers in the Banquet Angus Autumn Bull Sale sold from $1900 to $2150, producing a 100pc clearance, average of $2204.
In a breakdown of young cattle sold this week, by weight range:
Steers less than 250kg sold from 179-357c to average 278c; while heifers sold from 140-282c to average 207c
Steers 250-300kg sold from 190-297c to average 255c; while heifers sold from 177-246c to average 217c
Steers 300-350kg sold from 208-288c to average 261c; while heifers sold from 220-354c to average 274c
Steers 350+ kg sold from 268-330c to average 291c; while heifers sold from 278-385c to average 332c
Steer Highlights
6 to 8 month old, 270kg, Angus steers from WARRUMBUNGLE, NSW sold for 298c/$805
6 to 8 month old, 307kg, Angus steers from WARRUMBUNGLE, NSW sold for 269c/$825
6 to 7 month old, 223kg, Angus steers from BOOKHAM, NSW sold for 294c/$655
6 to 9 month old, 251kg, Santa Gertrudis steers from BLACKALL, QLD sold for 283c/$710
5 to 7 month old, 179kg, Santa Gertrudis steers from BLACKALL, QLD sold for 288c/$515
6 to 10 month old, 251kg, Angus steers from ALPHA, QLD sold for 257c/$645
11 to 12 month old, 254kg, Hereford steers from PORT FAIRY, VIC sold for 217c/$550
4 to 6 month old, 149kg, Charolais/Hereford steers from PORT FAIRY, VIC sold for 358c/$535
4 to 6 month old, 161kg, Hereford steers from PORT FAIRY, VIC sold for 292c/$470
9 to 10 month old, 360kg, Angus steers from SCOTTSDALE, TAS sold for 331c/$1190
17 to 19 month old, 358kg, Angus steers from LADY BARRON, TAS sold for 269c/$960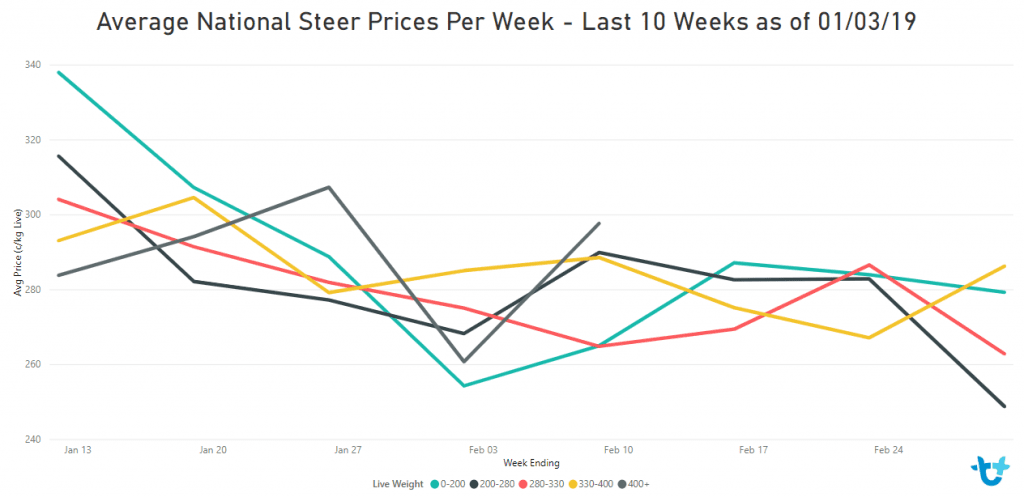 Heifer Highlights
6 to 7 month old, 210kg, Angus heifers from ROCKLEY, NSW sold for 283c/$595
9 to 12 month old, 288kg, Angus heifers from MUDGEE, NSW sold for 195c/$560
5 to 7 month old, 221kg, Speckle Park/Composite heifers from MERRYGOEN, NSW sold for 240c/$530
15 to 18 month old, 348kg, Charolais heifers from EMERALD, QLD sold for 221c/$768
15 to 18 month old, 344kg, Charolais/Charolais/Brahman heifers from EMERALD, QLD sold for 221c/$758
5 to 7 month old, 181kg, Santa Gertrudis heifers from BLACKALL, QLD sold for 259c/$470
10 to 14 month old, 298kg, Angus heifers from SPRINGTON, SA sold for 240c/$715.68
8 to 14 month old, 252kg, Angus heifers from SPRINGTON, SA sold for 246c/$620.52
17 to 19 month old, 317kg, Speckle Park/Angus heifers from LADY BARRON, TAS sold for 355c/$1125
17 to 19 month old, 320kg, Angus heifers from LADY BARRON, TAS sold for 282c/$900
8 to 10 month old, 386kg, Angus heifers from ALLANOOKA, WA sold for 386c/$1490
8 to 10 month old, 332kg, Angus heifers from GINGIN, WA sold for 312c/$1035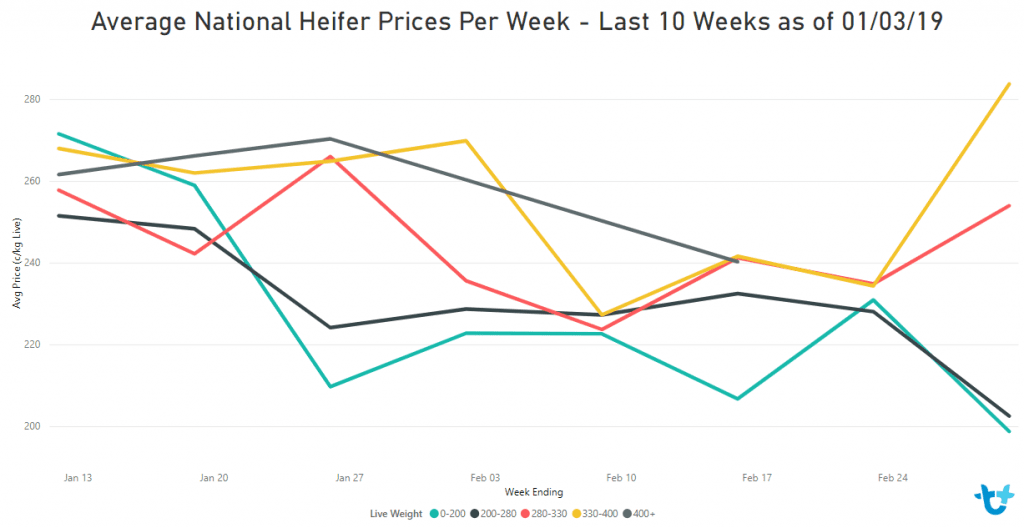 Source: AuctionsPlus