SPECIALIST bullock finishers and solid processor and southern restocker demand provided the high points for the southern beef weaner sales last week, pushing prices above 200c/kg despite the lack of northern restocker demand.
Grassfed bullock finisher Paul Mason from Wellington NSW bought the only steers to go north of the Murray from the Hamilton sales and Ray White Rural's Livestock chief executive officer Brendan Jacobson bought 400 270-350kg steers at Naracoorte on January 9 to be agisted locally for backgrounding for a Dirranbandi feedlot in southern Queensland.
Specialist Hereford finisher Marc Greening from Injemira Beef Genetics near Wagga Wagga bought 120 Hereford steers at Casterton for around 190c/kg or an average of $550 a head, to performance-recorded on grass to EU feedlot weights.
The south-west Victorian weaner sales started last week in Casterton on January 6, with Ray White Keatley's offering of about 700 (1750 advertised) mixed sex weaners that sold to $751 for G. Hiscock's eight 429kg Angus steers that went to South Australian feedlot operator S. Kidman and Co.
The yarding of mostly 300-kg plus Angus and Angus cross steers mostly made from 165-193c/kg or $530-$747 a head, with the Euro steers selling from 146-184c/kg. Most were bought by Ray White clients and Gippsland restockers, with limited feedlot and export works support. The heifers yarded sold from 146c -160c/kg.
Benara Pastoral Co manager Colin Creek said the company's 274 (av 342kg) steers averaged 185c/kg, up from 182.5c/kg for 265 337kg steers last year. More steers and heifers were retained to take advantage of the good season at Mt Gambier, he said.
Ray White Keatley principal Dale Keatley said clients had held back lighter cattle for value-adding to sell at later store sales or direct to feedlots.
First Hamilton sale offers 2650 head
At the first Hamilton sale on January 6, private agents offered 2650 Angus and Angus cross steer weaners (3500 advertised earlier).
A broader buying field of exporters, lotfeeders, northern Victorian Gippsland and local restockers bought the top runs of Angus steers for 178-199c/kg or from $608 to a top of $810 a head, paid by Thomas Foods international for Lal Lal's 18 440kg Angus steers.
The same volume buyer also paid 189c/kg or $762 a head for Chartwell Farms' 22 403kg Angus steers. The top black baldy steers made from 177-188c/kg or $633-$684 a head. Secondary steers and those under 300kg sold from 165-180c/kg.
LMB Linke auctioneer Bernie Grant said the prices were as expected and sellers "got out of it alright."
"The only disappointment was with the lighter calves under 280kg. The buyers wanted a bit of weight," he said.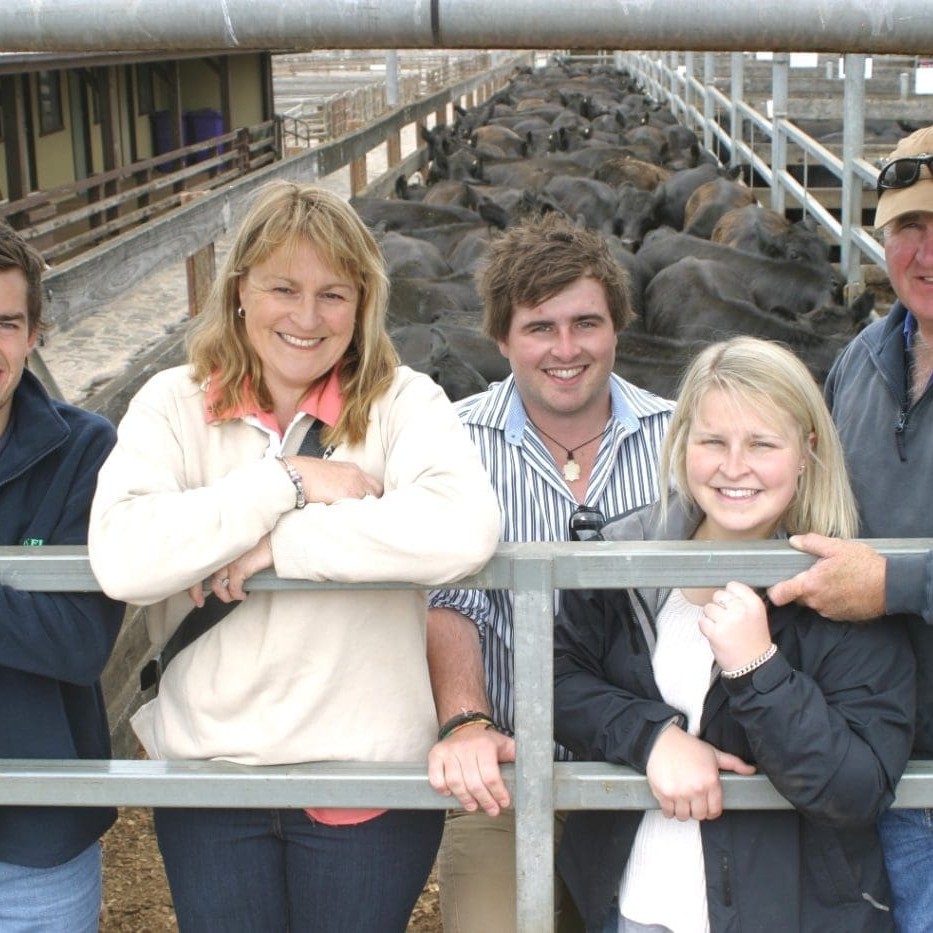 Penshurst producers Roland and Susan Cameron sold 93 of their Athlone South Angus steers to a top of $681 (195c/kg) to a Rodwells Pakenham client. The Camerons sold another 113 314kg Angus steers for 199c/kg or $625 a head to Jig Saw Farms at Hensley Park.
Roland Cameron said the 206 Athlone South steers this year averaged 329kg at 197c/kg or $650/head, compared to 350kg, at 186c/kg for a $677 a head average last year. The 2014 steers were lighter because of the season's hard start. A run of 50 'thirds' steers was retained on good pasture stocks for later sale.
"We've come out of it fairly well," he said.
Casterton steers to 202c
At Casterton on January 7, JP Darcy Livestock with support from Miller Whan and John offered 1200 (1600 advertised) with 300kg-plus Angus steers making from 160-192c/kg or $520 to a top of $698 a head for Sunnyside's 31 steers, sold to Landmark Leongatha. Sub-300kg Angus steers made from 163c/kg-180c/kg.
Mt Gambier bullock finisher Max Saffin paid the sale's top price of 202c/kg or $729 a head for Seymour Park's 35 Shorthorn cross steers, outbidding King Island grass-finisher Ian Lester who went onto pay 192c/kg or $614 for another 21 of the steers. Mr Lester also paid 180-192c/kg, or $555-$639 a head for a run of 293-355kg Hereford steers and from 180-187c/kg for 346-371kg Charolais cross steers. Lighter steers under 300kg made 163-176c/kg for the Angus and to 190c/kg for the Charolais.
Angus heifers 238-336kg sold from 136-170c/kg, Herefords from 150-157c/kg and the Charolais lines made 147-161c/kg.
Buying strength came from Landmark Leongatha, Miller Whan and John Mt Gambier, King Island and some feedlot support on the heavier steers, with J. and J. Kelly, Heywood, BR&C Swan Hill and MWJ also competing on sub-300kg lines.
At Hamilton later that day agents Elders and Landmark offered 2150 (3000 advertised) Angus and black baldy steers, with prices mostly in the 180-190c/kg or $580-$700 a head range to Gippsland restockers, feedlots, local restocker and EU demand. SEJ Leongatha paid the top price per head of $742 (175c/kg) for Nangana's 20 Angus steers and the vendor's 82 342-350kg steers sold for 195c/kg to Newmarket Livestock.
Wrights Swamp sold 19 400kg Angus steers for 185c/kg or $740 a head and Sandy Camp's 26 385kg Angus made 187c/kg or $720 a head. Steers under 300kg generally made from 179-193c/kg.
Elders auctioneer Aaron Malseed said the rates were better than expected and very consistent.
At Casterton on January 8, Landmark yarded 1900 steer weaners (3000 advertised) with +300kg Angus steers generally making from 178-188c/kg or $550-$690 a head and up to 191c/kg or $708 for Noss' 60 370kg steers, sold to Landmark Leongatha. The same buyer also paid 181c/kg or $710 for Mullagh's 25 392kg steers.
Whiteface steers over 300kg made from 162-185c/kg or from $560 to up to $642 a head for Greenhills 15 Hereford/Shorthorn cross steers. The black and whiteface steers under 300 kg made from 163-186c/kg. Export, restocker and feedlot buyers came from Gippsland, King Island, northern Victoria, South Australia and south-west Victoria.
Landmark auctioneer Greg Bright said prices were very solid for the well-bred heavy and middle-run calves, but got a bit flat for off-type and lighter steers.
At Hamilton later that day, private agents offered 1811 (2500 advertised) Hereford and Euro steer weaners, with Wellington, NSW specialist grass bullock finisher Paul Mason and south-west finisher John Wyld pushing rates on selected EU lines well over 200c/kg.