MOST young heifer and steer categories fell sharply in price in trading on Auctions Plus this week, as desperately dry conditions pushed larger numbers to market.
Cattle numbers jumped significantly this week, jumping 62 percent to 13,876 head. All states had increased listings excluding Tasmania.
Joined female numbers were up 2660 this week to total 4234, bolstered by the Team Te Mania Commercial Female Sale. A line of 41 PTIC Angus cows three to five years averaging 504kg from Cooma, NSW sold for $1100.
A line of 50 PTIC Angus heifers 19-20 months averaging 435kg from Chiltern, VIC sold for $1210, and will travel to Devonport, TAS.
Weaner & Yearling numbers increased 2339 head this week to total 7724 head. This increase was due in part to a doubling of yearling & grown heifer numbers to 2436.
Weaned steers sold from 180c to 331c to average 246c, down 21c on last week. The top price was achieved by a line of 95 Angus steers 6-7 months averaging 222kg from Holbrook, NSW.
Weaned heifers sold from 148c to 280c to average 206c, down 38c on last week. Top price was achieved by a line of 15 Angus heifers 11-12 months averaging 428kg from Waterhouse, TAS, going to a Wynyard, TAS buyer.
Yearling and grown heifers sold from 144c to 268c to average 190c, down 34c on last week. The top price was achieved by a line of 25 Angus heifers 16-17 months averaging 421kg from Tailem Bend, SA, which will travel to Warrnambool, VIC.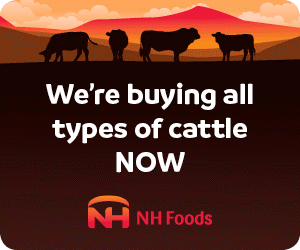 A feature sale this week was the Team Te Mania Female Sale with 823 joined females were offered across 28 lots. The sale averaged $1339 a head and produced a clearance of 56pc. PTIC cows sold from $1000 to $2400, to average $1292. The top price was achieved by a line of 24 PTIC Angus cows, aged 4-5 years averaging 757kg offered by Wave Hills, Hamilton, VIC, and going to a Crossley, VIC buyer.
PTIC heifers sold from $1110 to $1280, to average $1406. The top price was achieved by a line of 23 Angus heifers, 19-22 months averaging 395kg offered by DA & S Chisholm from Adelong, NSW and will travel to Cobargo, NSW.
In a breakdown of young cattle sold this week, by weightrange:
Steers less than 250kg sold from 181-331c to average 244c; while heifers sold from 149-267c to average 200c
Steers 250-300kg sold from 180-259c to average 232c; while heifers sold from 128-212c to average 177c
Steers 300-350kg sold from 202-318c to average 261c; while heifers sold from 144-287c to average 203c
Heifers +350kg sold from 224-281c to average 258c
Steer Highlights
6 to 7 month old, 222kg Angus steers from HOLBROOK, NSW sold for 331c/$735
7 to 8 month old, 243kg Angus steers from URANQUINTY, NSW sold for 273c/$665
12 to 16 month old, 325kg Angus steers from BELLTREES, NSW sold for 265c/$860
9 to 10 month old, 313kg Shorthorn steers from GUNDAGAI, NSW sold for 266c/$830
6 to 9 month old, 266kg Angus x Santa steers from KINGAROY, QLD sold for 260c/$690
8 to 11 month old, 294kg Angus steers from GOONDIWINDI, QLD sold for 240c/$705
5 to 6 month old, 157kg composite/Angus steers from YEA, VIC sold for 268c/$420
14 to 17 month old, 297kg Angus x Hereford steers from LUCINDALE, SA sold for 236c/$700
9 to 10 month old, 339kg Salers x Shorthorn Cross steers from PROMISED LAND, TAS sold for 319c/$1080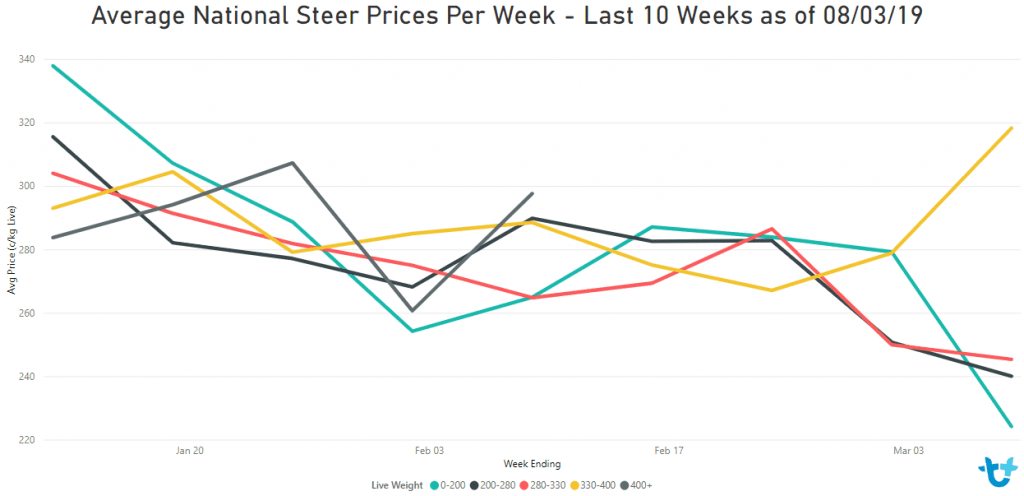 Heifer Highlights
6 to 7 month old 218kg Angus heifers from HOLBROOK, NSW sold for 268c/$585
6 to 7 month old 184kg Angus heifers from HOLBROOK, NSW sold for 236c/$435
15 to 16 month old 383kg Angus heifers from COWRA, NSW sold for 225c/$860
8 to 9 month old 283kg Angus heifers from MOLONG, NSW sold for 212c/$600
12 to 18 month old 348kg Droughtmaster heifers from BLACKALL, QLD sold for 178c/$620
11 to 15 month old 272kg Charolais x Brahman heifers from TAMBO, QLD sold for 173c/$470
12 to 18 month old 327kg Charolais x Brahman heifers from TAMBO, QLD sold for 144c/$470
16 to 17 month old 421kg Angus heifers from TAILEM BEND, SA sold for 269c/$1130
9 to 10 month old, 320kg, Salers x Shorthorn heifers from PROMISED LAND, TAS sold for 288c/$920
11 to 12 month old 427kg Angus heifers from WATERHOUSE, TAS sold for 281c/$1200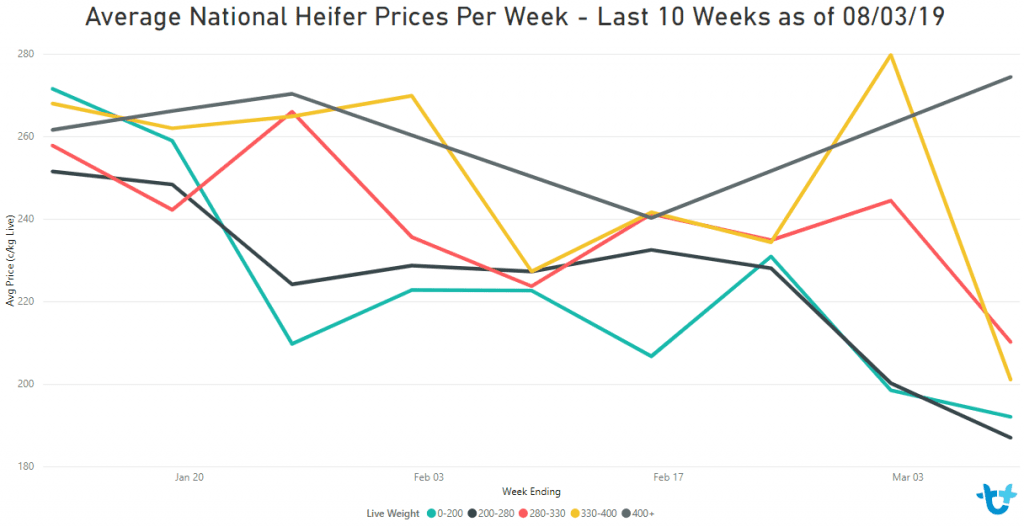 Source: AuctionsPlus