Yarding 2390 Change -1110
Numbers fell by more than 1,000 head at Wagga on the back of last week's significant price correction.
The tone of the market was dull, particularly for well finished export cattle.
Key exporters were missing in action due to the backlog of stock on forward contracts.
Heavy steers and bullocks mostly sold to a major Wagga exporter, with very few buyers even bothering to tender a bid.
Prices dipped 15c with Bullocks selling from 225c to 270c/kg.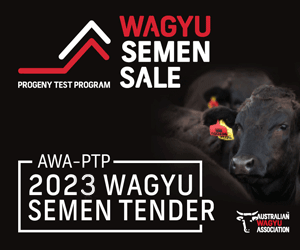 Heavy steers sold from 225c to 300c/kg. Trade steers and heifers were few and the bulk sold from 220c to 366c/kg.
Feeder steers sold to weaker competition with very few buyers at the sale.
Light weight feed steers 330-400kg sold 30c cheaper making from 235c to 374c/kg. Medium weight feed steers did fin some support gaining 8c to record a top price of 367c/kg.
Feed heifers' medium weight were pegged between 240-296c/kg due to limited demand, prices generally dipped 15c/kg.
Light weight weaners back to the paddock sold to a small group of restockers which contributed to price falls 30-50c/kg.
The bulk selling from 235-374c/kg.
Cow numbers remained low with 420 yarded.
Prices for heavy cows improved 13-15c due to the limited supply.
Heavy cows sold from 223-254c/kg.
Leaner grades sold from 142-195c/kg.
Market reporter: Leanne Dax
Source: NLRS Click here to view full Wagga report on NLRS website.