Yarding 1850 Change 920
The Wagga cattle market is heading into spring in good form, despite a bigger yarding of 1850.
The shortage of secondary steers and heifers is evident and its unknown where prices will go, due to a plethora of supply chain problems and staff shortages worldwide.
This week at Wagga medium weight feeder steers jumped 11c selling from 510c to 565c/kg.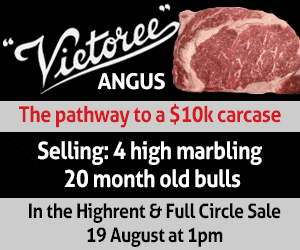 Light  feeder steers were a hot ticket item with all buyers bidding strongly  to average 553c/kg
Feeder heifers were in reasonable supply with most weighing above 400kg. The bulk of the medium weights surged ahead 17c/kg, with 400-500kg topping at 555c to average 520c/kg.
Restockers pushed hard against back grounders in a tight weight range of 230-330kg. Well-bred steers jumped 15c to 40c selling from 530c to 745c/kg.
Trade heifers met weaker domestic processor competition due to the plainer quality.  Prices tracked 25c cheaper to average 477c/kg.
Trade steers gained 11c with the grain fed portion keenly contested. The better finished steers made from 512c to 560c/kg.
Prices drew out some top-quality heavy feeder steers, with some feedlots paying a premium for the milk and two teeth pens.  Prices ranged from 460c to 512/kg.
Bullocks and heavy grown steers to kill were in short supply distorting price  trends. The few better covered steers C3 and C4 sold from 410c to 485c/kg.
In the cow run tight bidding for the best heavy cows resulted in a spread of just 390-430c/kg. Leaner types under 530kg sold from 340c  to 371c/kg.
Market reporter: Leann Dax
To view full NLRS report click here to visit NLRS website