Yarding 4540 Change +1040
Warmer temperatures had a noticeable impact on cattle movement, as more cattle were brought into the sale, with 4540 yarded.
While the market for the top pens of export stock held up relatively well, there were little to no positive impacts across the yearling categories, as price declines of 20c to 30/kg were commonplace. The feedlot buyers were short on the ground, and competition dwindled once cattle reached the 260c/kg mark. Demand from domestic processors remained weak, with a portion of well-covered stock being absorbed by feedlots.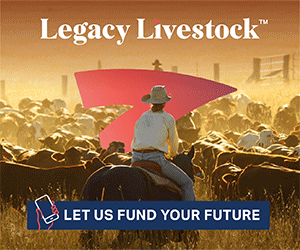 Feeder steers in the 400 to 500kg range saw a 12c drop in prices, averaging at 237c/kg. Light-weight feed steers faced a lack of competition from restockers and feedlots, resulting in a 16c/kg price decline. Feeder heifers in the medium-weight category struggled to attract buyers, causing prices to slip by 14c to an average of 212c/kg. Trade steers and heifers experienced lacklustre demand, with buyers hesitant to engage in the market. Heifers weighing between 400 to 500kg experienced a significant drop of 60c, particularly those with suspicions of being in calf. Despite being mostly well-bred and carrying good shape, some heifers were sold as low as 155c/kg, while the top pen fetched 246c/kg.
In the export sale, a few more processors were active. Heavy steers averaged 241c, slipping 15c/kg. Bullock prices dipped by 10c, resulting in an average of 250c/kg. The quality of cows on offer was mixed, with a higher proportion of leaner types in the offering. Cows faced a notable price drop, ranging from 30c to 50c/kg. Despite some outstanding runs of big heavy cows, they could only manage an average price of 201c/kg. Leaner grades of cows fetched rates ranging from 110c to 160c/kg.
Market reporter: Leanne Dax
Source: NLRS Click here to view full Wagga report on NLRS website.