Yarding 3600 Change -200
Supply declined moderately to 3600 cattle at the Wagga Prime sale on Monday. It was a typical summer yarding with the bulk of the yearling offering in secondary condition. The market lost some heat with domestic processors not prepared to chase the market
Feeder steers rates dipped 5c/kg as the dry hot conditions continue to put supply pressure on the market. Feeder steer sold to patchy demand at times, with rates touching firm for the better covered well-bred lines. Medium weight steers 400-500kg sold at 240-283c/kg/ Lighter weights topped at 285c to average 267c/kg.
The feeder heifer sales bounced around in early trade, before gaining momentum. Generally prices were back 6c/kg medium weight heifers made from 228-262c to average 249c/kg. The lighter weights were well supplied making from 205-259c/kg.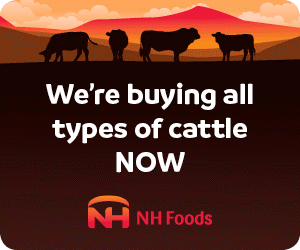 Weaner steers and sold to a bigger group of restockers, with prices firm to a few cents easier. The light weight well-bred lines topped at 305c, while most other sales ranged from 220-298c/kg.
Trade steers were few and prices eased back a few cents due to the plainer quality. The better finished steers sold from 255-270c/kg.
One again buyers favoured the heifer portion looking for more fat cover. Prices fell back 15c which was quality related.
The general run of trade heifers 400-500kg sold from 220-255c/kg.
In the export market the shortage of well finished steers 500-600kg helped lift prices 5c, with the better young steers selling from 262-270c/kg. There were no bullocks to quote.
In the cow run numbers lifted and quality was mixed, with quite a tail to the offering. The better finished lines were unchanged making from 184-210c/kg. Leaner grades struggled to attract all buyers and prices faded 3-9c/kg. Store cows were at times keenly contested making from 130-205c/kg.
To view full MLA NLRS report click here