Yarding 4400 Change 800
Extremely dry conditions and plainer quality eroded prices in a bigger yarding of 4,400 cattle at Wagga. The market opened weaker on the back of last week's softer trends
Steers suitable for the trade were limited, with domestic processors more selective across all weights and grades. Grass finished steers sold from 260-265c/kg. Trade steers lacking finish sold from 235-255c/kg.
Heifer price trends varied with quality and competition tending to be the driving factor. Prices for better finished heifers were generally 14c dearer selling from 235-264c/kg.
Most weaner heifers returning to the paddock 200-280kg hovered around 190-230c, with rates generally 3c cheaper. Good quality lines of Angus steers 200-280kg attracted less buyers, with the lead pens holding their value best. Overall rates slipped 21c selling from 200-298c/kg.
A mixed selection of secondary steers was penned. The regular feedlot and opportunistic feeders were present and active. Some feedlot buyers were restricted by weight and breeding, which aided the cheaper trends of 3-6c/kg. However, some good rates were still recorded for well-bred Angus steers. Medium weight steers to feed on made from 205-281c/kg. Lighter weights topped at 286c to average 259c/kg.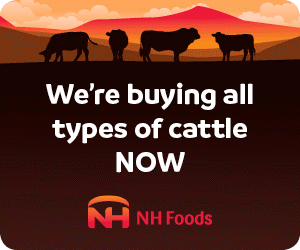 After recent price corrections export steers struggled to gain any momentum. Grown steers were quoted as 9c heaper by the National Livestock reporting Service (NLRS) making from 245-268c/kg. Heavy bullocks were in short supply selling at 245-266c/kg. Heavy heifers sold to fluctuating price trends, with the aged portion discounted. The best pens of Heifers above 600kg generally sold 8c cheaper topping at 252c to average 242c/kg.
The cow market sold to stronger competition for the heavy well finished types. Heavy cows were unchanged to 4c dearer, while leaner grades slipped 2-8c/kg. High yielding beef cows sold from 182-209c to average 197c/kg.  Leaner grades ranged from 135-179c/kg. There were several store orders in place, with plain and younger cows making from 130c to 214c/kg.
To view full MLA NLRS report click here