Yarding 4500 Change 100
The Wagga market is still struggling to find a price base this autumn as it continues to be buffeted by oversupply of plainer cattle in a bigger yarding of 4500.
The quality of the yarding slipped, with producers offloading unfinished stock in varying condition on the back of dry conditions and cheaper prices.
Select lines of well-bred feeder steers are still commanding over 270c despite the cheaper trend of 10c/kg. Medium weight steers to feed on 400-500kg made from 210c-274c to average 256c/kg. Lighter weight steers 330-400kg averaged 252c/kg.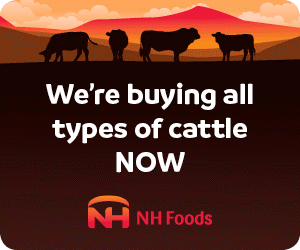 The price correction for feeder heifers was more severe under the weight of bigger numbers and reduced competition. Feeder heifers sold up to 22c cheaper to average 236c/kg.
Bidding for trade steers was weak and only odd top drafts of well finished steers attracted bidding. Prices were generally 3c easier with 400-500kg steers topping at 268c to average 262c/kg.
The heifer market was erratic at times, with buyers not willing to lift rates much past 249c/kg. Trade heifers 400-500kg sold 10c cheaper while the lighter trade weights 330-400kg sold to feedlots
Weaker demand from processors and limited supplies of heavy steers and plainer quality kept a lid on rates. Heavy steers 500-600kg topped at 261c to average 232c/kg.
The cow market continued to lack drive under the weight of supply in a bigger yarding of 1525. Despite an almost full field of buyer's, prices dipped notably. Heavy cows sold 17-22c cheaper to average 181c/kg. The better leaner grades made from 110-160c/kg averaging 144c/kg. Plainer types were more difficult to sell ranging from 80c-110c/kg.
To view full MLA NLRS report click here