Yarding 3000 Change -1500
The Wagga cattle market opened on a dull note this week, with the promise of less rain and smaller numbers at most centres not enough to hold prices.
There were some hefty price corrections of 10-35c/kg recorded on Monday in the smaller yarding with the plainer bred and younger cattle experiencing the biggest discounts.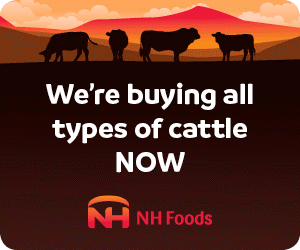 There was reasonable numbers of lighter weight store conditioned weaners with most under 290kg. Price averages were affected by plainer quality and less competition. Aside from the lower live weight prices, lighter weight cattle are being forced onto the market early due to the dry autumn conditions.  This was evidenced by the fact prices fell 20-35c/kg with the average return for steers 200-280kg just $436/head. The heifer portion sold from 100-202c/kg.
Even with a shortage of export cattle the sale lacked competition from buyers. The cheaper trend was obvious at the commencement of the sale with only a few processors operating.  Bullocks were limited selling from 214-240c/kg. Top quality younger lines of heavy grown steers 500 -600kg to slaughter were unchanged making from 236-254c/kg.
Heavy heifers were limited and prices were a reflection of quality selling from 165-208c/kg.
The trade market struggled to find well finished cattle and to compete against the higher rates offered by feedlots.Medium weight grass finished steers topped at 252c/kg.   Competition for trade heifers 400-500kg was patchy with prices up to 16c cheaper averaging 224c/kg.
Another market to experience a cheaper rates and erratic trends was for feeder heifers where prices slipped 18c making from 160-252c/kg.  Medium weight feeder steer prices held up better due to the shrinking numbers. Rates eased back 8c selling at 210-268c/kg.
The cow market opened up noticeably cheaper with rates 20-22c lower. Well finished cows sold from 148c-174c/kg.  Southern export companies competed against northern processors for the better finished leaner categories however at much cheaper rates and, a run of leaner cows made from 100-136c/kg.
To view full MLA NLRS report click here