The AuctionsPlus young cattle market dropped further this week, as online prices took the largest coordinated step back in several months, as uncertainty and buyer resistance took hold.
While overall offerings for the week slipped 2pc to 18,779 head, 70 percent of the main reporting categories finished lower at the closure of Friday's auctions, with clearance rates subdued for almost all segments of the market.
Much like consumer sentiment in recent months, buyers seem to have been slowly losing confidence as each week passes, with the run of negative headlines and growing concerns all leveraging on the market.
Given that seasonal conditions, and the outlook, have largely remained unchanged, the recent falls can only be attributed to a more tentative buyer, who has become increasingly aware of expenses and rising costs since May.
However, context is always important for livestock markets. While the EYCI has dropped more than 100c/kg in the past month, it is still clinging to four-figures and the season remains favourable through most of the eastern states.
Red ink took over through the young cattle categories this week, with most steer and heifer lines back by more than $100/head.
Steers 200-280kg registered the largest offering for the week, with the 2434 head posted for competition selling to a 61pc clearance – averaging $191 or 44c/kg lower on last week, at $1554/head or 651c/kg.
Making up almost two-thirds of the category, average Queensland prices for the 200-280kg segment dropped $296 or 66c on last week, to average $1481 or 701c.
From Charleville, western Queensland, a line of 133 Droughtmaster weaned steers 6-10 months averaging 267kg returned 624.8c/kg or $1670, while a further 64 heavier backgrounder weight brothers 333kg made 567.7c or $1890 a head.
A line of 104 Angus weaned heifers from Roma, 6-11 months averaging 254kg returned $1755 or 690c/kg.
Steers 280-330kg dropped $141 or 17c/kg for the week, to average $1899/head, with a 51pc clearance for the 1842 head offered. From Tarcutta, NSW, 25 Angus steers 9-10 months averaging 286kg returned $1790 to a buyer in Boorolite, Victoria.
Going against the lower trend, 330-400kg steers averaged $153 higher on last week, at $2166, with a 50pc clearance for the 1612 head offered. From Narromine, NSW, a line of 32 Angus feeder steers 11-12 months averaging 373kg returned $2300, or 616c.
For young heifers, only 200-280kg lines averaged higher for the week, up $102, to average $1648/head. With 1860 head offered, the clearance for the 200-280kg lines reached 48pc, which was down further from 52pc the previous week. Through the heavier heifer lines, the red ink returned, with 280-330kg lines averaging $197 or 66c lower, at $1840 or 606c/kg.
A comparatively tight supply of 330-400kg heifers failed to halt the declining market, with most of last week's $311 gain wiped-off, down $226 or 76c/kg for the week, to average $2049.
From Ellaswood, Victoria, 40 yearling Shorthorn heifers 12-14 months averaging 351kg returned $1900/head, heading to a buyer from Geurie, NSW.
Breeding cattle
For the breeding lines, PTIC heifers took a considerable step backwards this week, as overall demand declined. With the 2743 head only reaching a 39pc clearance, average prices slipped $480 lower, averaging a seasonal low of $2233/head.
From Winchelsea South, Victoria, a line of 43 Angus PTIC heifers 20-21 months averaging 457kg returned $2775, sold to a buyer in Cootamundra, NSW. The heifers were joined to Angus bulls and due to calve in mid-September.
PTIC cows averaged $68 higher for the week, at $2704/head, as weight and bloodlines continued to influence the market. From Winton, Western Queensland, a line of 40 Santa cows 2-9-years averaging 630kg, PTIC to Santa bulls, returned $3000.
From Jugiong, NSW, 17 Angus station-mated cows with Angus calves at foot returned a top price of $4000/head. The cows five year old cows averaging 625kg were joined to Angus bulls, with calves 3-6-weeks-old and averaged 115kg.
Prices as at 2pm, Friday 1 July.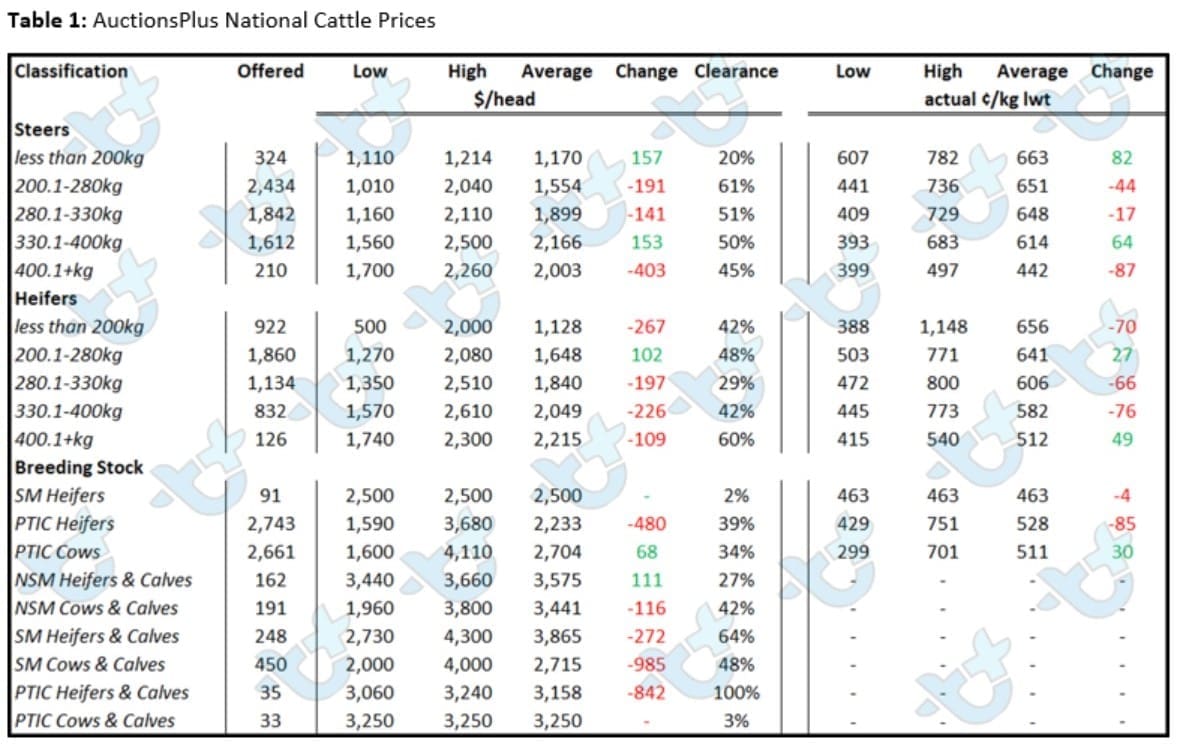 Source: AuctionsPlus.