South Australia's successful Fullblood Wagyu beef producer Mayura Station (see this morning's companion story, "Integration key to high quality SA Wagyu supply chain" utilises three variations of its brand to markets Fullblood Wagyu boxed beef throughout Australia and overseas.
While the average marbling score for all fed cattle passing through the Mayura business is BMS 8.5, there is still some variation evident between fullblood animals, director Scott de Bruin said.
The three distinct brands provide some quality differentiation within that typical marbling range.
The three brands are:
The flagship label, Mayura Station Signature series is used for highest performance BMS 9+ carcases, directed into the most exclusive dining establishments in Australia and overseas. Signature Series accounts for about 25pc of all turnoff
Mayura Station Platinum Label is the major volume label, catering for marbling scores 8 and 9. It represents about 60pc of turnoff, and
Mayura Station Gold label, devoted to carcases producing BMS scores 5-7. While this is described as the business's 'entry level' product, marbling scores in this range would still be regarded highly by many other Wagyu producers across Australia. It represents 15pc of production.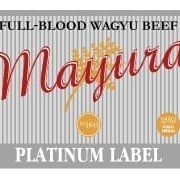 Apart from Australian fine-dining establishments in major capital cities, Mayura Station's main export destinations, pioneered since 2005, include the US, Singapore, Hong Kong, the United Arab Emirates, Malaysia and China.
The location of the G&K O'Conner abattoir at Pakenham, outside Melbourne, where the cattle are processed on a service kill basis, is convenient to Tullamarine airport, from where air-shipments can be made to virtually anywhere in the world, on a daily basis.
China is a new market which had only opened this year, but is seen as holding considerable growth potential, Mr de Bruin said.
"It used to be that our Gold Label (entry level) product was mostly sold on the Australian domestic market, partly because Australians weren't used to seeing such high levels of marbling," he said.
"The Platinum Label (BMS scores 8-9) was mainly sold into Asia. But recently, things have really changed. We are now selling quite a bit of the Signature Series (9+) here in Australia."
"The market has developed into a situation where consumers and end-users either want extreme marbling, really exclusive meat, where price is not a major consideration; or they want something at a cheaper price, an entry level type product. That's where the market has shifted to."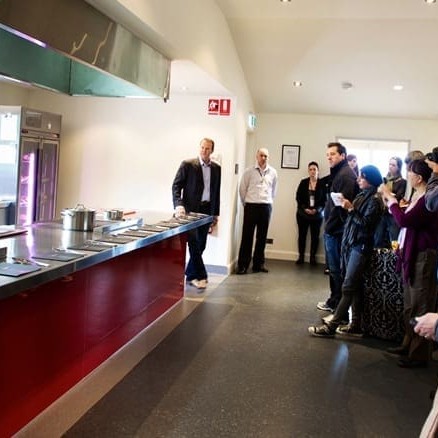 In 2010 a restaurant/tasting facility was added to the Mayura Station complex (pictured left).
"Basically this is all about being able to educate consumers about what Wagyu is all about, what can be achieved with all the different cuts through different cooking methods and slicing," Mr de Bruin said.
"As well as tourist groups and media, the facility hosts dinners twice monthly, matching Wagyu beef with the region's high quality wines."
"In the end, Wagyu is all about the 'Wow factor,' and being able to deliver that consistently to the end customer," he said.
One spectacular interpretation of Wagyu was being used by one of Mayura's regular clients, a large five-star Asian hotel, which every Sunday features a roasted whole Wagyu leg, weighing 50kg or more (click on image below for a view).
The hotel involved has featured this novel item on its Sunday lunch menu for the past four years, and attracts enormous interest among patrons, with serves carved directly from the leg by the attendant chef.
"People in the restaurant say, this is fantastic, I've never seen anything like this before. It gets people talking, and that's what the Wagyu industry is all about," Mr de Bruin said.