TASMANIA could provide a lifeline to struggling mainland producers this spring in the form of a ready market for store cattle.
A lift in interest in the past couple of weeks is expected to peak in November as seasonal conditions dry out in the north east and north west of Tasmania.
That demand could be just what drought-afflicted producers need as the regions able to take cattle across eastern Australia start to shrink.
An estimated 60,000 cattle were bought from the mainland last year for Tasmanian producers and Elders livestock operations southern zone's Ron Rutledge said there was the possibility of a repeat this spring.
"A large number of Tasmanian producers have signed up to sell finished cattle into company programs like Farm Assured or Never Ever (Greenhams) and so they need to source cattle to fill those programs," Mr Rutledge said.
"We've been encouraging our clients on the mainland to sign up to the programs as well, so their store cattle can then be eligible to be sold to producers from Tasmania."
Mr Rutledge said Elders alone had sold about 40,000 cattle into Tasmania last spring and summer, and reports back to the agency showed the buyers were happy with the way the cattle had performed.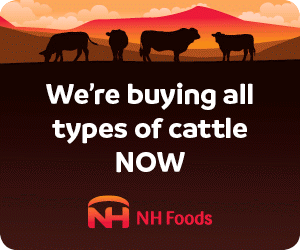 "The experience last year with buying cattle from the mainland was really positive and there is no doubt they will try to buy cattle again," he said.
"We don't expect there to be much interest until November because it is too wet there until then, but then we expect they will want to source 'program' cattle or those which fit into company assurance scheme."
Mr Rutledge said the only limiting factors for another buying spree from Tasmania could be a live export order which could outbid the island producers, or a big surge in store demand from northern NSW producers if there were summer rains.
Page Transport is one of the major carriers shipping cattle from Victoria to Tasmania and managing director Geoff Page said the number of requests to move cattle had lifted in the past couple of weeks.
"We are not seeing the same level of interest just yet as we were last year but we are expecting it to pick up in the next couple of weeks," Mr Page said.
"If producers can buy cattle cheaper on the mainland than they can in Tasmania and they know they can get quality, they are going to do that.
"If you want a line of 100 Angus steers, they are hard to find in Tasmania but they can be sourced from the mainland."
Mr Page said store cattle were currently making about 300c/kg liveweight in Tasmanian markets, but Tasmanian producers were sourcing cattle from the mainland at slightly less than this even with freight taken into account.
"The freight is subsidised (by the Federal Government) so it costs about 20-23c/kg liveweight to transport the cattle to Tasmania," he said.
"Anyone who buys cattle is paying at least 5c/kg to get their cattle back from the saleyards.
"The cost might get up to 30c/kg for lighter cattle to get them to Tasmania but if the buyers can get them at a lower cost in mainland markets, they can still work out cheaper than sourcing locally in Tasmania."
With 60 trailers and ships going into the Tasmanian ports of Burnie and Devonport, Pages Transports have the capacity to lift between 6000 and 7000 cattle a week and Mr Page is expecting activity to pick up in the next few weeks.
Cattle which come further than Wagga Wagga are rested at the company's holding facility near Melbourne for 24 hours and are kept on hay before being shipped the next day. Cattle sourced south of Wagga Wagga are shipped the same day they leave the property, he said.