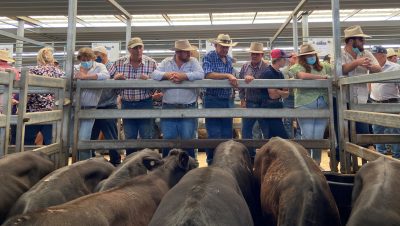 FOR the past two years restockers from New South Wales have been dominating the store cattle market, travelling long distances and paying record prices to source stock.
With widespread flooding and reasonably consistent rain already this summer, many are asking if the current market situation will hold up for 2022. While numbers have been low, livestock markets have started the year in a similar fashion to last year.
To find out how producers were feeling about the year ahead, Beef Central took a trip to the Tamworth Store Sale this morning– where restockers were active in a small yarding of 1500 head. A series of weaner sales are about to start in March.
Neil Bailey from Oakland Station near Manilla said he had sold the last steers from his 2021 oats planting and was preparing to spray and plant again this winter.
"We are looking for a bit more rain because it has dried out in the last three of weeks. But looking at the forecast I'm confident it will come," Mr Bailey said.
"We sold some cattle on Monday, they sold really well and today's steers also went well. Even if this market drops a bit, we'll still be happy."
Margins still in trading
Mr Bailey said while he held onto the heifers he purchased in the past two years and did not plan to do more re-stocking, margins were still there for people looking to trade.
"A lot of people are having trouble buying back in and they're having to go into significant debt to do it," he said.
"I bought some steers last year at $1,400 a head, put them on oats in May and sold them for $2,700. Those same steers will cost about $2,000 now – so even if the market drops a bit you're still looking at a $400 or $500 margin."
Davidson, Cameron and Co Tamworth principal Scott Newbury said if the season continued and Omicron-related supply chain issues were kept to a minimum, he expected similar activity to last year.
"There's some really nice weaners around here and if you look at the sales in Victoria the market is well above where it was last year," Mr Newbury said.
Mr Newbury said it was unlikely local producers were going to be as active in Qld as they were last yera, with widespread rain in the sunshine state making the market too competitive.
"In the last 18 months, a lot of cattle have some from Western Australia and Qld back into NSW, but I think it will slow down," he said.
"There's been rain in patches through Qld, so we will have to compete with the locals buying up there."
Slow herd rebuild to continue
With booming feeder market in the past year, producers in NSW have been facing the tough decision to cash in and sell heifers to lotfeeders or hold onto them and rebuild their herd.
Mr Newbury said it was still a tough decision for producers and the herd rebuild was likely to continue at its slow pace.
"It's a double-edged sword because people need cashflow and the market is good – so they're keen to take advantage of that – others are keen to hold onto heifers and join," he said.
"It's really hard to predict what they will do this year and will depend a lot on the market."
With a series of weaner sales about to start in March, Tamworth Selling Agents president Ian Morgan said the year was looking positive for the yards. He said he expected to traders to remain active in the market.
"We've seen traders and restockers competing hard in the market, so it's only the best quality that has gone back into the paddock for joining," Mr Morgan said.
"It looks the same this year and that's why we have a fair bit confidence that it is going to be a good year for the yards.
"So far we've had a really good season and a lot of those cattle that were purchased from Victoria will go onto oats crops."