Southern Australian commercial cattle producers have been urged to seek European Union accreditation to increase marketing options and take advantage of a valuable market.
The Herefords Australia breed society took on board a call for commercial producers to gain accreditation by a major processor during the January weaner calf sales, raising the opportunity with its members and other commercial cattlemen.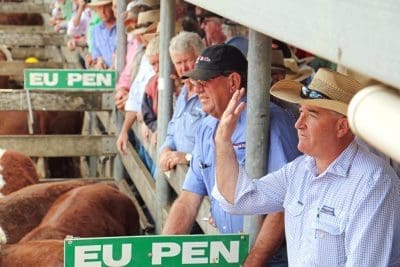 "It is not only processors but lotfeeders who are seeking EU accredited whiteface feeder steers for branded product such as Hereford Reserve," Herefords Australia said this week.
Thomas Foods International assistant livestock manager Ben Davies said he was disappointed with the lack of accredited Hereford pens at recent Wodonga weaner sales, and encouraged producers to head the call.
TFI bought 200 EU accredited Hereford steers from the Casterton and Hamilton sales for the company's recently expanded Iranda Beef feedlot at Tintinara.
"We were looking for calves over 350kg and paid 350-370c/kg," he said.
The EU remains Australia's highest value export market on a per tonne basis, with shipments averaging $12,610/t in 2015, with a total value of $297 million, Meat & Livestock Australia data suggests.
In 2015, over-the-hooks EU cattle prices across NSW and Queensland reached new highs, achieving a record yearly average price at 524c/kg, and increase of 37 percent year-on-year.
According to MLA market information, almost all of Australia's 20,800t exported to the EU in 2016 was chilled, either grass and grainfed. The top 10 cuts of Australian beef exported to the EU are topside, striploin, rump, silverside, cube roll/rib eye, roll, tenderloin, chuck roll, blade, thick flank/knuckle and chuck.
At the Victorian Western District weaner sales last month, there was a strong line-up of EU accredited steers, with the majority of buyers electing to retain the cattle in the system.
At Casterton on January 10, EU accredited steers sold for 360-418c/kg or $1139-$1395. The next day at Hamilton, a larger selection of accredited pens resulted in steers over 350kg selling for 354-386c/kg or $1323-$1580, and lighter descriptions 250-350kg returned 382-423c/kg. In the heifers at Hamilton on January 18, EU accredited pens sold for 335-406c/kg.
Herefords Australia chief executive officer Dr Alex Ball encouraged commercial producers to head market signals and consider gaining European Union accreditation.
The EU Cattle Accreditation Scheme requires accredited properties to:
Have only HGP free cattle on their property at all times (with the exception of breeding bulls)
Only purchase and sell cattle from other accredited properties and saleyards (with the exception of approved non-EU breeding females and bulls)
Use the National Livestock Identification System to identify and trace scheme cattle movements
Use European Union vendor declaration forms to identify scheme cattle which are being moved
Victorian commercial producers with a track record of selling EU accredited cattle have spoken of lucrative premiums for steers and heifers.
Paul Malseed, Orana, Breakaway Creek, said he used his EU accreditation as a marketing option to attract buyers at Victoria's western districts sales. He sold 186 accredited steer weaners at Hamilton this year to average $1304, with 100 bought by NSW steer finisher Paul Mason.
"Three years ago we were getting just above 200c/kg, and the 10c/kg EU premium on the steers made up for it – but I can't say there was a big difference in the heifers,'' Mr Malseed said.
He said the paperwork was not difficult and was a case of "learn as you go."
"Reconciliation of the NLIS tag with PIC number takes a little time, however the system works well. Most years, my heifers are sold to restockers and backgrounders, and whether they stayed in the system depended on their requirements."
Nareen, VIC cattle producer Ron Beaton, Giant Rock Partnership, sold steers and heifers at Hamilton last month, where buyer Marc Greening retained the accreditation for his Injemira Advantage program.
"The EU has given me a slight premium over the years but if you are not in it, you are missing out,'' he said.
David Lyons, Melville, Vasey, sold his top pen of weaners, 371kg and EU accredited at Hamilton, for $1305 or 352c/kg, and lighter steers weighing 330kg for 372c/kg.
"EU accreditation has provided a premium at times on the steers and heifers but it also gives me another marketing option," he said.
"There is no difference in the paperwork as we have to keep our database up to date anyway.''
Casterton producer Owen McClure, Beerik, was among the vendors with bigger drafts of accredited weaners at Hamilton.
"There certainly is an advantage with some buyers – the EU grid is that wide at the moment you can drive a truck through it," he said.
MLA provide a Tips & Tools fact sheet on the EU accreditation scheme (www.mla.com.au) while application forms are available from the Department of Agriculture and Water Resources on 1800 305 544.
For further information contact the EUCAS Helpline on 1800 305 544 or email eucas@aqis.gov.au, or visit www.herefordsaustralia.com.au and click on the technical tab.
Source: Herefords Australia