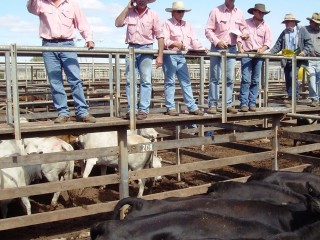 After consecutive weeks of falling prices, signs of producer resistance to prevailing rates were evident at Roma yesterday where store numbers were back by 36 percent on the previous week.
Agents yarded 4400 store cattle, 2500 less than last week, and numbers for tomorrow's weekly prime sale are also set to be well back on last week also.
Some heavy rain in the north and north-west over the past week has played a role in curbing supply, however those close to the market believe vendor dissatisfaction with current price levels has been a key contributor to this week's sharp reduction in supply.
Roma has held several large sales in a row in recent weeks as producers sought to lighten numbers in response to drying conditions.
However, with many producers carrying good grass reserves, and with a weather change coming through this week, vendors were now tending towards a 'wait and see' approach, Elders Roma branch manager Rodney Doig said.
"Cattle numbers are back because in the last two weeks undoubtedly the market has taken a little bit of a bashing," he said.
"Producers have got the feed and a smell of rain around the place, and they have probably pulled up to see what the market is going to do with a little bit of rain."
Yesterday's yarding was described by the NLRS as mixed quality, with some very good lines of Santa/Charolais-cross cattle contrasted with plainer northern Brahman consignments.
Buying interest was good with all the usual feedlot and processor buyers joined by a few extrarestocker buyers than normal.
With strong competition and reduced supply, the market resulted in dearer rates for a range of categories.
The NLRS report said yearling steers rose by 6c/kg, export feeder steers were firm to 1c/kg cheaper, domestic feeder steers increased by 11c/kg, light weight yearling steers to paddock increased by 6c to average 213c and plainer types were up by 13c.
Medium weight yearling steers to feed rose by 11c/kg to average 200c, medium weight yearling steers to restockers climbed 4c to average 196c, and heavy weight yearling steers to feed eased by 1c to average 185c.
In the female categories, lightweight yearling heifers to paddock were down 2c to an average of 201c, medium weight yearling heifers were firm at an average of 165c, heavy weight yearling heifers to feed fell 10c to average 161c, down 10c/kg, medium weight three-score cows averaged 126c, heavy weight four-score cows averaged 136c, down 7c/kg, and cows and calves sold to $1180 and averaged $852/unit.
The Eastern Young Cattle Indicator closed 4.5c higher yesterday at 374.25c/kg.
Quotes from the weekly Roma media report included:
The Crayford family, Reuben Downs, Yuleba, Arnamay P/L, sold steers to Charolais-cross steers to 225c for 255kg to make $575.
Hendon Park Pastoral Co, Roma, sold Charolais-cross steers to 224c for 273kg to make $613. They also sold Charolais heifers to 202c for 264kg to return $535.
Bryant Family Grazing, Cunnyana, Bollon, sold Charolais-cross steers to 224c for 250kg to make $560.
Max Leeson, Chain-O-Holes. Mitchell, sold Droughtmaster steers to 219c for 259kg to return $568.
The Firth family, North Kulki, Bollon, sold Angus steers to 216c for 300kg to make $648.
Scott Martyn, Greenridge, Roma, sold Simmental steers to 213c for 298kg to return $637. He also sold Simmental heifers to 190c for 309kg to make $587.
The Blanch family, Yamma, Dirranbandi, sold Cross Bred steers to 207c for 315kg to make $654.
Simmac Pastoral Co, Mt Maria, Morven, sold Angus-cross steers to 197c and averaged 190c for 393kg to return $746.
Avoca Pastoral Co, Mitchell, sold Charolais-cross steers to 195c for 438kg to make $855.
The McWhirter family, Wilbah, Yuleba, sold Murray Grey steers to 195c and averaged 192c for 358kg to return $687.
Terry Jukes, Armadilla, Morven, sold Cross Bred steers to 190c for 460kg to make $875.
Douglas Cattle Co, Verniew, Mitchell, sold Charolais-cross steers to 183c for 486kg to make $890.
Heifers in the 350-450kg range reached 182c and averaged 160c.
Heifers in the 280-350kg range topped at 190c/kg and averaged 172c/kg.
Heifers in the 220-280kg range topped at 202c/kg and averaged 188c/kg, while heifers under 220kg topped at 201c/kg and averaged 198c/kg.
The Thomas family, Grasslands, Roma, sold Charbray heifers to 165c for 375kg to return $619.
Cows over 500kg hit 146c and averaged 136c, while cows 400-500kg topped at 143c and averaged 126c. Cows in the 300-400kg range made 128c and averaged 115c.
Cows and Calves sold to $1180/unit and averaged $852.
The Gobbert family, Amboola, Mitchell, sold Brahman-cross cows to $1180/unit.
Bulls up to 400kg reached 207c to average 171c.