SOME supermarket forward contracts for typical 60-70 day domestic grainfed trade steers have shot past 800c/kg for the first time in history in the past week or so, driven squarely by the red-hot market for feeder cattle being driven by restockers.
Forward contracts from the two major national supermarkets have risen sharply since December, reaching unprecedented levels during February. Depending on location, Woolworths trade steer contracts this week for delivery late April/early May are nudging 800c/kg, and Coles contracts, by virtue of their HGP-free status and productivity sacrifice, are 15-20c/kg above that, trade sources have told Beef Central.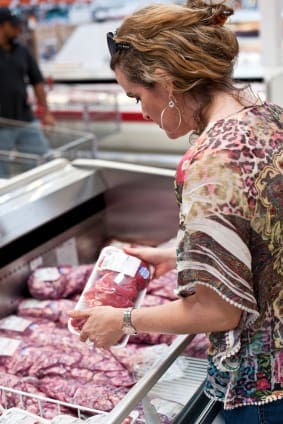 Driving the surge are the ever spiralling prices lotfeeders are having to pay for suitable domestic feeders, as older pens close-out.  Domestic feeder weight steers 330-400kg sold on AuctionsPlus last week averaged 469c/kg, and heavier 100-day type feeders 436c/kg.
The EYCI eased off its recent highs late last week, finishing at 872.25c/kg on Friday, down 11c over the previous week, but still 213c/kg higher than this time last year. At Dalby sale last week, young steers straight off their mothers averaging just 133kg made 764c/kg, or $1016 a head.
Beef Central understands supermarket forward contracts written in December were still around 720-730c/kg. Some contract-holders have apparently resisted recent contract offers, forcing both Coles and Woolworths to sharply lift offers, in several increments, in order to maintain their chilled meat supply.
This time last year, when conditions across large parts of eastern Australia were still very dry, but COVID was just starting to make its presence felt on the market, supermarket contracts were around 650-660c/kg.
Widespread rain since December has sparked another sharp spike in the young cattle market this year, and lotfeeders servicing the domestic supermarket trade have been caught up in the competition with restockers looking to fill paddocks.
"Grain prices have certainly declined, but it is the price of replacement feeders which is driving the whole show," one grainfed domestic trade source said.
"It's supply and demand, and not a lot of producers out there at the moment want to sell cattle," he said. "It's pushed the price of suitable feeder steers and heifers +330kg to incredible levels, and the lotfeeders holding supermarket contracts have had to hold-out for new contracts that reflect that price squeeze."
"The rapid and extreme rises in the young cattle market since January were just getting ahead of where supermarket contract offers were up to – they just couldn't keep pace," he said.
Narrow margins
National supermarkets are apparently trading on very narrow margins on chilled red meat currently, with retail pricing not keeping pace with recent jumps in cattle contracts.
"The only people making money along the domestic supply chain at present are the producers," one supermarket supply chain contact told Beef Central.
"Lotfeeders are not getting good margins, nor are processors, and certainly not the retailer," he said.
Woolworths this week is retailing everyday rump at $27/kg, regular mince $11.50/kg, scotch fillet at $35/kg and certified grassfed scotch at $48/kg. Rival Coles has rump at $27/kg, regular mince $11.50/kg, scotch at $37.30/kg and certified grassfed scotch at $44/kg. Most of these prices have changed little since late last year.
"Certainly most of the margin value in the supply chain at the moment is going to producers," one domestic market supply chain manager said.
"The whole supply chain is just gone – there is no margin in retail, wholesale, export or processing. Producers have it all, currently, but as we have seen countless times in the past, the pendulum will swing again."
"Clearly, Australian beef at current levels is uncompetitive from an export point of view. Processors are losing $200 to $300 a head on slaughter cattle, and that can't last indefinitely. Somehow, it has to work its way back to a more even distribution of profit margin along the chain, but that's going to be difficult while cattle numbers are so short."
Some people in the domestic trade thought the market cycle had reached its turning-point before Christmas, but it has surprised many by rising again during January-February.
"But the turning point has got to be close, despite the confidence which continues to surge through the restocker market."
Longer time spent on feed
Some commercial feedlots are leaving cattle on feed for longer than usual periods, in an effort to escape the worst of the high feeder cattle purchase prices, feedlot nutritionist Dr Rob Lawrence from IAP said.
"Given the current cost of gain, I've done sums for clients where if they feed cattle on for an extra 30 days, there is potentially an $80 improvement in return," Dr Lawrence said.
"For a yard in northern NSW facing a finished ration price of $270/t delivered (downs values might be a little above this), their cost of gain is presenting around 240c/kg – but given the recent over-heated store market, many have paid 450c/kg for the feeder steer or heifer," he said.
"So for every kilogram of extra weightgain in the feedlot, they are actually making the animal cheaper, on a c/kg basis," he said.
"Turn them over at 70 days, then yes, there is nothing in it (profit) – but hold those cattle for turnover at heavier weights at say, 120 days, and the profit is much better."
This is apparently one of the reasons why some lotfeeders have been ignoring shortfed domestic contract offers, because they can make more money with heavier cattle.
Anything above about 310kg carcase weight, supermarket carcase weight penalties begin to rise sharply. But in some examples, lotfeeders were better off adding as much weight as possible by feeding on, which more than offset supermarket grid penalties on weight. This was often easier to do with implanted feeder cattle than HGP-free programs, Beef Central was told.
To counter this, there is interest being shown from at least one national supermarket operator for a '100-day type' animal, to allow lotfeeders to maximise any feed conversion advantage to offset the current extreme price of feeder cattle. No indicative prices have yet been offered, but evidently inquiries have focused on 'level of interest' among prospective suppliers. It's likely this beef would appear as a 'feature' line in supermarket shelves, rather than simply being sold within the current domestic beef spec, Beef Central was told.
Young cattle numbers rise, but little impact on price
Despite an expectation that cattle supplies will continue to tighten in 2021, the Eastern Young Cattle Indicator experienced its highest throughput in just over 12 months for the week ending 4 February, as producers look to capitalise on red hot young cattle prices. That week, 18,592 EYCI-eligible cattle were sold through MLA reported saleyards, well above average January levels last year.
When the EYCI hit its current record of 888.25c/kg carcase weight three weeks ago, 6615 head of eligible cattle went through for the week – a third of the current level. In that two-week period to now, the EYCI has eased just 13c/kg, highlighting that large shifts in supply aren't having a significant impact on price.