A hot, dry summer, as forecast by the Bureau of Meteorology, could accelerate an easing of cattle prices in 2017, NAB has cautioned in its latest beef cattle market outlook report.
Producers have enjoyed record prices this year, but pressure from global fundamentals and a likely softening of re-stocker demand in response to drier conditions could see prices contract next year.
"It has been our view for some time that the international beef outlook is now much weaker than in 2014 and 2015, and if eastern Australia sees a hot, dry summer (as per the Bureau of Meteorology's latest forecasts) restocker interest could slow rapidly," NAB's Phin Ziebell writes in the latest NAB Agribusiness in Focus report.
"Our forecasts point to the EYCI falling to 500 AUc/kg in the September quarter 2017."
This would be represent an approximately 30 percent contraction from the EYCI's record peak of 725.75c/kg, set in August this year.
However, a drop of 30pc would still mean prices were above the range of prices prior to 2015.
The indicator had not exceeded 428 AUc/kg before 2015.
The initial phase of the stellar run of rising prices seen in the past two years was caused squarely by US demand for imported beef in response to domestic US supply constraints, following high corn prices and drought in 2011.
However, these factors have since dissipated, with US drought conditions much more localised and corn cheap and plentiful.
Further, there is likely to be much more competition in the US imported beef market in the coming years as South American producers become more competitive.
South American producers are also more competitive in the US imported beef market and other key export markets.
Reflecting recent trends, the Japanese market has once again overtaken the US market to once again become Australia's biggest beef export destination.
In 2014, Australia supplied 45% of imported beef to the Chinese market, but in the first eight months of 2016 this shrank to 19%.
This is due to a lack of price competitiveness and increased access by Uruguayan and Brazilian beef.
With the US market no longer a driving factor, the current phase of the boom has been based on domestic restocker interest as producers look to rebuild herds following elevated slaughter rates in 2013 and 2014.
While this has been supported by a wet winter and spring, as the weather dries out the risks to saleyard prices are considerable.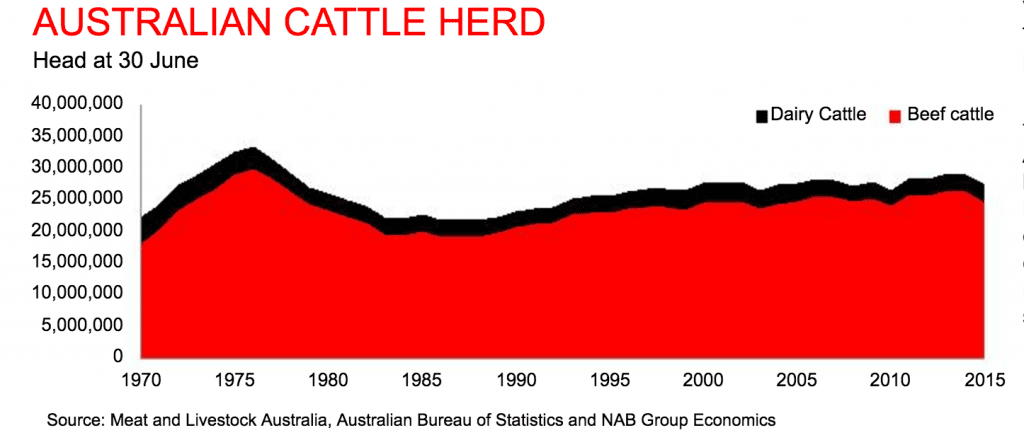 "This is further compounded by generally less favourable prices in some export markets, although we note that beef prices to Japan and live export prices to Indonesia have remained more favourable," Mr Ziebell states.
"We have already seen some price contraction – the EYCI is now below 640 AUc/kg.
"But the bigger question is to what extent this decline presages a greater contraction in the new year."
To view NAB"S full report click here