Feedlot buyers from three states converged on Ballarat this morning to drive prices at the annual Ballarat Grown and Weaner Sale to extraordinary levels.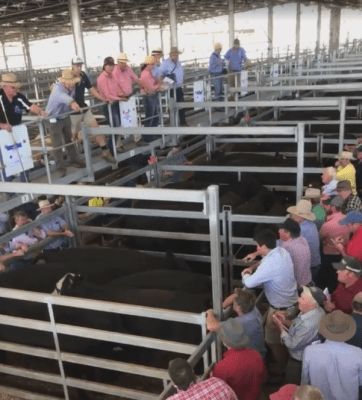 The average return per head across the entire yarding of 5024 steers was $1999.26 – representing a gross of just over $10 million.
"It is the strongest demand I've seen," market analyst Murray Arnel said immediately after the sale, citing results such as:
– Feeder steer prices ranging from 450 to 520c/kg livewieght;
– Heavy weaners making 520c to 540c;
– Heavy bullocks to 400c;
– Medium weaners making up to 600c;
– Light weaners, of which there were very few, commanding up to 800c.
Murray added that he could not recall having seen such a strong line up of feedlot buyers, with feedlots from South Australia to Northern NSW bidding actively.
There were also reports of large numbers of long-range B-double configurations in the car park with non-Victorian number plates, indicating a large number of cattle will be crossing Victoria's borders.
Murray tried to livestream the sale via the Beef Central Facebook page but the social media giant's decision to "unfriend' the media stifled his efforts, however readers can still watch his video of the livestream below.
Keep an eye out for Murray's full report on today's Ballarat Grown Steer and Weaner Steer sale on Monday.