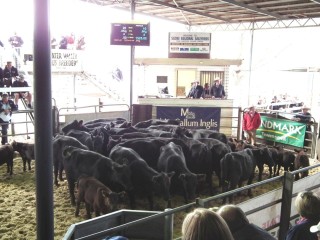 Commercial Angus and Angus cross females were in strong demand at the Hunter Valley Angus Breeders Association female sale held in Scone this week.
There was a 100pc clearance for 1447 head in the sale, regarded as one of the mid-year benchmarks for breeder prices in central and southern NSW. The fixture grossed about $1.5 million, the best result in its 22 year history.
In total 348 cows and calves sold for an average $1564 with a top price of $1850. PTIC cows also sold well, averaging $1107 and delivering a top price of $1675.
PTIC heifers achieved a top price of $1640 with an average price of $995, while weaner heifers averaged $507 and topped at $635.
Peter Grieve from the Hunter Valley Angus Breeders' Association said it was gratifying to see so many vendors supporting the sale and all agents collaborated to ensure the day was a success.
Tim Vincent from Booragul Angus judged the show pens on the day, prior to the sale. His choice as Sanderson trophy winners (grand champions) went to Stephen Garland from McCully's Gap near Muswellbrook for a pen of 10 cows with first calves at foot.
Mr Vincent said the pen showed good length, were well-grown for their age, had well-shaped udders and supp[orted good-boned calves.